Back to News
Franklin's Paine Skatepark Fund
August 1, 2009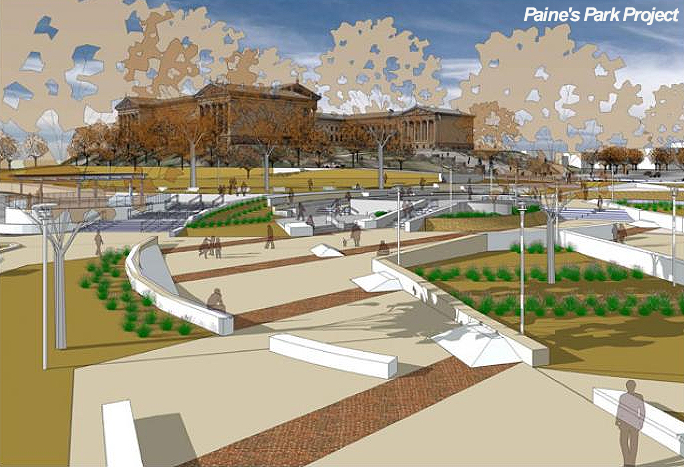 Franklin's Paine Skatepark Fund (FPSF)
LOVE Park, the once famous and world-renowned skate spot located in the heart of Philadelphia, Penn., was known for its marble ledges, hubbas, stairs, rails, gaps and everything in between; it was the "perfect" spot for skateboarding. Though LOVE Park lives on to this day, it is now dead through the eyes of skateboarders.
In 2002, Philadelphia's Mayor John Street officially banned skateboarding at LOVE (after an ignored 2-year ban of skateboarding), and renovated the entire park leaving it unskateable. This happened even after the fact that the X-Games hosted at LOVE brought worldwide exposure to Philly, and an influx of tourism and money into the local economy. DC even offered the city of Philadelphia $1 million for the maintenance, upkeep and replacement of obstacles for the park; the offer was denied.
In reaction to the demise of LOVE Park, advocacy groups popped up throughout the community, the most notable of which being Franklin's Paine Skatepark Fund (FPSF). FPSF is a group of motivated skateboarders and business professionals serving as the largest skateboarding advocacy group in the metropolitan region. Their main focus is to educate cities and municipalities on the changing demands of skateboarding, acting as the voice for skaters in the region. FPSF actively promotes and raises funds for the adoption of urban areas/parks that are designed after the needs of skateboarders, yet friendly and functional to all park-goers alike. Read on to learn more about Franklin's Paine Skatepark Fund.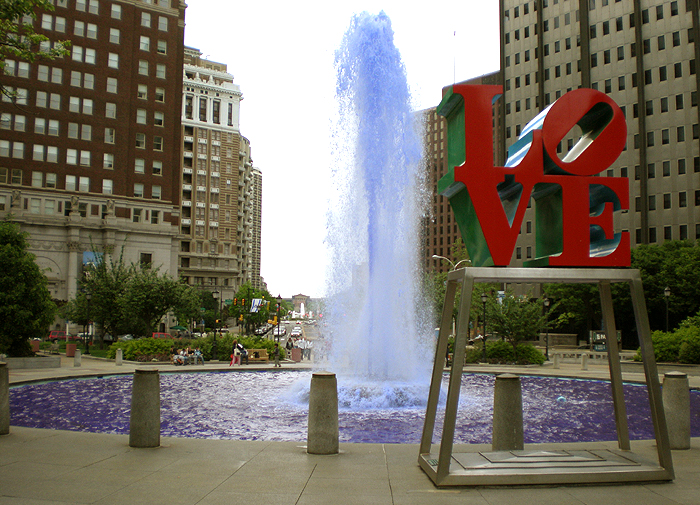 Did the demise of LOVE Park (skateboarding banned) "solely" influence the adoption of the program, or were there a number of different factors at play?
Not solely. While the banning of skateboarding at LOVE Park served as the catalyst, we actually started out to create a series of smaller parks, not Paine's Park Project as everyone assumes.
What is the mission/ultimate goal for Franklin's Paine Skatepark Fund?
The primary exempt purpose of FPSF is to advocate and fund the development of free, public places to skateboard in the Philadelphia region, and to provide safe, educational recreational program opportunities at those facilities.
What projects does FPSF currently in the works?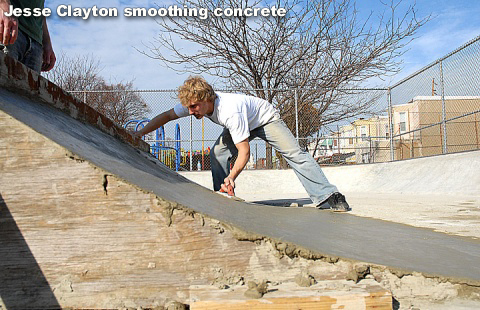 Several. Pops is a skatepark development project that will be completed this July. Gear for Groms is an ongoing initiative that helps introduce city kids to skateboarding. Also, we're always looking at sites that might benefit from our support, both existing skateboard parks and under-utilized parks/land that might be a good spot for a new park.
Briefly walk through a typical project, from ideation to completion.
Location ideas can come from a number of sources (politicians, city employees, skaters). The board votes on what to do and how to contribute. Each situation is unique, so there is no cookie cutter way to go about it. In some cases we might hire a foreman or someone to actually do the building,
but in many cases we don't. We rely pretty heavily on volunteers so support us.
As a non-profit, what's the most difficult process when taking on such projects – besides funding?
I think our biggest challenge is to convey our value and the progress we're making to a skateboarder audience. Sometimes they don't understand the amount of time and effort it takes to complete our projects, particularly our signature park, Paine's Park Project.
What are the best forms of advertising/publicity used to gain support and build awareness?
Word-of-mouth through a very committed and passionate group of board members. Our new site that just went live
(http://www.franklinspaine.com) will also be a good means to push our information out to interested parties.
When funding can skyrocket into the several millions (take Paine's Park Project at $7M for example), what is the general game plan to obtain such numbers?
We continue to investigate corporate sponsorships to supplement our own fundraising.

Do you feel that the budget crisis effecting governments at the local, city and state level will have an impact on future development of such parks?
As we continue to make progress, we have to be sensitive to the fact that there are several public facilities that have experienced cutbacks in light of the poor economy and budget deficit. We continue to make progress, but it would be in poor taste to highlight our progress in times when other projects are struggling.
How do you convince city officials to support these projects, seeing that skateboarding has had a negative stigma?
We have to reinforce everything positive about skateboarding. We highlight the positive aspects --the benefits to the kids and the community. Is it better to have kids getting exercise, learning life skills and staying out of trouble in a park, or is it better to have various forms of illegal activity taking place (drug usage, vandalism/graffiti).
Will any specific skate spots from LOVE be incorporated into the Paine's Park Project (i.e. replicated obstacles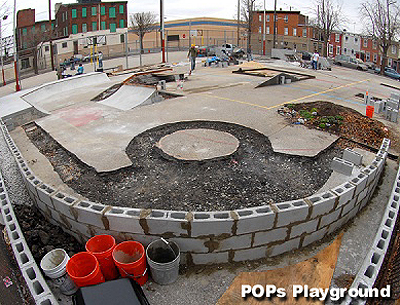 including: granite ledges, gap over trash can(s), 3-stair hubba ledge, bump over trash can, etc)?

There will be similarities, yes, but not necessarily designed to incorporate every aspect of LOVE. Our website has drawings of the park plans.
Are the design aspects left up to "one" person, or is it a collaborative effort between skatepark designers, construction personnel and professional skateboarders alike?
It's up to several parties. The organization knows skateboarding so we can identify what's lacking in other skate spots and try to create it in our projects. Of course we enlist the help of experts (skatepark designers, engineers etc) to work out the most efficient and affordable means to create what's called for so they contribute a great deal of expertise to each project.
If someone is looking to get involved in a non-profit organization such as FPSF, what skill set and/or education will they need to be successful in this role?
We want passionate people. Whether it's for the development of our city's youth, developing new community relationships, architecture, or skateboarding, passion is something you'll find in every board member, staffer and volunteer.
Learn more about Franklin's Paine Skatepark Fund at http://www.franklinspaine.com.

---