Back to News
Ergo Launches iPhone App
September 3, 2009
TECH: Ergo Launches iPhone App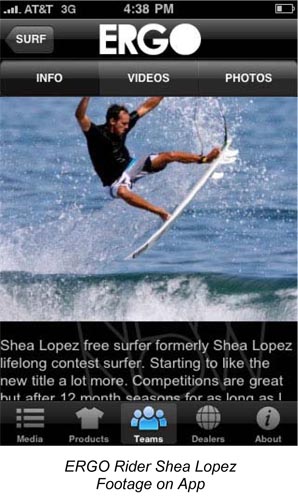 ERGO is pleased to introduce its newest gadget; an iPhone application, created by recently-launched tech company FLYFED. The application can easily be downloaded at no cost on iTunes.
By downloading the application, ERGO muck runners can stay on top of company news through a live blog feed; check out the latest product offerings; cruise through videos at lightning fast speed; view thousands of photos and follow team riders on their heck rides around the world. Additionally if users see something in the ERGO collection that they just can't live without, they can find the nearest authorized retailer by using the application's handy-dandy geo-locater, "find-near-me" tool.
"Launching this app isn't just another way to have direct interaction with our customers – it's a foundation for future technology and everyday business that we will continue to develop upon to stay ahead of the curve," says ERGO vice president Pete DiSpirito. "The iPhone and iPod touch users that have already downloaded more than a billion apps fall into the same demographic that ERGO targets – we want our customers to feel a real connection with ERGO's brand message, products and team riders."
FLYFED builds its applications so that content never has to be resubmitted to Apple, which keeps the communication between the brand and consumers fresh and up-to-date. The ERGO iPhone application is rated age 12+ and is available for free download through iTunes or by following the direct link on ERGO's website www.ergophobia.com

---