Back to News
B$Z: ASR Marketplace Reveals a Resurgence in the Market
September 14, 2009
ASR Marketplace Reveals a Resurgence in the Market
Debut of Class@ASR, top-tier events, and level of business being done create buzz
ASR Marketplace exceeded expectations during its September 10th-12th event with an air of optimism spurring order writing and planning for the future. Over 500 brands showed spring and summer 2010 lines to thousands of buyers, media, athletes and industry professionals.
"The industry showed a positive and resilient direction over the last three-days," says Andy Tompkins, VP of Nielsen Sports Group. "Both buyers and brands were ready to work and reinforce partnerships for future success. There was a strong feeling on the floor that industry sales were beginning to climb back up and this contributed to an overall feeling of hope for the future."
Business Center Stage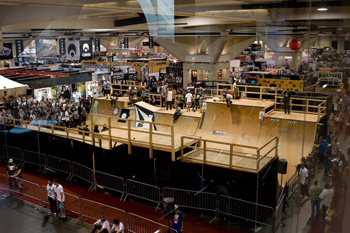 Through the many efforts of ASR and its brand partners, every measure was taken to ensure that the right retailers were able to make the trip to California. The efforts paid off as thousands of buyers showed up in San Diego ready to work.
"We're buying our skate hardgoods and picked up four streetwear brands that will bring something new to our market. Beyond the small brands, we wrote an order with Levi's for the first time here at ASR," said Gorio Bustamante, Head Buyer, Evo Gear, Seattle, WA. "So, we're able to look in all directions international, small, big at ASR. It's good to talk business, partnerships, events and branding with the principals here getting things done that can't be accomplished at the rep level."
Across surf, skate, swim, moto, streetwear and fashion categories, brands met with confident retailers ready to place orders for spring and summer 2010. "This show was better than we expected. We got in some great face time with all the right retailers. Seeing everyone here makes much more sense than getting on a plane to visit 30-40 individual accounts," Dave Rosenberger, VP National Sales Manager QS Young Men's at Quiksilver. "Even our Latin American rep was so busy throughout with accounts from Mexico, Central America and South America."

Energy in the skate area fed off of the mini-ramp and a concentrated skate hardgoods section. "Activity levels are up from last year. We've been showing the line consistently," Jeff Ishmael, CFO at Osiris. "Buyers are writing orders and we're using the time to take care of our core retailers that have been supporting us over the last year."

Ben Johnston, Buyer for Coastal Edge, Virginia marveled at the amount of business he saw being done, "We're networking and putting our partnerships together. There is as good energy here as I've seen in a long time. Seems like a lot of business going on with orders being written."

Adding to the buying energy at the ASR Marketplace was the addition of CLASS@ASR. Retailers were able to take full advantage of both as each event showcased unique brand collections and environments in adjacent halls. "By exhibiting at both CLASS@ASR and ASR, we have a foot in both camps, sort of like our line," said Dean Bradley, Co-Founder, Atwater. "We've had a full appointment schedule at ASR and really good walk-by traffic at CLASS@ASR."

CLASS@ASR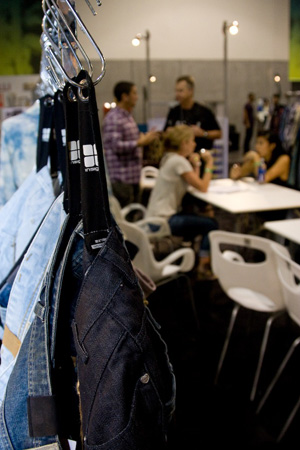 Retailers applauded the convenience, vibe and increased options offered by the debut of CLASS@ASR. CLASS@ASR featured over 120 emerging and core crossover fashion and accessory brands that helped attract a different segment of buyer to the ASR Marketplace, while offering more options to retailers that previously have supported both CLASS Events and ASR.
"It's my first time in San Diego for ASR. I saw some nice, playful product. On the men's side we saw some board shorts that we really liked," said James Hammonds, Men's Buyer at American Rag in Los Angeles. "It's nice to see everyone in one spot and some new brands too. I got a haircut at Class@ASR and picked up two new headphone brands AiAiAi and Eskuche."
A wide range of brands got an amazing boost during the three-day event. "We didn't know what to expect and this completely outweighed any expectations," said Jordan Percy, Raen, Designer "We opened 20 stores on the first day as accounts were writing paper."

Matt Jung, Founder of Wellen seconded that saying "We did a lot of business and launched our new cut and sew. Everyone who came to the booth was a quality, A-list buyer. We'll definitely do the show again. A lot of the people, who didn't hand paper in onsite, have promised it for Monday."

The mix of buyers from ASR's traditional audience and the new dealer base brought in by CLASS@ASR created a good synergy for brands. "It's our first time showing in San Diego and we created a lot of new buzz in the action sports market," said Sameer Walia, West Coast Rep for Goorin Brothers and Nooka. "There was good stop by traffic from all types of buyers – international, local San Diego, and some bigger shops like Sun Diego and Pac Sun. It was a really good mix!"

Insight, a buzz brand for a few years at ASR, picked up more momentum this show, according to Vanessa Chiu, Insight's Women's National Sales Manager, "We're still showing the line a half-hour before the show closes. The first two days we had two to three accounts at each workstation throughout. A lot of new accounts came by including three new Florida accounts we hadn't seen at any other shows that opened with us here."

Press conference

During the ASR kick-off press conference Paul Naude of Billabong said, "I think that we've seen the bottom," setting the tone for industry leaders as they outlined why action sports brands are well positioned to prosper in the future. The panel featured a historical gathering of action sports leaders including Quiksilver Americas President Craig Stevenson, Billabong USA President Paul Naude, VF Action Sports President Steve Murray, La Jolla Group CEO Toby Bost and Electric President Bruce Beach.
In brief statements, the leaders laid out the advantages the action sports industry has including authenticity, high-quality product and being activity-based brands in surviving and prospering during the economic downturn. Listen to the full statements by each speaker on ASRBiz.com/marketplacelive.
Events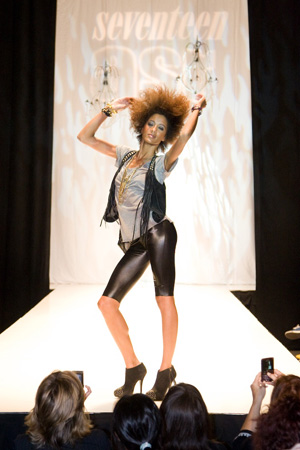 ASR Marketplace was awash in parties, premieres, fundraisers, fashion shows, skate contests and art installations. Between appointments attendees gathered in the Monster Foundation lounge to relax and network.
The ASR/Seventeen Magazine runway showed to a packed house on both Thursday and Friday afternoon. A standing room only crowd of buyers and media came to see action sports' highest energy, all-encompassing runway. 'Fashionably Loud' pulled standout looks from spring 2010. See the show in full at ASRBiz.com/Marketplacelive.
Buyers used the ASR Runway as a tool to trend forecast and find standout pieces for their stores. "The runway validated many of our favorite buys," explained Heidi Garvey, Buyer, Hansen's, Encinitas, CA. "We saw an O'Neill dress that we missed when we previewed the line and are going to their booth right now to buy it. There were also some good swim pieces shown that we hadn't seen before, so we're off to look at those too."
Skateboarding hit the show floor with a mini-ramp, street course and Vans' ramp in a van. During Volcom's Best Trick showdown, skaters battled it out for $6,000. Andrew Langi took first with a front pivot to fakie on the Stone. David Loy also grabbed $1,000 as he did a smith grind up the Stone to a frontside tailslide on the extension.
Twenty-five of San Diego's best shapers dug deep into their quivers for the Billabong Art of Shaping: San Diego Edition. The event raised $46,500 for the Liquid Nation Ball. Jim Phillips raised $8,000 for his "Rising Sun" board to win the event. Bob Mitsven took second for his Chambered Cedar Fish shape board.
During the show art installations by Sk8ology, Barry McGee in collaboration with RVCA and Cinelli, the Glue Network and Roland Sands added to the vibe of both ASR Marketplace events. ASEC's Green Room provided a platform for the sustainability movement in action sports to shine. Daytime went straight into night with copious after parties, including the Best Damn Kick-Off party, CLASS@ASR Prom party, the Liquid Nation Ball, world premieres of surf and snow films, music and Padres games.

In 2010 ASR Marketplace returns to San Diego on February 3rd and 4th for fall and holiday 2010 and August 14th through 16th for 2011 spring lines.
---