Back to News
OFFICE BOOYZ SK8 @ ASR: Contest Write-Up & Pic's!
October 1, 2009


OFFICE BOOYZ SK8: Showdown @ ASR – Let the Good Times Roll
The Contest, Results, Mayhem & Fun
His illustrious, yet illusively-bold chiseled features have shattered hearts of many for eons. Only gaudy hues of heavenly-glossed gold will drape him. An old school, Nash-style deck has never left his side. His caddy, eighties-esque helmet and stench of cheap lacquer leave many cowering in jealousy. The only platform he graces: slabs of thunder-sculpted marble tiered by satin-draped Corinthian pillars of red, white and blue. Few have known him, yet none have forgotten him. His name, Tropheus OB, otherwise known as the infamous OFFICE BOOYZ Trophy!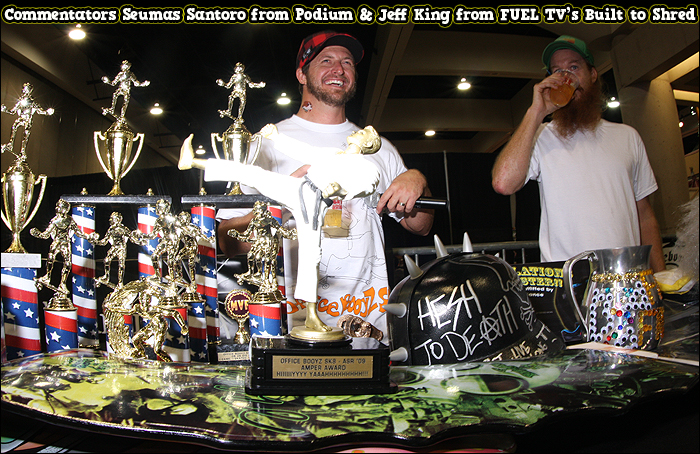 Desk jockies far and wide gathered Thursday, Sept. 10, 2009, at ASR in San Diego, Calif., in hopes of winning an OFFICE BOOYZ trophy at the U.S. debut of OFFICE BOOYZ SK8: Showdown @ ASR. For those unfamiliar, OFFICE BOOYZ SK8 is a skate contest for full-time employees who work in the action sports industry.
OFFICE BOOYZ across the nation gathered to compete head to head against their fellow workers in the industry in hopes of taking home that sweet smell of victory, bragging rights around the office, and more than $700 CASH to be handed out – not to mention all the secret prizes to be given away. This righteous mockery of a skate contest was based on shear fun, not performance, so anyone who showed up to skate – regardless of skill level – was a contender for the best prize. And so the saga began.

OB kicked off with a 30 minute "jam session," so all the old dogs put away their jitters, forgot about the bail gun, and simply had a good time skating with their peers. The course included two boxes, two low manual pads, an OFFICE BOOYZ friendly flat bar (square and low), a 4ft tall by 8ft wide quarter, and yes, a ghetto-ass-barrel to slalom cone-course for any and all levels to enjoy. The barrel, made of spool wire, painters plastic and bubble wrap, was a hot commodity on the course – as you'll soon see. Crap tricks and bangers were being thrown left and right. Nonetheless, as long as you're out having fun, it doesn't matter whether you shred or suck at skating; that's the beauty of OB. Check out the slideshow of the contest below.

(Slide Show Tips: Press "Pause," click Full Screen Icon [bottom right], click "Show Info" for details, and enjoy the show)



When the clock struck four and a half, contestants realized Malakye had an open bar with frosty, cold free beer and a mixed drink buffet – an appropriate lunch for a dignified OB'er. Refueled, buzzed and ready to shred, they filtered their way back in with an ear-to-ear grin.
At this point, the contest switched gears and OB'ers were lined up for a giant OB Game of S.K.8. The rules: one trick you're out; no flip tricks allowed; and OB judges can banish any contender for no apparent reason. Schizo, aka "John Tracy," landed his no-comply 180, but the OB Gods weren't diggin' it so they exiled him for actually landing his trick. Thanks for putting up with our crap Schizo - good times!
Once contestants started dropping like flies and it got down to around 10 skaters, a riders conference was held for the new rules which included the following: you get two letters, one number (S.K.8.); you get two tries on the last trick; you can weasel your way back in by doing something wicked amazing. The final four included Chris Bodiford, aka "Bama," from Black Box Distribution, Mike "The Fitz" Fitzgerald from Transworld, Patrick Webb, aka "Patillac," from Element Skateboards, and Jason Rothmeyer from the Skate Park of Tampa. When it came down to handling biz, it was Mr. Rothmeyer who stole the crown. Deemed the OB Game of S.K.8. Champion, Rothmeyer was hoisted up by runners-up Bama and Patillac, and celebrated with cheers from the rest of the crowd.
Though Fitzy, Bama and Patillac thought the show was over, there was one more surprise in store for them: The Amper Race. The rules: line up against the far right fence, race to the other side of the course, touch the wall, shoot the ghetto barrel on the way back, the first person to touch the fence at the original starting point wins, and anything goes.
"GO B*TCHES, GO!!!" yelled OB Commentator & Judge Josh Lewis with abrupt disdain – maybe a bit much, yet effective. "It was the funniest thing I've ever seen; they looked super serious!" They took off frantically like little kids racing for a deck at a skate demo. Patillac, behind in third on the first straightaway, flung himself into Bama and Fitz once they reached the far wall. With Bama and Fitz distraught, Patillac sensed the fear in his comrades eyes, charged the barrel, hopped on his skate and stole the lead. It was a glorious day for Patillac, indeed.
(Slide Show Tips: Press "Pause," click Full Screen Icon [bottom right], click "Show Info" for details, and enjoy the show)
After all was shred and the contest done, it was time for the judges to deliberate. The panel included Josh Lewis and Chad Mihalick from Malakye.com, Eric Stricker of Transworld Skateboarding, Justin Cobb from New Era, Karl Fuhre from IS Eyewear (also President of OB), and Seumas Santoro, aka "Golden Voice," from Podium Distribution. All in all, a mountain of decisions lay before them, yet as the dust settled and the beers were flowin', any task put before them was attainable. Don't forget, this is OFFICE BOOYZ, and all OFFICE BOOYZ handle their sh*t.
Desk Jockies Unite!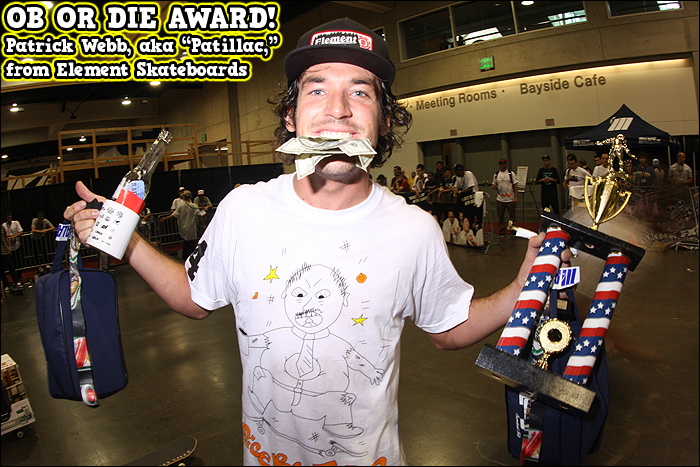 Pre-Show Pic's, After the Contest & The After Party
(Slide Show Tips: Press "Pause," click Full Screen Icon [bottom right], click "Show Info" for details, and enjoy the show)
Malakye would like to thank all you helped bring OFFICE BOOYZ SK8 to life:
· ASR – Dan Moylan, Paul Dillman, Lisha Baer & Crew
· Jim Bell Skateboard Ramps/Aura Skateboarding Company – Thanks to Jim for hooking up the ramps for OB.
· IS Eyewear – Karl Fuhre, the President & Founder of OFFICE BOOYZ, for flying in from Vancouver Thursday morning to attend OB, then heading out the next afternoon. Keep an eye out for Karl's latest endeavor Party Snake.
· FUEL TV – Thanks to Jeff King from FUEL TV's Built to Shred for announcing, and John Stouffer for setting it up.
· INK FX: Mike Machrone doing a great job on the tagless numbered OFFICE BOOYZ tees for the contest.
· Spin Imaging & 118 Boardshop: Teddy Monney and Erik Bond can handle all your large-format printing needs.
· XSI (Extreme Sports Insurance) – Jay Dutton for sponsoring OB and hooking up riders in the industry with affordable insurance.
· Jo Show Promotions - Joanna Morse provided the OB Mugs for the event. Now the OB'ers have a fine chalice for their coffee, and a perfect mug for dippin' donuts.
· Meridian Graphics – Erik Phillips, aka "Amper," handed out the Amper Award worth $100 from In-N-Out.
· Propaganda HQ – Ty Smith from PHQ joined the contest as a sponsor and a contestant. Contact Ty for all your brand consultancy, advertising, design, audio/visual and event needs.
· 686 Technical Apparel – Kristin Cusic set up the Manny Master Award, giving away a limited edition 686 x New Balance outerwear set up and boots.
· Red Bull: Josh Greenberg hooked up the Desktop Destroyer with VIP access and a hotel for the Red Bull Soap Box Race in Downtown LA Sept. 26. Click here to check it out!
· ATM Skateboards & Iron Horse Griptape: Thanks to Kevin & John Falahee for sponsoring the contest, and Ed Devera for giving out his signature Faded Freddy Krunk Cup to Marty Shadoan, the Most Sauced category winner.
· Jägermeister: Rick Zeiler, Steve Puente & Adam Grayer for supply Jager for pretty much ALL the prize category winners!
· Powell Peralta: Elliott Rebuck from Skate One supplied copies of the world-renowned skate vid' The Search for Animal Chin.
· Dunkelvolk: Cody McCoy for taking on the Mongo Award and dishing out a giant box of Dunkelvolk clothing to be tossed out to the crowd, and a huge prize pack for Steven Puente, the winner of the division.
· NHS/Creature: HMC (Heavy Metal Chuck) took on the Hesh to Death category and gave out a Creature Coffin Cruiser and a Hacksaw III Blader-Hater skate deck.
Contest Divisions

Prize!!!

Prize Sponsor

Winner

Animal Shinner: The worst shinner of the contest – whoever's board whacked their shin the hardest!

Animal Chin DVD
Jager Bottle

Powell

Teddy Monney from Spin Imaging

Brass Balls: Charges the hardest all day and just goes for it! Got Balls?!

Adam Dyet Print Signed by Bo Bridges
LANYARD W / BALLS
Jager Bottle

Bo Bridges Photography

John Sherwood from Globe

Blue Balls: Goes to person who skated around, but didn't man-up and go for it.

Playmates Aubrey & Angela Print from Bo Bridges (Motivation to Man-Up)
Balls Lanyard
Jager Bottle

Bo Bridges Photography

Blair Alley from Transworld Skateboarding

Most Excuses: Goes to whoever breaks their board first or bitches the most, no matter how little or big the complaints are!

$100 Bar Tab
DANCE LANYARD
OB TROPHY
Jager Bottle

ASR

Noah Lewkow from ZJ Boarding House

OB S.K.8. Champ (Game of S.K.8.): Best bag of tricks in the industry!!!

OB TROPHY
Jager Bottle
Animal Chin DVD

Malakye

Jason Rothmeyer from Skate Park of Tampa

Mongo Award: Goes to the worst mongo pusher of the contest or has the most surfed-out style. Mongo = skater who pushes with the front foot instead of the back.

Pooka & Hawaiian Shirt
Dunkelvolk Clothing Package
OB SURF TROPHY
Jager Bottle

Dunkelvolk

Steven Puente from Jägermeister

Most Sauced, aka "Faded Freddy Award" (ATM Pro Ed Devera): Goes to most sauced Office Booy or Gurl.

Krunk Cup from ATM
$100 Bar Tab
Jager Bottle

ATM

Marty Shadoan, infamous skate footwear designer. Somethin' new is comin'! Keep an eye out…

Manny Master (Manual Pad): Your kankles pulled you through my friend. At your age, you can't have that much balance unless your ankles are connected to your calves!

686/New Balance Set Up
OB TROPHY
Jager Bottle
Animal Chin DVD

686

Jason Rothmeyer from Skate Park of Tampa

Commuter Award (Flat Bars): Goes to the best rail commuter, aka "flat bar assassin"!

OB TROPHY
Jager Bottle
Animal Chin DVD

Malakye

Adam Sullivan from FUEL TV

Amper Award (Meridian Graphics): Winner of the OB Race Around the Course!

$100 Gift Cert' to In-N-Out!
Jager Bottle

Meridian Graphics

Erik Phillips giving prize for something amazing...

Patrick Webb, aka "Patillac," from Element

Scorpion King: Whoever eats sh*t the hardest

OB TROPHY
Jager Bottle
Animal Chin DVD

Malakye

Jason Huewe from Scoff Skateboarding

Hesh to Death Award: This goes to the OFFICE BOOY with the best tranny skills, or whoever's the heshest skater on the course.

$200 CASH!!!
Creature Coffin Cruiser
OB TROPHY
Jager Bottle
Animal Chin DVD

NHS (Creature)

& Malakye

Joey Maiocco from Sanuk

Oldest Office Booy

Malakye

John Sherwood from Globe

Most Gray Hair

Malakye

Seumas Santoro from Podium Distribution

Best Trick: Self Explanatory. If the worst is so ugly that it takes out the best trick, well, then we have a Worst Trick winner! Honestly, it can go either way.

OB Jacket "Charlie OFFICE BOOYZ Brown"
TROPHY
Jager Bottle

Malakye

John Tracy, aka "Schizo," from Shamrock Roots

Most Team Spirit: Goes to OBers from the company with the most team spirit and camaraderie!



OB TROPHY
"4" Jager Bottles!

Malakye

Transworld: Eric Stricker, Mike Fitzgerald, Blair Alley

Still…Got Pop Award: You may sit in an office all day, but you showed Dr. Arthritis who's in charge!

Mini-Keg Cooler!!!
TROPHY
Jager Bottle
Animal Chin DVD

Malakye

Chris Bodiford, aka "Bama," from Black Box Distribution

Desktop Destroyer: Goes to person who shows the desk(s), aka "ledges," who's the boss!

o VIP Access & Hotel

OB TROPHY
Jager Bottle
Animal Chin DVD

Red Bull

Beto Guerrero from the Lifted Research Group (LRG)

OB OR DIE Award: Goes to skater with the most heart and had the most fun.

$300 CASH!!!
OB TROPHY
Jager Bottle
Animal Chin DVD

Malakye

Patrick Webb, aka "Patillac," from Element Skateboards
---