Back to News
SNOW: Snowboard Canada Women's Annual
October 22, 2009
Snowboard Canada Women's Annual
Four years deep, Snowboard Canada Women's Annual has an indisputable reputation for producing the best female snowboard magazine. On newsstands now, our 2010 edition once again ups the ante with its page-flipping
stories and inspiring images from the world of women's snowboarding.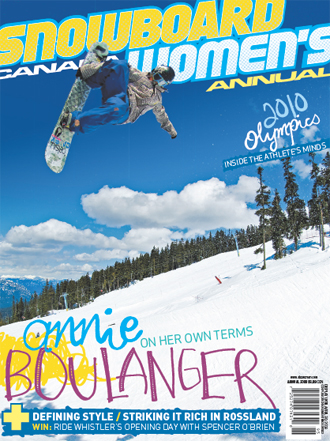 On the Cover
With the Olympics right around the bend, Canadian riders are working double time on and off the snow as evidenced by this year's cover girl, Sarah Conrad, who looks solid in in the Blackcomb pipe—her backyard training ground. This stylish Air to Fakie was caught by long time Whistler local and photographer Dano Pendygrasse. Look inside for a feature-length story on what the ladies have to say about the upcoming Games, making the cut, and what it all means for women's snowboarding.
Interview: Annie Boulanger
"No matter what happens in my life, snowboarding is always there for me. I never stop dreaming about it and I anticipate powder runs all summer. It just makes me feel so good and helps me be one with nature. I'm so grateful to have the opportunity to share these photos and moments
that are important to me with you guys. I hope this magazine filled with all these beautiful images that were captured last winter inspire you guys to dream of playing outside, enjoying nature and finding your own moments." —Annie Boulanger
BC, Alberta, Quebec, Colorado, Utah
In this issue, diversity is key. From riding pow and trees in the BC Interior with Raewyn Reid,to hitting features in Quebec's urban landscape with Esthera Preda, to board testing in Colorado with the K2 Women's Alliance, we took a lesson from geography class when planning this issue.
"We're fortunate to have a print publication dedicated to women's snowboarding. Roberta and her team have done an excellent job of putting a spotlight on Canadian female athletes and I'm flattered they chose to make me apart of it… even if it wasn't for my snowboarding ability."
—Shawna Olsten, Quiksilver Canada marketing manager
Best Contest Ever… seriously!
Trip of a lifetime? Maybe. Along with Red Bull and Spencer O'Brien's sponsors—Burton, Dragon, Etnies, Dudley and Coastal Riders—one lucky reader will be kitted out with a fresh grip of gear and flying out to Whistler to ride with Spencer on opening day. Here's to pow runs.
"With the Snowboard Canada Women's Annual, you know before you open the magazine that all the shots are of the ladies, which is cool, and all the girl stuff that guys pretend they don't want to read has its place."
—Photographer Ashley Barker
Sbcwomen.com
Go ahead, take a look. As the online companion to the Women's Annual, click to sbcwomen.com for news, videos and extended magazine content. Since women's snowboarding is happening year-round, expect our website to be covering the highlights no matter when they happen. Look for exclusive web content such as rider blogs, event coverage, online contests, and our Rider of the Month feature. Oh, and free stuff. Who doesn't like free stuff?

---