Back to News
SNOW: Mountain High Wins National Ski Area Association's 2009 Safety Award
October 27, 2009
Mountain High Wins National Ski Area Association's 2009 Safety Award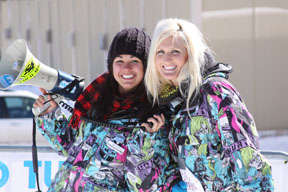 Mountain High is the proud recipient of the National Ski Area Association's (NSAA) 2009 Safety Award for Employee Involvement and Education. The Safety Brigade, an initiative implemented in 2007, tours the mountain daily promoting helmet use, rewarding guests with good safety habits, and handing out pertinent information. Mountain High also instituted an education program last year that requires all 12,000 season pass holders and 1,100 employees to review the points of Smart Style, Your Responsibility Code, and the ATML terrain park methodology before receiving their passes. These programs cover on-hill safety issues, tips for having a successful terrain park experience, and proper mountain etiquette.
Says Karl Kapuscinski, General Manager, "I'm very proud of our Risk Management team and all the accomplishments they have achieved. Safety is very important to us, and you can literally see the effect it is having on the mountain."
This year Mountain High has expanded its Safety Brigade to six individuals and identified key areas to interact with its guests. In the lift maze, employees will be asking fun safety questions to educate visitors waiting in line. On snowy days they will work with Patrol to teach the dangers of going out of bounds. In the Children's Academy, they will meet with young guests to impress upon them the rules of the mountain from the very beginning. And at the top of lifts, they will draw awareness to being safe and having fun.
The NSAA developed the Safety Award program to first and foremost recognize the resorts that do a great job of educating guests and raising slope safety awareness. "Secondarily, says Troy Hawks, Managing Editor of the NSAA Journal, "they're designed to tap into the highly competitive nature of ski area owners, operators, and staff so that they might continually raise the bar on safety education for the betterment of the industry as a whole."
Each season resorts proactively educate their staff members and guests about the seven rules of the Your Responsibility Code, terrain park safety, helmet use, avalanche awareness, sun protection and more. Since its inception, National Safety Awareness week has provided the industry the opportunity to showcase creative slope safety programs designed to educate employees, guests, and the media about the importance of slope safety.
---