Back to News
SNOW: Ride's 8th Annual Snowboard Art Contest
November 2, 2009
Ride's 8th Annual Snowboard Art Contest
Show Off Your Artistic Talent and Be Entered To Compete For Your Very Own Custom Board-
SBA 8 is back in action for another successful year. For those looking for a creative outlet and a chance to show off your skills, enter Ride's SBA 8 to compete against fellow snowboarders and artists from all around the globe. New for this year, Ride's
Annual Snowboard Art Contest will feature a full slide show to include ALL of the entries and Ride will host a peoples' choice vote online. Entrants are competing to win cash, prizes and — most importantly — the envy of their peers.
Judged by the Ride Snowboards Creative Team, the top 30 entries will be identified and posted on Ride's web site. In February, the top 30 will also be displayed at evo's TimesInfinity Gallery in Seattle and SBA 8 art reception. The finalists will compete for the $1,000 grand prize and a custom snowboard featuring their winning artwork. Each year, there are many remarkable and imaginative entries, so get a little creative and a lot crazy, and we'll look forward to seeing your entry for SBA 8! For full contest details, entry forms and template please visit:
http://ridesnowboards.com/sbac
Important Dates:
Intent to Enter Form due: November 18th
Art Submissions due: December 11th
Peoples' Choice Vote and Top 30 Announced:
February, date TBD
SBA 8 Reception, in Seattle:
February, date TBD
Grand Prize Winners and Runners' Up to be
announced at the reception!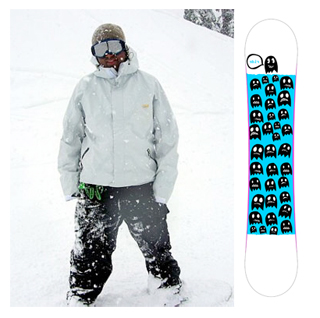 SBA 7 Grand Prize Winner &
Creator of the SBA 8 Contest
Flyers:
Nick Panesar of Delta, BC Canada
---