Back to News
SNOW: DROP MFG Adds New Riders to Global Team
November 16, 2009
DROP MFG Adds New Riders to Global Team
DROP MFG is proud to announce the addition of four new snowboarders to its global team including Heikki Sorsa, Romain de Marchi, Forest Bailey and Adam Dowell.
Hailing from Finland, Switzerland and the United States, each rider brings something special to the DROP team. Heikki has one of smoothest styles around; Romain is hands down one of the sickest riders to ever strap on a board; young gun Forest is a rail destroyer with all the tech tricks on lock; and Adam is a big mountain specialist who slays burly lines with the Jackson crew.
"We are excited to step up our game this season by adding four of today's most progressive riders to our team," says DROP's Dan Stanilonis. "Since day one, we have always prided ourselves on making the best performing, most innovative and stylish gloves and accessories on the market. Our new team additions reflect this mindset because each rider, in his own unique way, is pushing the
sport to the next level."
As new recruit Romain de Marchi puts it, "DROP is one of the most respected glove makers out there, and I am stoked to be part of the brand. It's truly a company I can identify with, and the product is outstanding."
In addition to DROP's new team riders, the current roster also includes snowboarders Simon Chamberlain, Mark Landvik, Josh Sherman, Andrew Hardingham and Jacqui Berg.
Find out more at: www.DROPMFG.com.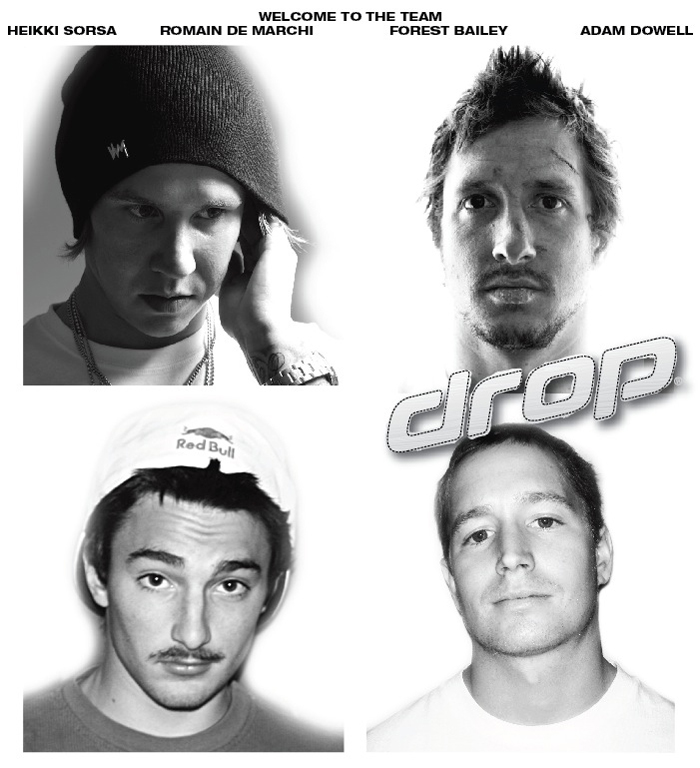 ---