Back to News
EMP: Mountain High Names Josh Chauvet Action Sports Manager
December 1, 2009
Mountain High Names Josh Chauvet Action Sports Manager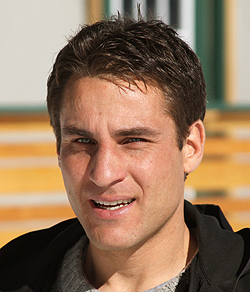 Mountain High is proud to name Josh Chauvet its new Action Sports Manager. This role serves a dual purpose as he oversees both the mountain's Terrain Park program and the area's events, promotions, and youth marketing. Chauvet brings 15 years of industry experience as a competitor, builder and promoter. His resume includes well-known entities such as Mammoth Mountain, Snow Park Technologies, and Nikita Clothing. Having built parks and events around the world, Josh is an excellent addition to the Mountain High staff and resort managers are challenging him with increasing exposure to area's core snowboarding programs.
Says Karl Kapuscinski, President and CEO, "We are very excited to have someone with Josh's experience and passion. I consider him one of the top five in North America as it relates to terrain park building and design."
Josh Chauvet began his career at Snow Summit in 1994 where he worked as a crewmember and design assistant on the terrain park construction team He quickly progressed and moved to Snow Valley in 1996 where he led the terrain park program and oversaw its new wave of park development. Following Snow Valley, Chauvet stepped up to Mammoth Mountain where he spent the next six years managing the Unbound Terrain Park, and leading youth specific marketing efforts such as advertising, industry relations and special events. Josh's efforts helped establish Mammoth as one of the premiere snowboard resorts in the world.
Following Mammoth, Chauvet became partners in Snow Park Technologies, a snow sports event and resort consulting business. Snow Park Tech developed and managed park programs for over 15 resorts including Sierra At Tahoe, CA, Aspen, CO, and Snow Park, New Zealand. In addition to resort consulting, Josh designed and managed courses for over 25 world-class events including the X Games. Snow Park Tech was later purchased by resort-conglomerate Booth Creek where he worked as the Operations Manager for Snow Park Tech and the Y.A.S. Brand Manager for Northstar at Tahoe. Most recently Josh worked as the US Marketing Manager for Nikita clothing where he honed his marketing, PR, and management skills.
Throughout his distinguished career Josh Chauvet has developed a passion for designing and building terrain parks. His highlights include three years as the designer of Snowboarder Magazines' Superpark, four years building and designing the Burton US Open, and three years working with the Winter X Games. Mountain High is extremely proud to have him as part of its team and looks forward to continuing its position as one of the top terrain parks in the country.
---