Back to News
SNOW: Mountain High to Offer Trikke Rentals
December 10, 2009
Mountain High to Offer Trikke Rentals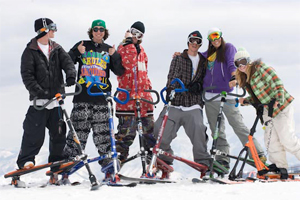 Mountain High is proud to offer Trikke (pronounced "trike") rentals at its East Resort this season. Touted as a fun, new alternative to skiing and snowboarding, the Trikke is a stand up, on-snow device with little to no learning curve so even guests who have never been to the mountains can have fun carving through the snow. Click here to see a short video http://www.trikke.com/Trikke-Showroom//-by-Trikke-CV
Based on its patented articulating camber technology, the Trikke is designed for most groomed runs to fresh powder. It requires no bindings or special boots. The rider simply leans with the steering column and the three skis carve the turn. For those interested we recommend viewing the educational video before the use of the Trikke. Most beginners find it fun and exhilarating on the very first run.
The Trikkes will be available for rent this season at Mountain High's East Resort. They require no extra equipment however, waterproof boots, pants and a helmet are always recommended. Prices are just $35 for four hours. Some age and height restrictions may apply and no one under the age of 13 will be allowed to rent. All riders under the age of 18 require parent/guardian signature. A valid lift ticket is required for all rentals. Guests are advised to check the snow report at mthigh.com prior to their visit to ensure the East Resort is open.
Says Tim McCabe, Rental Manager, "I am very excited to add Trikkes to our rental fleet. They are incredibly fun and beginners will almost immediately feel the carving sensation."
To ride the Trikke users simply place one foot on the elongated foot bed, push off, and place the other in the opposing bed. The handlebars control the amount of turn and lean, and by steering left and right it causes all three skis to rise up on their edge. The frame articulates as well, allowing riders to camber or carve into any turn at while all three skis remain on the ground. Therefore, each leg will flex & extend independently, just like when carving a ski or snowboard. While the edging experience is very similar, there are a few major differences to traditional on-snow equipment: There are no bindings, the rider is not strapped in, and the vehicle is designed to encourage a sense of comfort while experiencing the thrill of gliding on the snow just as skiers and snowboarders.
Free demo days are taking place on January 1st and 2nd, 2010, with a fun, open-class slalom event on January 3rd. If guests are interested in trying the SKKI before purchasing, or would like some on-hill instruction, these days offer an excellent introduction to the Trikke SKKI.
---