Back to News
Second Annual Women In Business Event Spotlights Female Executives in Sports Marketing
January 5, 2010
Second Annual Women In Business Event Spotlights Female Executives in Sports Marketing
Panel of Six Industry Leaders to Share Insights and Experiences Within Their Field
Tadpole Marketing, in partnership with Stanton & Company, is proud to present the second annual Women in Business, a networking event designed to inspire individuals through the contributions of influential women in sports marketing. The event will be held at the Red Bull Headquarters in Santa Monica, Calif. on Jan. 13, 2010.
The event will feature a "who's who" of women panelists from the sports marketing industry including Laura Gentile, VP of espnW for ESPN, Jessica Mendoza, president of the Women's Sports Foundation, Mary O'Connor, director of Olympic Marketing at The Marketing Arm, Julie Solwold, VP of global sports marketing for Paul Mitchell, Amy Stanton, founder and CEO of Stanton & Company and Diane Thibert, director of global PR for Oakley.
Women in Business is open to all persons wanting to learn more about sports marketing or who want to be inspired by these highly influential panelists. Pre-registration is $30.00 or $15.00 for students and can be purchased at www.wib.tadpolemarketing.com. Additionally, tickets can be purchased at the door for $40.00 or $25.00 for students the day of the event, however space is limited. A portion of the proceeds will benefit the Women's Sports Foundation, a non-profit organization dedicated to advancing the lives of girls and women through sports and physical activity.
"Last year's Women in Business received such tremendous feedback from both industry veterans and women looking to break into the field, we felt it was only natural to make it an annual event," said Carolyn Deighan Coyne, owner of Tadpole Marketing. "This year's panel boasts some of the most accomplished women in the industry, so we are expecting another sold-out night!"
For more information on the second annual Women in Business, visit www.wib.tadpolemarketing.com or call (310) 574-3730.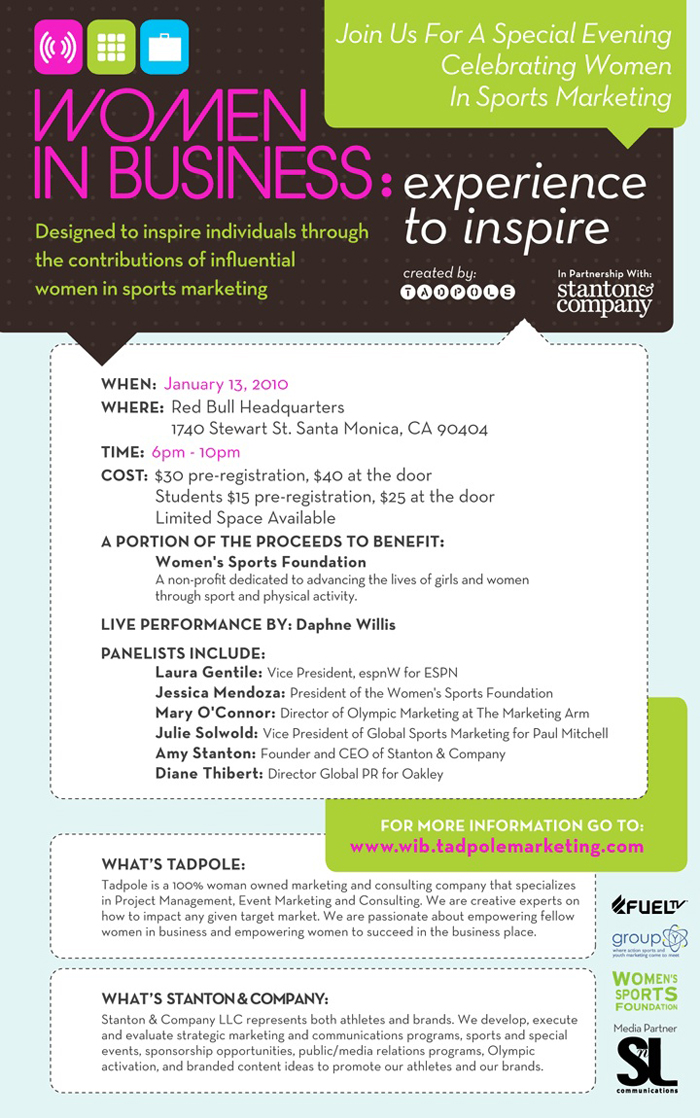 ---