Back to News
ART: The Collection Art Show, Presented by Scion, Featured at Disjecta in Portland
January 7, 2010
The Collection Art Show, Presented by Scion, Featured at Disjecta in Portland
Pacific Northwest Traveling Art Show, Featuring Printmaking, Charcoal, Painting, Photography and Other Mediums, Makes its Next Stop in Portland on Jan. 15th and 16th.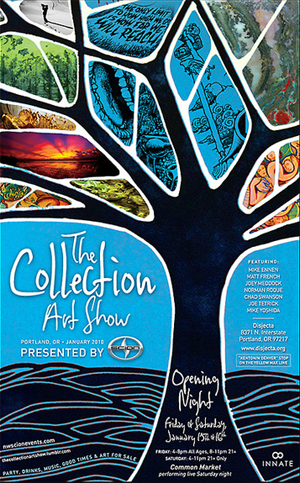 Art, music, drinks and good times will all be a part of the upcoming The Collection Art Show, a traveling art show presented by Scion. The free show will be exhibited at Disjecta (8371 N. Interstate, Portland, OR 97217) on Jan. 15th and 16th, 4 p.m. – 11 p.m. Common Market will be performing live on Saturday night.
The Collection Art Show, Presented by ScionThe Collection showcases an array of unique art that covers many different mediums, including printmaking, charcoal, painting, photography, mixed media painting and illustrations. The featured artists, who all hail from the Pacific Northwest, include: Joey Meddock, Mike Yoshida, Chad Swanson, Joe Tetrick, Mike Ennen, Matt French and Norman Roque.
"You could consider this show somewhat of an action sports art show, but we just want viewers to see it as simply amazing art," says show coordinator and artist Mike Ennen. "Each artist in their own right is respected in their field of work and we want to showcase how good each artist is at their skill. This tour is a combination of both art provided by action sport professionals in addition to being a fun and interactive event for you and your friends to engage in."
The show will be open to all ages from 4 – 8 p.m. on Friday, Jan. 15. From 8 -11 p.m. on Friday and all day on Saturday, Jan. 16, the show will be open to ages 21 and up only.
Video from The Collection Art Show in Bellingham, Wash.: http://www.youtube.com/watch?v=kUtxK67Y8lY
Video from The Collection Art Show in Seattle, Wash. http://www.youtube.com/watch?v=oyswjL6XPo0
---