Back to News
FILM: NB Film Festival Call for Action Sports Series Entries
January 26, 2010
NB Film Festival Call for Action Sports Series Entries
The Newport Beach Film Festival (NBFF) announces "Call for Entries" for its 2010 Action Sports Film Series. Celebrating its eleventh anniversary, the NBFF continues its tradition of presenting the ultimate in cutting edge action sports cinema from around the world. The Action Sports Film Series will take place during the week of the Newport Beach Film Festival (April 22-29, 2010) in Orange County, CA.
Co-produced by ChopShop and sponsored by FUEL TV and ASG, the 2010 NBFF Action Sports Film Series will spotlight films, filmmakers, athletes, visionaries, industry gurus, artists and designers who have shaped the action sports culture and captured its history with their amazing talent, creativity and innovation. Highlights include film premieres, filmmaker panels, athlete appearances, participation of action sports retailers and art exhibitions.
Films will screen at the historic Regency Lido Theatre and at Edwards Island Cinema, in Newport Beach. With its roots deeply connected to the history of skateboarding, surfing and snowboarding, the NBFF boasts an enthusiastic audience base dedicated to action sports cinema, culture and lifestyle. Past NBFF films include Waveriders, Street Dreams, Echo Beach, The Glacier Project, Clay Marzo: Just Add Water, Highwater, Step into Liquid, Riding Giants, Dogtown and ZBoys, Dust to Glory, Chasing the Lotus, Let It Ride, Sliding Liberia, Under the Sun, Sofia, Stoked, Zen & Zero, Klunkerz, Chasing the Horizon, Adrenaline Hunters, Monster Thursday and Wassup Rockers.
Filmmakers may enter feature-length narrative, documentary, short, animated and student films. Filmmakers can submit at www.NewportBeachFilmFest.com.
For information visit http://www.nbffACTION.com.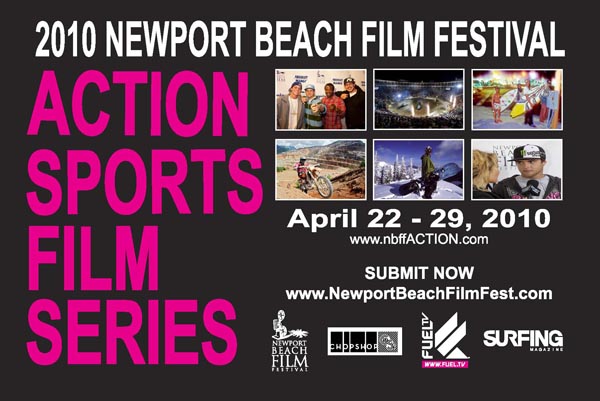 ---