Back to News
SURF: Surfrider Foundation's 2009 Wavemaker Award recipients
February 10, 2010
Surfrider Foundation's 2009 Wavemaker Award recipients

On Saturday, the Surfrider Foundation's Board of Directors and Staff gathered at Irons in the Fire in San Clemente to honor select individuals and companies for their outstanding volunteer efforts and support during the prior year to help the organization fulfill its mission of protecting our oceans, waves and beaches. Congratulations to the Surfrider Foundation's 2009 Wavemaker Award recipients:
Coastal Impact Award
Manase Mansur
Manase is a leader in the San Diego Chapter, but it is his work to reduce and eliminate single-use plastics that earned him the Coastal Impact Award (awarded only in years where the board and staff feel that a person or persons has made a truly unique impact on the world's oceans, waves and beaches). In 2009 during his third tour of Iraq as a reservist, he realized that the U.S. military quenched its massive hydration needs by distributing bottled water to its soldiers. To address the issue, he created and implemented a large-scale awareness and recycling program. This led to centralized depots for plastic bottles, multi-cultural signage and friendly recycling canister races among soldiers. Manase shows that environmental activism is a lifestyle choice - one that follows you wherever you go.
Outstanding Contribution Award
Robb Havassy
For over ten years Robb has been an ardent supporter of the Surfrider Foundation and its mission, participating in Art For The Oceans I and routinely donating works to local chapters for fundraisers. In recent years, Robb has provided the Foundation with images and designs for use on mail order merchandise. In 2010, Robb is donating proceeds from his new book Surf Story Project to the Foundation to continue its ongoing efforts to preserve our coastlines.
Development Award
Randy Renick and Rick Saveri
Through the efforts of Randy and Rick, the Surfrider Foundation received the second largest gift in the organization's history at the end of 2009. As part of a lawsuit against the makers of smokeless tobacco, Randy and Rick worked to have Surfrider included in the cy pres allocation resulting in a $600,000 donation. This was not the first time Randy and Rick have worked to have the Surfrider Foundation included in the settlement allocation from a lawsuit. In 2006 they were responsible for the Foundation's single largest gift ever, an $880,000 donation from a settlement against the makers of neoprene.
Environmental Activism Award
Jerry Collamer
For as long as anyone can remember, Jerry has been a leader in the historic campaign to Save Trestles. Epitomizing the mantra "constant pressure, endlessly applied," Jerry hosted countless tablings, events, fundraisers and protests, and also attended countless council meetings and public hearings on the ill-fated toll road.
Corporate Partner Award
AVEDA
Each April (Earth Month), AVEDA conducts a nationwide campaign to raise money for environmental non-profits working on clean water issues. For the last three years, AVEDA has selected the Surfrider Foundation as its Earth Month partner for Southern California, and has raised over $350,000 through their local salons, spas and retail stores.
Chapter Leadership Award
Julie Lawson – Washington, DC Chapter
Julie's efforts have made the Chapter a viable, credible and well-organized group. Her work has included a leadership role in the passage of the DC Bag Tax Bill, and assistance on other bag bans and bills. Additionally, Julie has worked tirelessly to recruit and train new activists, served as a mentor to other chapters and participated in numerous EarthShare presentations, leading to a 35% increase in pledges for the Foundation.
Distinguished Service Award
Belinda Smith – San Diego Chapter
Belinda is a testament to the "service" component of any chapter. She has spearheaded efforts on the Know Your H2O campaign, and assisted with the No Border Sewage campaign. She helped develop the San Diego Chapter's volunteer training curricula and coordinate their core volunteer network. Like any good leader, she empowers others within the Chapter so they may become future leaders in their own right.
Special Recognition Awards

Kerry O'Bryan
Kerry was instrumental in the success of the Art for the Oceans III auction. Kerry connected the Surfrider Foundation to a number of artists and galleries, managed all aspects of the museum-quality installation of the pieces, and provided invaluable insight and advice in the planning and execution of the event.
Leanne Fremar
Leanne took sole responsibility for the underwriting, design and printing of the Art for the Oceans III auction catalog. She brought in a cutting edge designer and top-quality print house to create a beautiful catalog on a small budget and a tight deadline. She has also secured underwriting for an upcoming book highlighting all three installments of Art for the Oceans.
Jeremy Elman, Brock Wilson, Mark Itri and Daniel Foster – McDermott Will & Emery, LLP
Jeremy, Brock, Mark and Dan were instrumental in several legal campaigns, including Surfrider Foundation's Supreme Court beach access amicus effort, Integrated Water Campaign litigation and other local chapter issues. They have committed hundreds of hours of attorney time to the Foundation this year alone, but have been supporters for several years.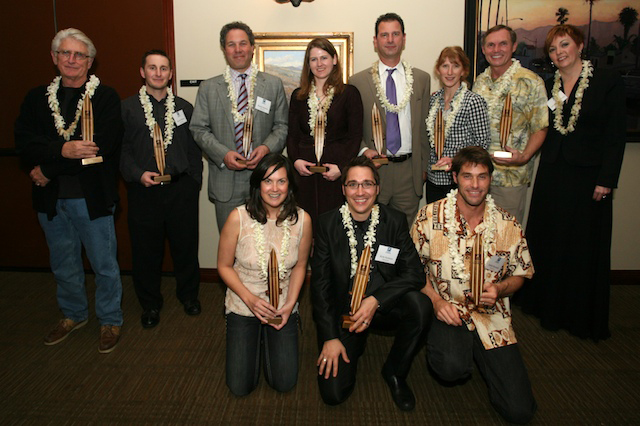 Back Row (L-R): Jerry Collamer, Brock Wilson, Randy Renick, Julie Lawson, Rick Saveri, Kerry O'Bryan, Manase Mansur, Julie Steinleitner
Front Row (L-R): Belinda Smith, Kirk Holmes (AVEDA), Robb Havassy
Photo Credit: Kyle Lishok
---