Back to News
LAUNCH: Colorfast Apparel Introduces Quick-To-Market Fashion Blanks
February 16, 2010
LAUNCH: Colorfast Apparel Introduces Quick-To-Market Fashion Blanks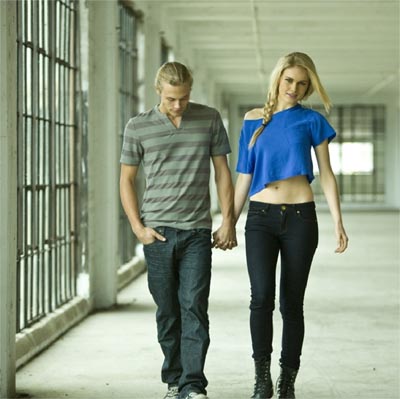 Introducing Colorfast Apparel, the new LA-based name in the fashion blanks category. Launching for Spring 2010, the brand has already started making an impact and solidifying a name for itself. Its debut in January at the Imprinted Sportswear Show (ISS) in Long Beach resulted in a mobbed tradeshow booth and accolades from all who stopped by.
"The amazing response on the line and seeing significant orders already coming in has been really exciting," said Scot Shandalove of Colorfast Apparel. "But I have to say, I am not surprised. We knew there was a true need in the blanks market for what we've created, which are incredibly on point styles, fabrications, garment treatments and washes, at extremely competitive price points. No one else is offering what we have here."
The Colorfast collection includes comfortable basic knit tops and bottoms for both women and men in the latest trend-driven silhouettes. What differentiates the brand is its ability to quickly bring to market quality fabrications at an affordable price. Wholesale prices range from $3.50 for tanks or tees to $18.00 for fleece, and new styles will be available every three weeks.
The debut collection for Spring '10 will be available starting March 1 and features about 30 styles including women's and men's knits, fleece, wovens and women's leggings. Key styles include a burnout zip hooded thermal, an oversized low-scoop neck tank, beach-inspired burnout crop top, a fashion slub jersey tank with contrast chest pocket and exposed back zipper and denim leggings in 14 washes. The Summer '10 collection will be available in June and offer an additional 40 styles.
Available in more than two dozen fresh colors including teals, reds, purples, blues, greens, basics and earth tones, fabrications will range from 100 percent slub jersey to cotton-poly burnout, tri-blends, thermals and fleece.
Colorfast will also offer a unique "Prepared For Dye" (PFD) program which allows customers to pick custom colors or washes, dyed to order and shipped direct. As a vertical supplier that controls the design, manufacturing and distribution, turn around is fast and flexible. Initially the PFD program will offer fleece but will soon expand to offer a full-range of knits.
The overall branding for Colorfast is inspired by a mod 60s-era aesthetic with clean, Euro sophistication and appeal. Building upon this concept is the revolutionary tradeshow booth design debuting at the Pool Tradeshow next week (Feb. 16-18) at the Las Vegas Convention Center.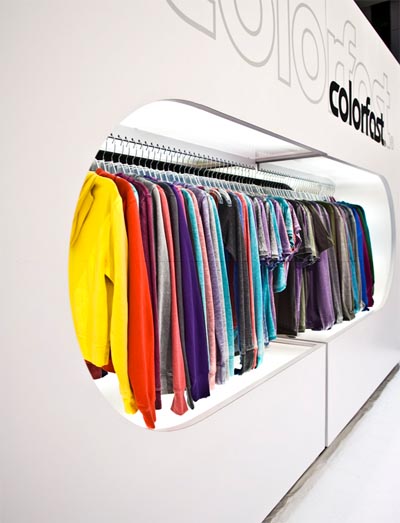 Designed by renowned Industrial Designer Nolen Niu, the first-of-its-kind booth will feature a modular design concept with an operating conveyor system to dynamically display product.
"We wanted to design a tradeshow booth that pushed the envelope in product presentation and showcased what Colorfast Apparel has to offer," explained Niu.
Check it out at booth #1111.
In addition to Pool, the brand will also show at ISS in Atlantic City, March 12-14.
The Colorfast website will offer full e-commerce beginning in mid-March. For more information, visit www.colorfastapparel.com.
---