Back to News
SNOW: $25,000 Cholula Triple Air Returns to Mountain High for 12th Season
February 17, 2010
$25,000 Cholula Triple Air Returns to Mountain High for 12th Season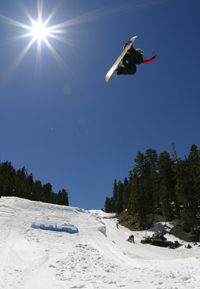 The $25,000 Cholula Triple Air returns to Mountain High this Saturday, February 20th, for its 12th straight season. The Triple Air is the resort's largest one-day snowboarding competition and participants come from as far away as Utah and Colorado to battle for the enormous prize purse. Cholula Hot Sauce, Monster Energy, Powder And Sun Ride Shop, and Jarritos Soda have pooled a terrific $25,000 in cash and prizes, and the top rider takes home a whopping $10,000.
The Cholula Triple Air Show is a modified big air contest. Not one but three enormous jumps stand between the rider and the podium, and competitors are judged on their amplitude, execution, and technical difficulty. First held in snowboarding's method-grabbing heyday of 1998, the Triple Air has been bringing top-name riders to the region for 12 years and past participants include Shaun White, Chaz Guldemond, Kevin Pearce, and Keegan Valaika.
Says John McColly, Director of Marketing, "The Triple Air is where we shine. It's our largest event of the season and this year it will be at the East Resort so it is easily accessible to all spectators."
Registration takes place from 7am to 9am in the Angeles Crest Café (East Resort), and the event begins promptly at 10am. Entry fees are $150 for Open Mens Snowboarding, $125 for Open Women's Snowboarding, and $125 for the Open Skiing division. Cash prizes are paid out to 16th place in the mens division, 6th place in the women's, 6th place in skiers, and there is a special $1,000 cash prize for best trick. All competitors receive a complimentary breakfast, souvenir bib, and lunch compliments of Wahoo's Fish Tacos. Immediately following the event is a huge after party in the Snowshoe Saloon with DJs, raffles, and guest hosts, the Monster Energy Girls.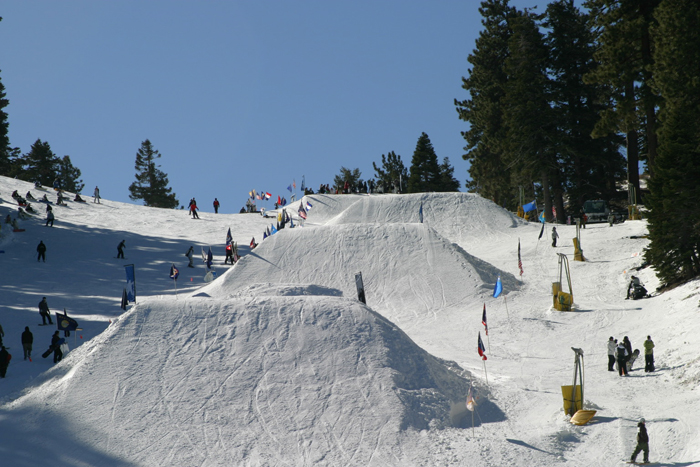 ---