Back to News
SNOW: Celtek and Fiftyseven North Strike a Deal
February 24, 2010
Celtek and Fiftyseven North Strike a Deal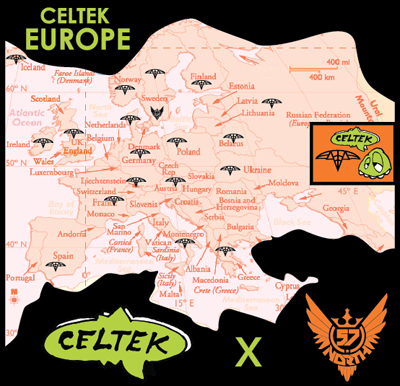 Celtek announces its newest partnership with Swedish company Fiftyseven North, also known as Skullcandy Europe. Effective immediately, Fiftyseven North will be heading Celtek's European distribution platform. With a central warehouse in Sweden for all pick and pack needs across Europe, and an all-star sales and marketing team dedicated to working with European distributors, media, events, riders and more, Fiftyseven North is on point for Celtek's 2010-11 sales season and beyond.
The deal was finalized at the ISPO tradeshow after two months of talking and negotiations. Celtek's Director of Global Sales Bill Markham and CEO Erik Leines then made their way to the Swedish headquarters to meet the new team and get things rolling. "When Bjorn and I first started Celtek we could only dream of a situation like this for Europe," says Erik Leines. "Now, six years later, we are quite confident as we head into the European market with a professional management team to deliver our global message."
"We are pleased to have Celtek and the Leines brothers become part of our family here at Fiftyseven North," says Anders Håkansson, CEO of Fiftyseven North. With a stellar understanding of the core market, Fiftyseven North is a perfect match for Celtek and its upcoming strategy for snow, skate, surf and more.
---