Back to News
Surfrider Foundation
March 2, 2010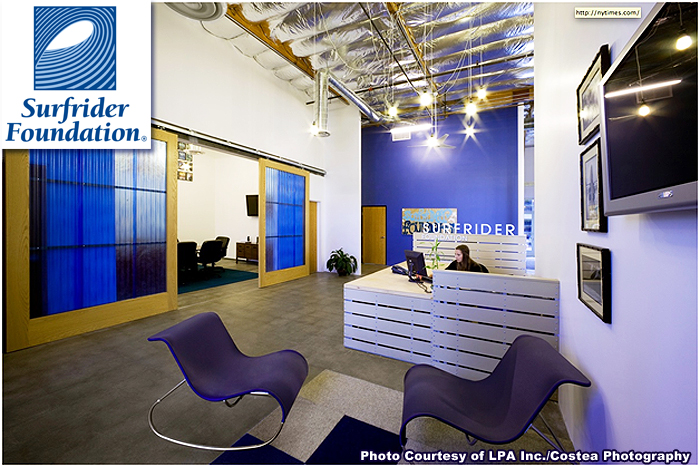 The Surfrider Foundation is a 501 (c)(3) non-profit environmental organization dedicated to protecting the world's oceans, waves and beaches through conservation, activism, research and education. Surfrider was founded in 1984 by a group of surfers in Malibu, Calif., who banded together to save their local break.
In 1991, the organization hit a HUGE milestone when it won the second largest Clean Water Act lawsuit in United States history against two pulp mills in Humboldt County, Calif., who were cited with more than 40,000 violations of the law. Fast forward to 2010, Surfrider now has more than 60,000 members and 90 grassroots chapters worldwide to support the cause. Read on to learn more from the front runners who are saving our oceans themselves.
The Surfrider Foundation was founded in 1984 by a handful of environmentally-minded surfers concerned over threats to their local surf break in Malibu, Calif. Who were the original movers, and how did they know each other?
The Surfrider Foundation started off as a "handful" of surfers from Malibu, Calif., who banded together to protect their home break. However, is was Tom Pratte, Lance Carson and Glenn Hening who were instrumental in transforming the Surfrider Foundation into a voice for the surfing community, which eventually evolved into the organization we are today.
Surfrider was created in Malibu, Calif., but it's now headquartered in San Clemente, Calif. Why there instead of where it was founded?
We've been headquartered in Orange County pretty much since the beginning. Our offices were originally located in Huntington Beach, but we later moved to San Clemente. Given our relationship and ongoing interactions with the surf industry, it just makes more sense for us to be down here in the center of things.
The group was pretty loose-knit until 1991 when the first chapters were born. What was the main motivation, or movement at the time, that pushed the group to get organized and grow?
Up until 1991, Surfrider operated as a loose-kint group of surfers that gave the surfing community a voice when environmental issues threatened our surf-breaks. Our activities were also a bit more varied, from taking toys to children in Mexico to testing marine water quality at various beaches throughout Southern California.
It was in 1990 when Glenn signed the Articles of Incorporation and the Foundation secured 501(c)(3) non-profit status from the Federal Government. Following that, we narrowed our focus to protecting beach and coastal environments, and, inspired by the Sierra Club model, formed the first of what would later become over 70 chapters spread out across the United States and Puerto Rico.
In addition, 1991 marked a significant milestone for the Surfrider Foundation when the organization filed and won the second largest Clean Water Act lawsuit in United States history against two pulp mills in Humboldt County, Calif., who were cited with over 40,000 violations of the law. The ruling put the organization on the map and thrust the Surfrider Foundation into the spotlight as a bona fide player in the world of environmental activism.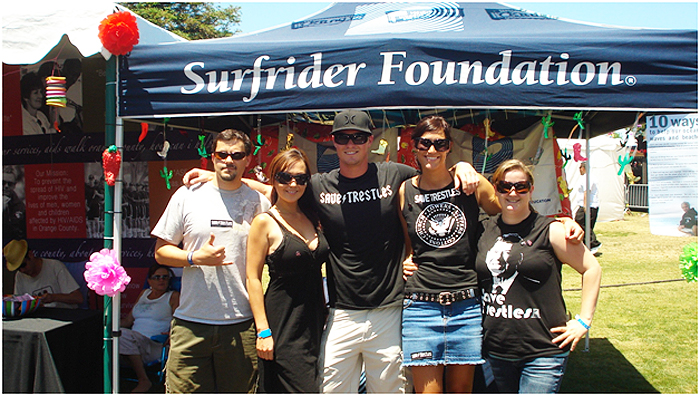 Surfrider now has more than 60,000 members and 90 grassroots chapters worldwide, 70 of which are located in the United States. How are new chapters formed and who is designated the head of that chapter?
Chapters are typically founded in areas were there are specific issues that need to be addressed (such as water quality, beach access, beach and surf spot preservation, etc). While that usually means that chapters are located in proximity to the coastline, we do have several chapters that are located in decidedly non-coastal areas, such as our Lake Michigan Chapter, Washington D.C. Chapter and the Central Texas Chapter.
Can any advocate with the experience and financial backing start a chapter?
The Surfrider Foundation has a specific process through which chapters are established. There are certain criteria that need to be met before a chapter can be fully recognized.
What is the key to membership growth?
Establishing meaningful connections with people. In some cases people may not even be aware that threats to our beaches and coastlines exist. That's why education and outreach are so important. Once people realize that there are real and significant threats to our oceans, waves and beaches, we need to let them know that there is an organization that works to specifically address these issues – i.e. The Surfrider Foundation.
What are key drivers of success for Surfrider's core mission?
Success always starts with people. We wouldn't be able to do what we do, be as successful as we are without our supporters and volunteers. At any given time, the Surfrider Foundation is working on no less than 100 different campaigns in communities around the country. Even more importantly, we are making a difference; over 120 beach and coastal victories in the last four years. This success all starts with people making the decision to plug-in and support the cause.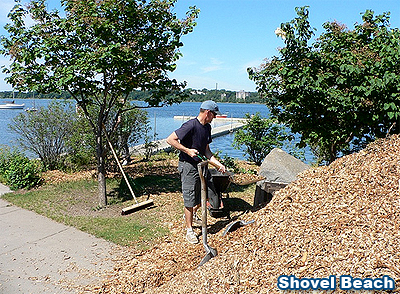 Who have been the most pronounced activists throughout the past 25 years?
There are simply too many to name. That really is the most inspiring thing about Surfrider Foundation; that there are literally thousands of people out there who take time out of their own lives to lead beach clean-ups, attend city council meetings, testify at hearings, take part in habitat restorations, etc. They do these things on their own volition, without any expectation of acknowledgement or fanfare.
In 2008, Surfrider successfully convinced the Department of Commerce to uphold a ruling which deemed the Transportation Corridor Agency's proposed extension of the 241 Toll Road inconsistent with the California Coastal Act. What's the latest news or challenge on this subject?
The ruling by Commerce Secretary Gutierrez was a devastating blow for the TCA. That being said, we've learned that no environmental battle is ever truly over. There is always the possibility that the TCA will try another tact, another angle. And if not them, it will be someone else – some developer perhaps, who wants to build subdivisions up through the watershed.
What has been the toughest challenge to date, and why?
Without question we've fought some difficult battles. We've gone up against big corporations, developers, even the U.S. Government. But to be honest, our biggest challenge is still over coming apathy. Environmental issues are something that affects everyone, yet not everyone is willing to take ownership of it. At times it is disheartening when we see surfers expend so much energy fighting with themselves – over waves…over what people are riding out in the line-up. Yet when it comes time to fight for the breaks themselves very few of these people are willing to get involved. It's as if they expect someone else to fight these battles for them.
In general, where does the divide fall when it comes to comparing die-hard activists/active participants to those who contribute to the overall collective, but don't have the time and resources to consistently be proactive?
It's pretty close to the standard 80/20 rule: 80% of the work is carried out by 20% of the members. Which is not to say that we are not grateful for anyone who just wants to contribute, either through their membership or making a donation. They are the ones that allow us as staff to assist the activists who are out there on the front lines fighting the battles for the organization.
Seeing that Surfrider is a grassroots, non-profit organization, in what ways has the downturn in the economy affected the organization?
Financially we haven't been affected by the recession as much as you might think. Grant funding took a bit of a dip – largely because most granting foundations are tied to the Wall Street. However, donations are up this year, as are revenues from cause partnerships (due in large part to new or continuing partnerships with Barefoot Wine, Emergen-C and Brita FilterForGood). As a non-profit, it is essential that you have diversity in your revenue streams, which will help weatherproof your business – especially through economic downturns. Apart from that volunteerism seems to be up, which is really the most important thing from a mission standpoint.
Does Surfrider work in conjunction with other environmental non-profit groups?
Absolutely! Our office and Chapters have worked with a wide variety of non-profits groups on various campaigns. For example, our Save Trestles campaign not only involved our headquarters, San Diego and South Orange County Chapters, but we were also part of a coalition that included the Sierra Club, NRDC, Coastkeepers, SIMA, Friends of the Foothills, California State Parks Foundation, and Wildcoast. By pooling our resources and drawing from our past experiences and engaging with our members, we were able to make the fight to Save Trestles a huge success.
What are some pleasant or unpleasant realities within a non-profit that are not visible from the outside?
It's mostly just the negativity and cynicism that we see day-to-day. There are a lot of haters out there. At times it can all seem overwhelming. But conversely there are amazing stories of individuals who've decided to take it upon themselves to make a difference. When you hear stories of a kid like Cobi Emory, a teenager who started his own movement to pick up trash off the beach, or Stiv Wilson, who funded his own expedition to the Atlantic Gyre to study marine plastic pollution, it's inspiring.
Moving past the downturn, what will be the next departments to hire, and what advice and insight can you give candidates looking to get in the door?
The most important thing in life is to try and turn a negative experience into a positive one. I know that there are a lot of people out there either out of work, or about to enter the marketplace during a really difficult period. If you happen to find yourself with some time on your hands, why not volunteer? Not only will it get you out of the house and doing something positive, but you never know what kind of opportunities may arise from it. For our part, I would say nearly 2/3 of the people on staff here at the Surfrider Foundation were either volunteers or interns at some point before they got hired.
Let more about the Surfrider Foundation at http://www.surfrider.org/.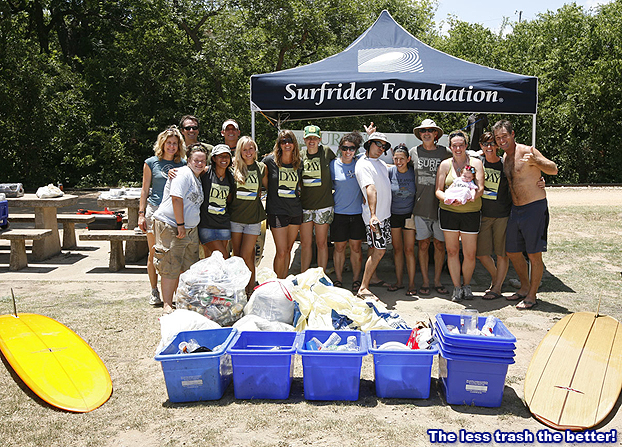 ---