Back to News
Fuse - with Partner Brett Smith
April 1, 2010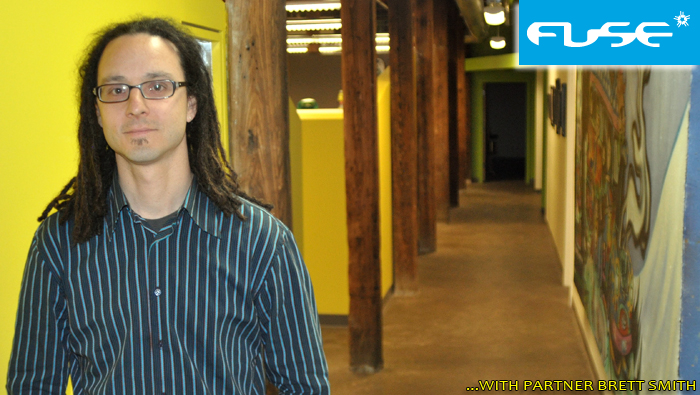 Fuse is a marketing agency that specializes in connecting youth culture with endemic and non-endemic brands, with an emphasis on youth-focused strategy, design, interactive, PR and event marketing. Fuse is unique, not only in the fact that they have strong ties and in-depth knowledge of the action sports industry, but they also cater to a myriad of other brands ranging from General Mills, Harley Davidson, Gatorade and even the DeLorean Motor Company – remember the Back to the Future car!
Brett Smith, one of the initial founders and partner at Fuse, helped build the company from the ground up, and they've now been in business since 1995. Brett joins in to provide a behind-the-scenes take on how it all transpired, along with an insider's perspective on the day-to-day life of an agency, and what they're doing to stay relevant in the ever evolving world of marketing and connecting with youth culture.

Your career background prior to Fuse?
I grew up in Central New York. As a kid, I lived and breathed skateboarding and snowboarding. In the '80s, I began to compete in snowboard events and I got help from Lib Tech and a few other sponsors. In college I started the Snowboard Club at Boston University and continued to compete in snowboarding. I also spent a winter competing in Tahoe. Through all of this, I picked up an understanding of the action sports industry.

After college, my goal was to spend a winter snowboarding before getting the 'real job.' I moved to Vermont with a mission of getting a free season pass. I got a meeting with Killington and gave the Marketing Director my big pitch: I would meet with him each week and 'consult' on what snowboarders on the mountain were thinking. In exchange, all I asked for was a season pass. Long story short, I got the free pass, but attached to it was a job offer to help the mountain develop its snowboarding business. So I gave up on a jobless winter and signed on (as far as I know, in '93 it was one of the first positions of its kind). I spent several years at Killington working on everything from advertising to public relations, events to operations. I didn't expect it to be a career path, but I loved having a positive impact related to the sport.
How you came to be at Fuse and foster its growth as an agency?
While at Killington, I met Teresa Jenson who pulled together Fuse's initial investor group. We clicked, and began to discuss working together. I was excited about using my experience at Killington to help other businesses credibly connect with youth, so I joined.
At the beginning there were three of us and we each wore a lot of hats: developing and pitching business, doing client work, even taking out the trash. Initially, we did consulting, PR and event work related to snowboarding, then expanded into other action sports as the X Games emerged. Some of our first clients were Burton Snowboards and Pepsi's Mountain Dew. Over time, clients began to ask us to help with a broader range of projects from sports to music, fashion, college programs and other areas of youth culture. Growing our business involved continuing to focus on doing great work, carefully expanding our capabilities and making sure our systems matched our size.
Your thoughts on the evolution of Fuse as an agency and its expertise with youth culture?
We have evolved to an agency of more than 35 staff with expertise in youth-focused Strategy, Design, Interactive, PR and Event Marketing. We now have experience working with brands in sports, footwear, apparel, auto, food and beverage, electronics and interactive, among others. So we've come a long way while still staying focused on our niche.
What brought the initial idea of Fuse to mind, and what was it that put the wheels in motion?
Our initial premise in the mid-90s was to address the fact that sports like snowboarding and skateboarding would become more and more culturally important in the next several years. Our prediction was that an agency with expertise in the cultures of action sports and other areas relevant to youth culture would succeed. It started with an initial push of networking and outreach within the action sports and non-endemic industries, seeking opportunities for us to provide marketing services. Initially our focus was mainly on action sports, and over time it expanded to other areas like music, campus programs and gaming.
What was the first pitch ever put out by Fuse?
We must have pitched every single consumer brand we could think might remotely be interested in reaching teens and young adults. And we got shot down left and right. Thankfully, a few bought on. Some of our first clients were Mountain Dew and Motorola. Early on, we also were doing event marketing and PR with Burton Snowboards, SIA and Boarding for Breast Cancer.
Once up and running, what was the first "holy crap" moment, whether good or bad?
For me, it was the first time I heard a fortune 500 client tell us that Fuse's work and our service compared favorably to their other much larger agencies. It helped me to realize that we had a legit business.
During the start-up years, what were the most memorable challenges in going after 'big business'?
My partner Bill Carter and I had a meeting with Gillette to pitch working on a new product launch. We were presenting to about 15 Gillette execs in their Boston office. Bill and I were meeting at the airport for an early flight and then planned on getting a cab directly to the meeting. When we got to the airport, we realized that we both had the exact same outfit on – the same black turtleneck sweater, the same pants and the same shoes. We looked like a pair of bad mimes and had no time to do anything about it. It sucked, but in the end we were able to make a joke about it in the meeting, and we landed the account!
Joking aside, an early challenge was just pitching action sports marketing concepts to non-endemic companies. In the mid-90s, most big brand marketers knew nothing about snowboarding or skateboarding, so we had to include a huge amount of education in our pitch process. To some extent, the education process continues today, but there is a much larger understanding of action sports now.
How does a client such as Gatorade measure the success of your work?
In general, all our programs are developed based on meeting or exceeding our client's objectives. Measurements can be in the form of impressions, testimonials, sales data and visitors to a website, among others. We build out metrics before kicking off a program to align on expectations. Post-program, we deliver results.
With big clients like this, is result-driven research conducted on both sides of the playing field, or do most companies simply rely on the agency to provide a synopsis of results?
It varies. Often research is done on both sides of the playing field. We sometimes collaborate with our clients' insight teams, property partners and our internal teams to report on results. And other times a client relies on Fuse for reporting results. For example, we have run focus groups with teens for several clients, which has helped to develop and provide rationale for recommendations we have provided. We also have conducted research after projects on college campuses to see the impact of a marketing campaign.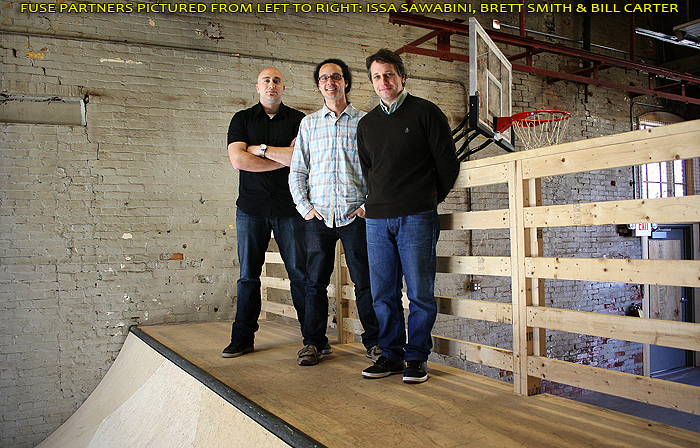 Fuse now has three partners in play: Issa Sawabini, Bill Carter and yourself. How did this all transpire?
Bill joined Fuse in 1998. He brought great sports marketing, business and agency expertise with him and has been a huge contributor to our success. In 2004, Bill and I bought out the investor group and at that time, Issa became a partner. As the lead partner working with clients, Issa has brought and continues to bring so much valuable counsel and experience to our clients. In general, all Fuse employees continue to impress me with the level of client service, knowledge in youth marketing and delivering results!
Selling a non-endemic brand to a "core" audience can be difficult. Give us one instance where it worked like a charm, and one where a revised strategy was needed.
Our work with Harley Davidson was a big success. We helped the brand develop an initiative to engage the skateboarding community and it was well received. On the flip-side, while some products are harder than others to make relevant to a "core" audience, thankfully we haven't had a project that required totally going back to the gate.
Fuse specializes in connecting with tweens, teens, and young adult consumers. When it comes to connecting with this audience, what has been the most significant shift in consumer habits since Fuse was started, and how did the company adapt?
A big shift has been in how we view online initiatives. Early on, a web project likely would have stood alone from other marketing programs we worked on. But the reality is that there is an online or interactive element to most marketing, so we now consider interactive strategy around nearly every marketing initiative regardless of the discipline. We've adapted to this shift by investing in in-house interactive experts that collaborate on all of our projects.
Besides TV and social media, what's the next source of media this audience gravitates toward?
The media landscape is rapidly changing. New technologies are redefining the way we connect with others, find information and enjoy entertainment. Look for continued expansion with Mobile, VOD and Gaming Consoles evolving into daily media delivery systems.
• Mobile content offerings are expanding everyday with the proliferation of broadband connected widescreen smart phones (iPhone, Droid, etc) and creation of content that works on these smaller screens
• Video On Demand is growing, delivering a new way to find and consume your favorite programs and movies on your TV or computer
• Video game consoles like PS3 have become media networks delivering free and premium content directly from through the on-screen interface
Just recently, we worked on developing a mobile phone game app that teaches retail store staff about one of our client's product line.
What's the next big step for Fuse?
We've had an office in New York for a while and we recently moved our Burlington office to a newly renovated mill. It's right on the Winooski River and our staff was able to help contribute to the design and layout of the space. Plus, we just finished building our mini ramp. All in all, it was a great change for us.
Besides that, we recently began doing licensing work. We were asked to help the DeLorean Motor Company, owner of the DeLorean trademarks and a huge parts inventory from the original factory. They are based in Texas and rebuild DeLoreans from all around the world; they also build new vehicles out of their original parts. They told us they wanted to develop relationships with licensees who could help expand the reach of the brand in an authentic way within new product categories. We were really intrigued by the opportunity since the brand has such unique cultural relevance. To do the work, Fuse has added staff with expertise in licensing and so far we have completed deals with licensees in footwear, apparel, toys, video games and other categories. We're hoping to do work with action sports brands as well.
Word has it that Fuse has a pretty sweet work environment. Tell us about it.
We've tried hard to foster a creative work environment that will sustain our culture and foster great work. Our new office space is an example of this effort. We've also always had a dog-friendly office at Fuse. We offer season passes to Stowe, a fitness/gym compensation plan, we have the mini ramp, basketball and ping-pong in our Rec' room, a company ride day, half day Fridays in the summer and we offer comp days for weekend work to help prevent burn-out. Our staff work really hard, but we play hard as well. In addition, all of our staff members are really passionate about action sports, music, gaming and fashion, so when your job requires you to attend an event like the US Open of Snowboarding or Bonaroo, it really is a perk!
Did this evolve from feedback from co-workers, or was it the plan from the beginning?
Our office move was definitely shaped by staff feedback throughout the entire process. Ultimately, we ended up with a space that we are proud of, that people like to work in and one that reflects our culture. Beyond the office, we are always welcome to feedback from employees and take suggestions seriously. At the end of the day, we believe this fosters an environment that lets us all do the best possible work for our clients.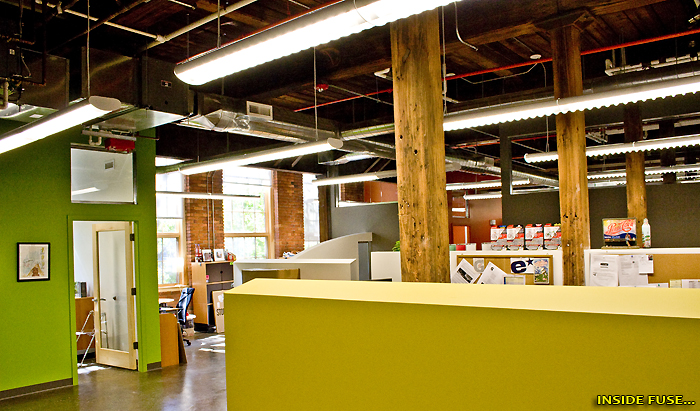 When hiring new talent, what's "1" thing that will give any candidate a significant advantage?
For us, it's typically two things: 1) Action sports and youth culture knowledge; 2) An understanding of non-endemic business and brand marketing.
Parting words?!
The last person we hired found us through Malakye – we continue to find talented people this way. So, thanks!

---