Back to News
SURF: Stephanie Gilmore to Receive Surfers' Hall of Fame Honors
April 12, 2010
3x World Champ Stephanie Gilmore to Receive Surfers' Hall of Fame Honors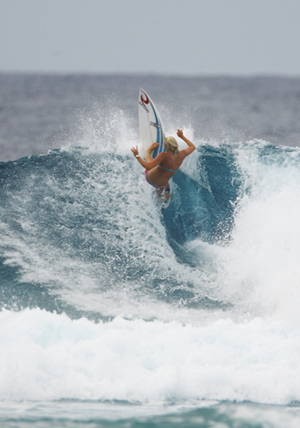 Three-time world champion Stephanie Gilmore is set to be inducted into the Surfers' Hall of Fame. Gilmore, the youngest-ever inductee at age 22, has already captured U.S. Open of Surfing and Vans Triple Crown titles in addition to three consecutive ASP women's world titles. Earlier this year, she was awarded the prestigious Laureus World Sports award, elevating Gilmore to among the world's elite athletes.
Stephanie will be inducted along with Ian Cairns and Randy Lewis on Friday, August 6 at 10:00 a.m. in front of Huntington Surf & Sport (corner of PCH and Main). More information is available at http://hsssurf.com/shof.
The 2010 Surfers' Hall of Fame induction ceremony pays tribute to those individuals who have made an indelible mark on the sport, industry and culture of surfing. Annually, tens of thousands of visitors to Huntington Beach's downtown area literally walk in the footsteps of surfing superstars and legends from several eras including Laird Hamilton, Mike Doyle, Jack O'Neill, Robert August, Greg Noll, Jericho Poppler, Kelly Slater, Lisa Andersen, Martin Potter, Al Merrick, Shaun Tomson and Rob Machado who are already immortalized in cement.
"At only 22 years-old, Stephanie is truly one of the greatest ambassadors our sport of surfing has ever seen," said Kelly Gibson, Rip Curl USA President and CEO. "From winning three consecutive ASP World Titles to being the ultimate brand icon for Rip Curl, she continues to push the sport, influence surf fans globally, while remaining true to herself. Rip Curl couldn't ask for a better face for our brand."
With her father's encouragement, Gilmore's life as a surfer began on Australia's Gold Coast at age 10. A natural at the sport, Stephanie spent much of the next few years surfing some of Australia's best waves. By age 17 she was entering world tour events as a wildcard, which paid off with a victory at the 2005 Roxy Pro Gold Coast. Soon thereafter Gilmore's success on the WQS (World Qualifying Series) Tour qualified her for the 2007 ASP Women's World Tour and she did not disappoint, winning four events and claiming her maiden World Title.
Proving that first year was no fluke, the girl known as 'Happy' for her infectious smile, was back again in 2008, looking hungrier and stronger than ever, dominating the older and more seasoned tour veterans. She went on to secure five ASP Women's World Tour victories en route to her second consecutive ASP Title, then capped the season off with her first Triple Crown of Surfing trophy. Consistency was the key in 2009, when Gilmore won the first and last World Tour events to claim a third consecutive ASP Women's World Title.
Already 3-0 in World Tour campaigns, Stephanie won the opening two events of 2010 and currently leads the title race…again! Taking the reigns from seven time world champ and Surfers' Hall of Fame inductee Layne Beachley, Gilmore is poised to rewrite the record books and may create yet another Aussie surfing dynasty. One thing is for certain, on Friday, August 6, Gilmore's foot and handprints will be forever encased in concrete alongside the sport's pioneers and heroes.
"Steph Gilmore is an amazing athlete, 2009 Surfer Poll winner and today is considered the most popular female surfer on earth," said Surfers' Hall of Fame founder Aaron Pai! "We are very honored that she will be inducted into the Surfers' Hall of Fame this coming August!
Styled after the famed Grauman's Chinese Theatre in Hollywood, which Aaron Pai visited as a youngster, the Surfers' Hall of Fame is intended to "connect the generations of surfers with a lasting tribute and permanent public showcase for the achievements of those who have shaped and revolutionized the sport," said Pai. The standing room only crowd on induction day is testament to the landmark's popularity and the surfing community's acknowledgment of their heroes.
The Surfers' Hall of Fame induction ceremony is open to the public, free-of-charge. Further information is available at http://hsssurf.com/hall.
---