Back to News
Office Booyz Canada 2010: Recap, Photos & Video
April 13, 2010


Office Booyz Canada 2010: Recap, Photos & Video

Karl Fuhre from IS Eyewear and Perry Pugh of the KNOW?SNOW trade show - also known as the original "Godfathers" of Office Booyz - put together another great contest for desk jockies who work in the action sports industry. Our brothers from The Great White North were expecting yet another ravenous blizzard and stormy conditions for the contest, as in every year of OB Canada, but the good ol' boys from Malakye.com broke the OBz curse and brought the sunny skies of So Cal with them to the event. With 60cm of fresh snow and Bluebird skies, Office Booyz was a much needed reward for all those office chair 3's these desk jockies have been spinning this season!
As with all OB contests, there were a ton of wild-and-crazy shenanigans to boot, along with prizes for legit obstacle winners and quite a few funny prize categories sprinkled in as well.
Here's the full run down of the prize categories and winners for Office Booyz Canada 2010:
Office Booyz Spirit Award - John C from the Boardroom
Mens Dual Slowlom Champion - Rob Dow from Endeavor
Ladies Dual Slowlom Champion - Tess C from the Boardroom
Most Canadian Male - Paul "broken rib" Higgins from OB1
Most Canadian Female - Tall SArah from Coastal Riders
Hiked their socks off - Nick and Trevor from Lifetime
Most Pop (on the mic) - Nate Jones (IS via Supra)
Coastal Riders Canadian Survival Kit - Chad and Josh from Malakye
WICKedest pants - Team Wick Winder
All Business Award - Dave Kirkham from Lifetime
Bunmaster Award Chef Benny Couves from OB1
WIldest Boy - Dez Price from Endeavor
Elbow Greaser - Adrian from SAXX
Scorpion King - Perry from OB1
Blue Balls - Dickson Li from NLA
Water Cooler Bragging rights - Lifetime Clothing

Brandon from Gibson Images shot photos all day as well.
Check out the "Gallery" on his site by clicking this link!
A BIG THANKS goes out to Coors Light, Time Hortons Cruellers, IS Design, Updown Magazine, the KNOW?SHOW, Malakye.com, the whole staff at Mount Seymour, Mother Nature for bringing out the sun, all who donated prizes and to everyone who came out for such a good day on the mountain.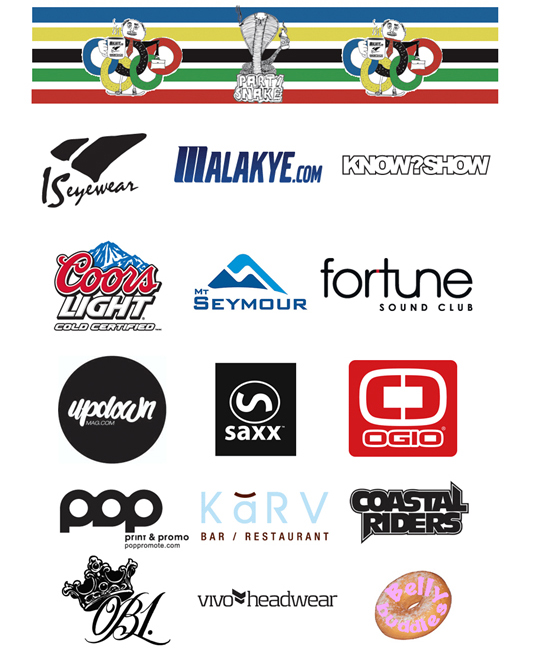 ---