Back to News
SURF: Horny Toad Sponsors Destination 3 Degrees
May 13, 2010
Horny Toad Sponsors Destination 3 Degrees
A Stand-Up Adventure Across Hawaii's Legendary Channels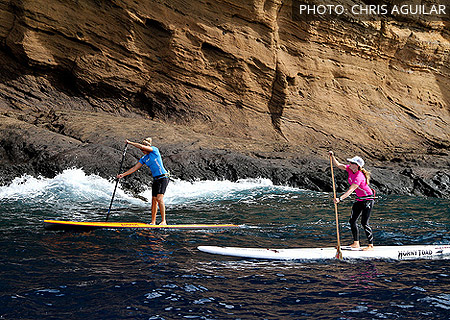 Santa Barbara-based lifestyle apparel company, Horny Toad, announces today their sponsorship of Destination 3 Degrees, a stand-up paddle adventure across Hawaii's nine legendary open-ocean channels. This April, the team of two elite female paddle boarders, Jenny Kalmbach and Morgan Hoesterey, will journey over 300 miles to raise awareness for the protection of marine life, with proceeds benefiting the Algalita Marine Research Foundation.
"At Horny Toad, we are always looking for ways to do the right thing, while having fun, so our sponsorship of the Destination 3 Degrees team is a natural fit," said Gordon Seabury, President and CEO of Horny Toad "When we heard what Jenny and Morgan were doing to help protect the world's oceans, we knew we had to be part of their adventure."
Destination 3 Degrees, named for the three degrees of latitude that separate the Hawaii Islands, was first inspired by the Jenny and Morgan's love of adventure and their passion for protecting the oceans. The team will be the first to stand-up paddleboard across all of Hawaii's nine ocean channels, which can reach depths of 10,000 feet and see wave heights of over 20 feet. At times, the passes are so long and treacherous that the team could be paddling for nearly 24 hours. Jenny and Morgan are pushing themselves and their sport in order to give back, raising funds for the Long Beach, California based, Algalita Marine Research Foundation. Algalita seeks to better understand and protect the oceans from the impacts of plastics contamination. Taking approximately three weeks, Jenny and Morgan will stop on the mainland along the way to give talks and presentations about their trip and the importance of marine preservation.
"We are thrilled to have the support of Horny Toad. We've always been big fans of what they do and we're proud to take our relationship to the next level," said Jenny Kalmbach of Destination 3 Degrees. "It's going to feel great to slip into some of their comfortable clothing when we're on the mainland after a long day of paddling."
To learn more about Destination 3 Degrees and to follow Jenny and Morgan as they paddle their way across, visit www.Destination3.com or watch a video of the team in action at vimeo.com/10113675.

---