Back to News
SURF: Surfing America to Honor Fuel Tv's CJ Olivares with the "Dick Baker Memorial Award"
May 26, 2010
Surfing America to Honor Fuel Tv's CJ Olivares with the "Dick Baker Memorial Award"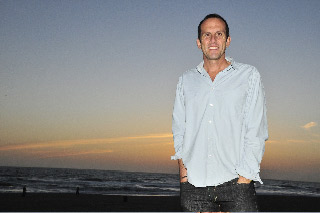 Surfing America, the national governing body for the sport of surfing in the USA, announced today it will honor CJ Olivares, General Manager of Fuel TV, with the second annual "Dick Baker Memorial Award." Olivares will accept the award at Surfing America's introduction of the 2010/2011 PacSun USA Surf Team on Monday, June 28th at the Historical Casino in San Clemente.
"Last year, Surfing America initiated the award in the late Dick Baker's honor because of his dedication to advancing the sport and business of surfing, his role in the creation and development of Surfing America, and for his compassion and unending willingness to mentor others," said Michael Gerard, Executive Director of Surfing America. "Dick was an incredible leader and a guiding light for the entire industry. In the spirit of him, each year, we will carry on the tradition of recognizing individuals who follow in Dick's footsteps. CJ is a perfect example of that."
A special committee chaired by Dick's wife, Una Baker, reviewed nominations and selected Olivares for this award because he believes deeply in the development of youth surfing, the vitality of the surf industry, and what the combination of both represents culturally. Those who have had an opportunity to work with Olivares know first hand that supporting the interest of others in surfing does not seem to be an option for him, it is something he feels compelled to do.
Throughout his career, Olivares has been responsible for producing or telecasting well over 100 hours of surf programming on Fuel TV and FSN; and the operation of WCT and WQS events, including Teahupoo, Lowers, Coldwater Classic and the US Open. He is actively involved with and serves on the boards of the Surfrider Foundation, SurfAid, SIMA, and Grades of Green, a charity dedicated to the education of kids (grades K-12) in environmental awareness and sustainable living. Olivares is also father to three outstanding daughters Clare, Natalie and Eve. In parenting, he and his wife Amy consistently strive to provide their girls with an environment that focuses on integrity, compassion, hard work and enthusiasm.
"Dick was a special man, an unparalleled mentor and a dynamic leader to me and so many others, both inside and outside the surfing community," said Olivares. "He set an exceptional standard for family, community and support of surfing. In receiving this award, I am not only incredibly appreciative and honored, but also powerfully inspired to live up to Dick's standards of purpose and compassion."
"Ryan, Jack and I are humbled to have this award presented annually to a person who exemplifies the dedication, passion, love and leadership that Dick showed the industry," said Una Baker. "It is an honor to have CJ be the 2010 recipient of this award. CJ's love of family and life extends into his dedication to charitable causes, his professional career and his belief in the vitality of the surf industry."
---