Back to News
SKATE: Street League Stakeboarding™ Announces the 2010 DC Pro Tour Fueled by Monster Energy
May 26, 2010
Street League Stakeboarding™ Announces the 2010 DC Pro Tour Fueled by Monster Energy
DC and Monster Energy To Co-Present Groundbreaking Professional Street Skateboarding Series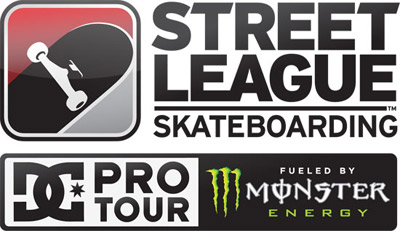 Street League Skateboarding™ announced today that DC and Monster Energy will present the highly anticipated 2010 series. The DC Pro Tour fueled by Monster Energy is a prestigious, invite-only three-event series featuring 24 of the best skateboarders in the world. Founded by twenty-year professional skateboarder and entrepreneur, Rob Dyrdek, Street League™ is truly the future of competitive street skateboarding.
"This series is a reflection of our on-going commitment to street skateboarding, which has always been the cornerstone of our brand," says Anton Nistl, President, DC Americas. "DC is excited to help produce what we expect to be some of the best competitive street skateboarding ever."
"Monster's commitment to Street League™ represents our continued support for both Rob and street skateboarding," adds Mark Hall, Monster Energy President. "We are eager to see the world's best compete in a series that translates the excitement and drama of street skateboarding into a live spectator experience."
"I am very honored to have my two closest sponsors, DC and Monster participate in the launch of Street League™," says Rob Dyrdek. "DC and Monster have always supported my vision for street skateboarding, from building skate plazas throughout the world to now creating the first-ever professional skateboarding league. Their support is a testament to their belief in the need to create a professional street skateboarding series that skate fans across the world embrace."
Street League™ is also proud to announce TheBerrics.com, the most visited skateboarding site in the world, as Street League™'s official online video destination. The Skateboard Mag™ has been designated the official magazine partner for the series.
Street League Skateboarding™ features the exclusive participation of twenty-four of the best street skateboarders in the world. To assist their transition into the league, each pro has been given the option to compete in two non-sanctioned wildcard events until the end of 2010. Beginning in 2011, the pros will compete exclusively in the Street League™ series and other Street League™ sanctioned events worldwide. Using real time scoring and an exciting proprietary competition format, Street League™ will tell a compelling story about each skateboarder's performance and will have fans on the edge of their seats from the first trick to the very last. The inaugural year of Street League™ features a 3-stop arena tour beginning at Jobing.com Arena in Glendale, Arizona on August 28th, Citizens Business Bank Arena in Ontario, California on September 11th, and the final stop in Las Vegas at the Thomas & Mack Center on September 25th. The skaters will be competing at each event for a total purse of $1.2 million.
---