Back to News
EMP: SIA Names AIM's Bigford to Publish Snow Show Daily
May 26, 2010
SIA Names AIM's Bigford to Publish Snow Show Daily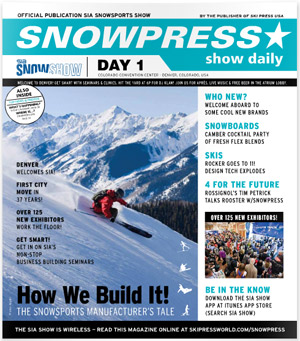 SIA president David Ingemie announced today that SnowSports Industries America (SIA) has chosen Active Interest Media (AIM) and its veteran snow sports publisher Andy Bigford to produce the Snow Show Daily starting at the 2011 SIA Snow Show (Jan. 27-30, 2011).
"No other company can match the combination of snow sports experience, relationships, expertise and enthusiasm that AIM and Andy will bring to the Snow Show Daily. We were thrilled to hear their detailed plans to expand the content and reach of the publication and elevate snow sports trade communications in general," Ingemie said.
Bigford, who served as editor of the Show's daily publication from 1990-1995, will oversee all aspects of the publication as both editor and publisher. "This is the first step in our plan to take the snow sports dialogue to a higher level and I look forward to discussing ideas with industry leaders as we move forward," said Bigford. "A pre-Snow Show product preview publication and other initiatives are in the works," added Bigford. Veteran snow sports journalist Peter Kray, editor of the Snow Show Daily for the past seven years, will work with Bigford to lead the editorial efforts.
The SIA Snow Show set a six-year-attendance record in 2010 with its move to the Colorado Convention Center in Denver. The sold-out Snow Show attracted 18,932 attendees and featured over 3,100 booths and 845 brands including 125 new exhibitors. The Show was followed by the On-Snow Demo/Free Ride Fest, which gathered 3,600 industry leaders at Winter Park Resort and Devil's Thumb Ranch. Next year's Snow Show is scheduled for January 27-30, 2011 and will include an On-Snow Demo/Free Ride Fest and January 31 - February 1, 2011 at Winter Park Resort and Devil's Thumb Ranch.
Bigford has worked in snow sports publishing for almost 30 years, including his current role as editor and publisher of PEAKS, The Magazine of Vail Resorts. He was editor-in-chief/vice president of SKI Magazine from 1996-2003; general manager of Warren Miller Entertainment in 2003 and 2004; and previously served as editor of the trade magazines Ski Tech and Snow Country Business.
---