Back to News
SKATE: L.A. Skate Film Festival establishes Academy, Announces New
May 27, 2010
Advancing the Skate Filmmaking Industry:
L.A. Skate Film Festival establishes Academy, Announces New Partners & Last Call for Submissions
Since the announcement of its debut in the city of Los Angeles back in April, The L.A. Skate Film Festival has been undergoing through a great deal of developments that foresee a bright future for the organization.
To make it the best and most legit event of its kind in the history of skateboarding, the Festival's executive directors have created The Academy of Skateboard Filmmakers (ASF), becoming the industry's first and only organization to represent the skateboard filmmaking community. So far, ASF has proudly gathered the following members: Stacy Peralta, CR Stecyk III, J. Grant Brittain, Greg Hunt, Ed Templeton, Ricky Bedenbaugh, Bryce Kanights, Jamie Thomas, Mike Manzoori, Fred "French Fred" Mortagne and recent newest additions, Ty Evans and Geoff Rowley.

ASF's objectives are to advance and promote the art of filmmaking within the skateboarding industry. Its members will nominate the films and select the judges amongst other creative tasks.
Being that we are 2 Weeks out from the end of the submission process, The L.A. Skate Film Festival is calling all Filmmakers to submit their work before June 9, 2010. So far, this 1st year's event has been gathering some of the best films from all around the world and wants to dig out the latest gold nuggets out there.
Screenings will be held at the:
Downtown Independent, Downtown Los Angeles
August 31st and September 1st, 2010
7pm-11pm (2 showings, each one presenting 3-4 films)
Only Nominees will be featured.
The Awards Ceremony will be on September 2, 2010 in Hollywood
For the unlucky ones who can't make it to the event, check out all the action on FUEL TV, a Key sponsor of the LASFF.
The L.A. Skate Film Festival also welcomes its newest partners: Woodward Digital Camp, ASR/Crossroads, Barefoot Wine and Pyramid beer as its official partners, with more to come.
Filmmakers can compete in one or more of the following categories:
Best US Films
Best International Film
Best Independent Film
Best Documentary
Best Skate Shop Film
Best Emerging Filmmaker
Best Skate Commercial
Best Classic (Not open to the public)
Website: http://www.thelaskatefilmfestival.com
Follow us on Twitter: http://twitter.com/LASk8FilmFest
Become a Fan on Facebook: http://www.facebook.com/pages/The-LA-Skate-Film-Festival/350237947298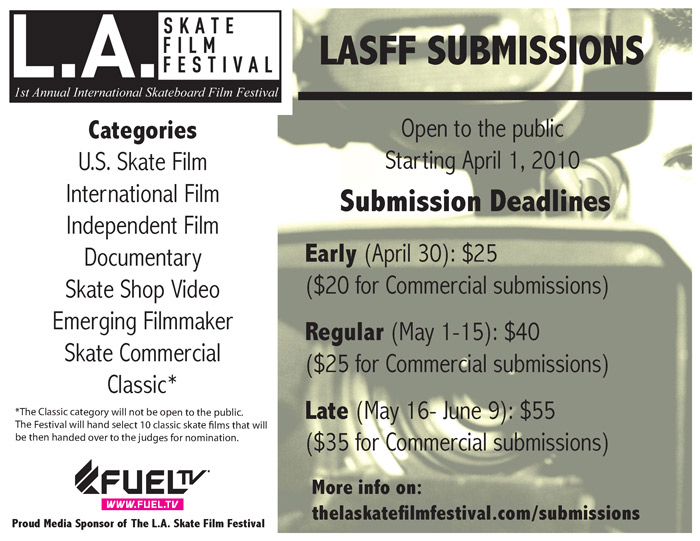 ---