Back to News
SKATE: Maloof Money Cup NYC on Fox Sunday June 27
June 24, 2010
Maloof Money Cup NYC on Fox Sunday June 27, 2PM ET/11AM PT
Don't Miss The Epic Duel: Tune-in To Watch Chris Cole And Paul Rodriguez Battle It Out For Skateboarding's Richest Purse - $100k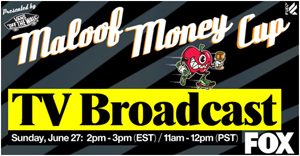 Tune in to FOX this Sunday, June 27 at 2pm ET/11am PT to view a special one-hour program featuring highlights from the world's greatest skateboarding event, the Maloof Money Cup presented by Vans, as it travels for the very first time to Queens, New York. FUEL TV produced this jaw-dropping wrap-up of the Maloof Money Cup that will feature event highlights and exclusive behind-the-scenes interviews with the world's best skateboarders, from what fans are calling the most epic skateboarding contest in history.
Featuring the greatest collection of pro skaters ever assembled, the contest was held on a brand new street course in Flushing Meadows Corona Park, Queens, that incorporated features based on iconic New York skate spots. Amid impending rain and the threat of tornados, and in front of a standing room only crowd of cheering fans, the final four skaters-Chris Cole, Torey Pudwill, Paul Rodriguez and Bastien Salabanzi-battled it out in the Volcom Street Pro finals, landing tricks rarely seen in contests. Tune in Sunday, June 27, to see who claimed the $100,000 first prize and title of first-ever Maloof Money Cup New York champ.
In addition to the Sunday broadcast, FOX Sports Regional Networks will also air the program (check local listings for specific dates and times). FUEL TV will feature the highlights show on Monday, July 12 at 8:00 PM ET/PT. For further information on the broadcast schedule and webcast information, log on to www.fuel.tv/maloofmoneycup.
And the action isn't over yet. The Maloof Money Cup will return to Southern California August 4-8 for the 3rd annual Maloof Money Cup Orange County contest, which will include the Volcom Street Pro, Women's Pro Street, the Carl's Jr. Pro Vert Championships and the World Industries Am Competition. FUEL TV will broadcast the contest live (times TBD).

Tickets for the 2010 Maloof Money Cup Orange County are on sale now at all Ticketmaster locations or at the OC Fair & Event Center Box Office at the Pacific Amphitheatre. Join our network to share the competition experience with a global audience and be the first to know about exciting upcoming MMC news and exclusive contests. Go to www.maloofmoneycup.com and follow us on Facebook and twitter: @maloofmoneycup.
---