Back to News
SURF: 2010 U.S. Open of Surfing Music Lineup Biggest Free Concert Series Summer
June 28, 2010
2010 U.S. Open of Surfing Music Lineup Creates the Biggest Free Concert Series of the Summer
Weezer, Cold War Kids, Cobra Starship, Switchfoot, Hot Hot Heat, The Soft Pack and others to perform at Huntington Beach over five days in early August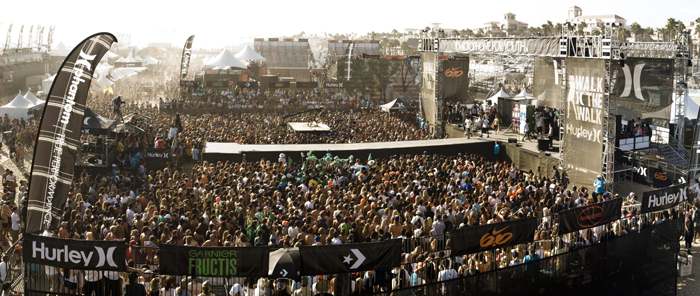 Top musical acts will join the world's best action sports athletes for five days of free concerts on the sands of Huntington Beach, California for the 2010 US Open of Surfing. From August 3rd through August 7th, the following bands will conclude each day's competition with a performance before thousands of action sports fans:
Cold War Kids, The Soft Pack, Bedouin Soundclash, Iration, Switchfoot, Timmy Curran, Cobra Starship, Street Drum Corps, Hot Hot Heat and Weezer.
"It's not everyday that you get to play overlooking the Pacific Ocean," said Rivers Cuomo of Weezer. "The band and I are excited to be playing at the US Open."
The U.S. Open of Surfing presented by Hurley, Nike 6.0 and Converse is an action sports festival that brings together athletes from the worlds of surf, BMX and skate for a week of competition, art, fashion and music —all against the backdrop of the famed Huntington Beach Pier. >From July 31 to August 8, 500 world-class athletes compete before more than 500,000 spectators. All of the action is accessible live on www.usopenofsurfing.com.
"This is the strongest music lineup to play along side competitive surfing in Huntington Beach in 50-plus years," said Sandy Bodecker, VP of Action Sports, Nike Inc. "It should be a great experience for fans to end a full day of competition with music of this caliber – all on the beach."
"I grew up in the Southland," said Nathan Willett of Cold War Kids. "This will be our first show in Orange County in a long time. It'll be fun to play in front of a home crowd again."
The U.S. Open features North America's only combined Association of Surfing Professionals (ASP) Men's Prime and Women's Six-Star competitions. The event also hosts the U.S. Open Men's and Women's Junior Pro and the second annual WPS All Stars event which allows the public to choose 10 pro surfers to compete in the U.S. Open.
Additionally, the Nike 6.0 HB BMX Pro is a uniquely-formatted "park event," featuring 25 invited riders. The Converse Coastal Carnage returns with a Super Mini-Park event for skateboarding featuring an impressive roster of 35 all-star skateboarders. Hurley's Walk the Walk National Championship, a high school fashion competition, hits the U.S. Open stage on Friday, August 6. Six schools will create their own five-minute fashion show to win the grand prize of $25,000.
Music Schedule:
Tuesday, August 3 4:30 – 6:30 p.m. Cold War Kids preceded by The Soft Pack
Wednesday August 4 4:30 – 6:30 p.m. Bedouin Soundclash preceded by Iration
Thursday August 5 4:30 – 6:30 p.m. Switchfoot preceded by Timmy Curran
Friday, August 6 4:30 – 6:30 p.m. Cobra Starship preceded by Street Drum Corps
Saturday, August 7 4:30 – 6:30 p.m. Weezer preceded by Hot Hot Heat
---