Back to News
Stance: with Director of Marketing Ryan Kingman
September 1, 2010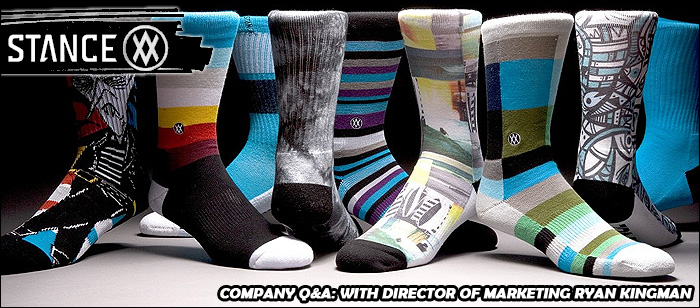 Stance is the product of Jeff Kearl and Rick Alden's vision to create a brand around socks. Though not the first in its category, Stance is truly the first to spin a fresh, new look on what is ordinarily seen as a one-note category. Out with the old and in with the new, Stance injects individuality, variety and functionality through its Mix Match, 3 of a Kind, Artist Series, Gripper Cush, and Artsprojekt series. Ryan Kingman, director of marketing for Stance, jumps in to lay the groundwork on the history of the company, the benefits to retailers and the industry as a whole, and the future plans that will solidify Stance's success in the category at hand.
Who's the brainchild behind Stance, and how did the idea come about?
Jeff Kearl and Rick Alden had the original vision to create a brand around socks. They were looking at successful brands in our industry and observed that a major contributing factor to a brands long-term success was the fact that they were first to market in a specific product category. Examples include Burton, Oakley, Nixon and Skullcandy. This prompted them to think about what product categories had not been fully developed and it was this process that led them to socks.
A group of industry execs is at the helm of Stance – no small investment to assemble this group. Aside from Skullcandy backing, who else has invested? Are any of the executives partners in the company?
The first point to clarify is that Stance is not backed by Skullcandy in any way. Rick and Jeff had the vision and saw the potential of Stance as an independent business opportunity. While Jeff is a member of the board of directors at Skullcandy, he set up the company from his home in San Clemente, secured the financing and hired talent as any other start up venture would. As an experienced entrepreneur those are things he does really well and has done many times before.
While Stance does have an incredible roster of industry executives who have invested in the company, it is probably inappropriate to list their names here. An important distinction is that we didn't look for investors. Instead, we searched for executives and entrepreneurs who had specific experience building new categories. After we shared our business plan with them, many of them invested. We rely on this group in an advisory capacity, which means they are hands off in regard to the day-to-day operations. In addition, every single employee in the company has a meaningful equity stake.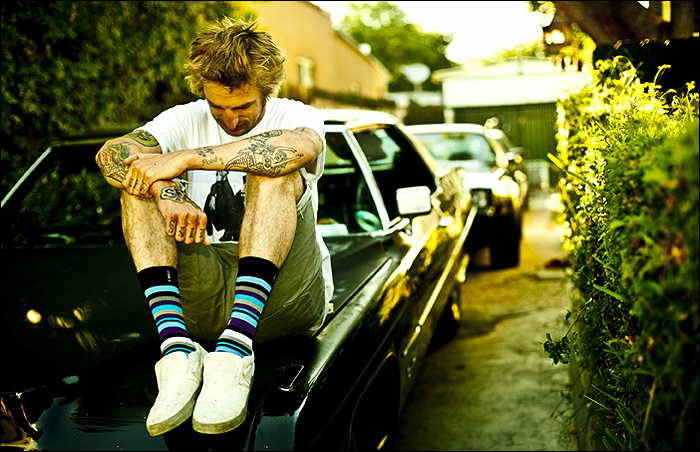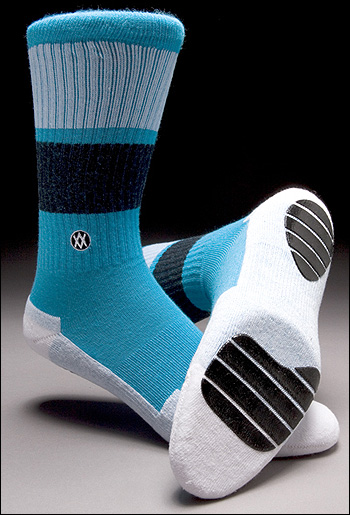 An element of the strategy behind Stance is to have a "first-in-category" advantage with socks. How is the strategy unfolding so far?
We're obviously not the first brand in our space to manufacture socks, however, we are the first to truly champion it and provide a comprehensive line for the retailers. The response has been incredible so far and we're truly humbled by the amount of support people have shown for the brand, category and program we're developing. The retailers seem excited by the fact that we are building out a category that should be add-on sales for their stores and they don't have to kick out another brand to bring us in. The "first in category" strategy helps us get our product in the stores with little resistance. The retailers have been great to work with as well as the individuals we've approached to represent the brand.
Do you see socks as a new form of expression, going past the graphic t-shirt?
Socks are absolutely a form of expression. Expression is actually one of the ethos the brand is founded upon. In some ways socks are much more subtle than a tee, but on the other hand can be quite loud depending on how you decide to wear them. Quietly loud, subtly bold.
Stance make Argyles look like tube socks. Is there functionality behind the good looks?
Yes, blending fashion and function is the goal. Active lifestyles require a sock to perform as well as look good. There's actually a lot that goes into a sock from a technical construction standpoint. We've upgraded the functionality of our socks by offering combed cotton, elastic arch band support, seamless toe closures and a deep heel pocket with a Y gore seam. Our Gripper Cush skates socks feature Coolmax fiber and cushioned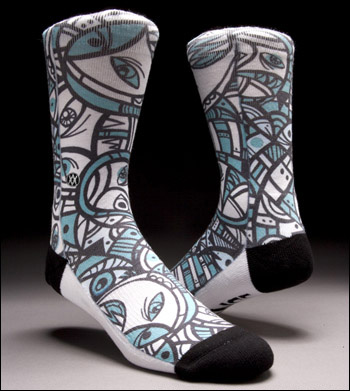 grip pads for the ball and heel of your foot. We developed these at the Berrics and we have a strong response from the skate community.
We've developed a number of different heights as well that satisfy almost every sock need. We have the invisible cut for those for those who want the comfort of socks but the look of not wearing any. Low cuts for summer. Crew socks for everyday wear and of course the classic tube sock.
Are there plans to add technical features to your low rise socks?
They already have a number of features that you don't find in ordinary low cuts, but we do have plans to take it up a notch.
When will girls' socks be added to the line?
Once we're confident that we've got a good handle on the men's side of things, we'll look at developing styles for women.
When will snowboarding socks debut? Will they be at a similar price point ($6-16 retail) as the other socks?
Snow socks will debut at SIA in late January. We outfitted about 75 people with mismatched socks on a Baldface trip last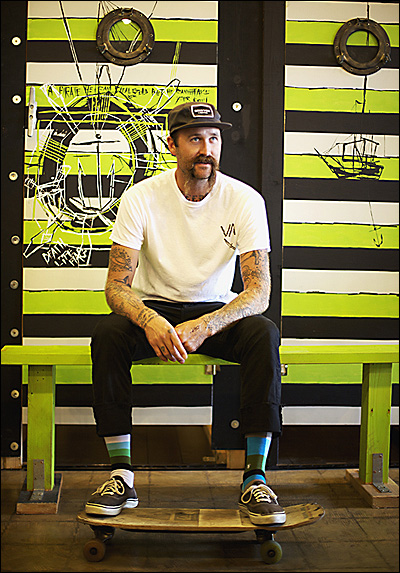 winter to figure out which styles, weights and fabrics performed the best. With that feedback we feel pretty confident people are going to love what we've come up with.
Stance takes a new approach to socks with its Mix Match, 3 of a Kind, Artist Series, Gripper Cush, and Artsprojekt series. What's the underlying theme that ties the whole program together?
If we had to pick one specific underlying theme it would have to be individuality. The sock category as a whole has been largely commoditized for decades and we hope to bring some freshness and fun to it.
Are you doing artist collaborations? How did that come about and who are you working with?
Yes, we are working with some great artists and designers to create some amazing collaborative products. Stance was founded with an understanding that collaboration is a key ingredient to create unique and original socks.
From the beginning we knew a significant portion of our line was going to be created by individuals outside of the company to ensure fresh perspectives. Stance is a canvas for artists, designers, photographers and other creative people to showcase their talents and explore a new category of product design. Some of the artists who have contributed to the first line are Don Pendleton, Andy Howell and Ryan Tatar. Coming up next season we'll have work from Steven Harrington, Tyler Warren, Russ Pope and Randy Noborikawa. We'll also have collabs with other brands when the fit is right. Currently we have pair of 3 of a Kind socks going with Mitch Abshire and the Captain Fin Co.
Will the product offering diversify beyond socks down the road? If so, what's the next category? A snowboarding base layer, perhaps?
At this point we're just planning to do socks. There is power in focus. If at some point we feel that we've got a good handle on socks and there is an opportunity in the market for something else, maybe we will consider it. But at this point we've got a full plate.
Beyond "core" retail, where else will Stance be sold (according to plan)?
For now we're focused on specialty retail only. If you're alluding to whether or not we'll sell to sporting goods or chains, then we would say it's too early to make that call. Where you sell has a big impact on a brand and we want to be really careful about how we manage our growth. When it comes to chains, we'll probably make decisions one retailer at a time with a lot of careful deliberation.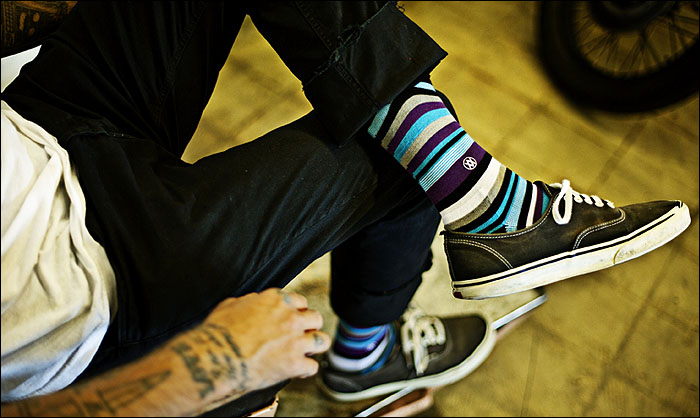 Are there plans to enter the team-sports market, taking a bite out of Under Armour's market share since they've entered the snow sports market?
If we were able to develop a program that grabbed some of that market share we would be stoked, but our current product development is more geared toward fun and fashion, and our technical emphasis is limited to skateboarding and snowboarding. I can say that we probably wouldn't develop socks for team sports unless we felt we could really disrupt the status quo.
Does Stance have road reps locked down across the country already?
Yes, we've been able to assemble a great team of reps that all have been in the game for quite some time. We were looking to work with reps that had an understanding of the accessory business as well deep relationships with the key retailers in each territory.
When Stance looks to grow its team, what will be the next departments to hire?
---