Back to News
FILM: The 1st Annual LA Skate Film Festival Wraps Up
September 8, 2010
The 1st Annual LA Skate Film Festival Wraps Up & Announces Winners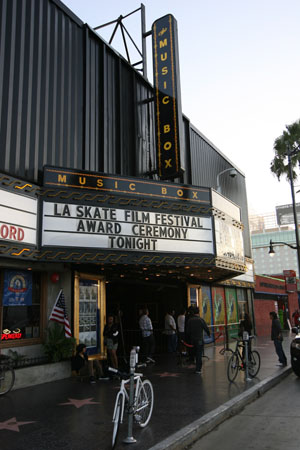 After two days of screenings and panel discussions, the 1st Annual LA Skate Film Festival ended in Hollywood with the much anticipated awards ceremony honoring skate filmmakers' work from all around the world.

The first two days of the festival showcased a diverse selection of the top 3 best films submitted in each one of the award categories, from emerging films to documentaries; skate shop videos and US films. Some of the films really stood out whether by their creativity, their humor or even sensibility, and they deserve a mention: Plank, 10,000 Kilometers, Machotaildrop and everybody's favorite, Skateistan: To Live and Skate Kabul.

A couple panel discussions were held to educate the attending filmmakers on 3D and visual effects integration in skateboard filmmaking. The festival gathered experts in the field such as Windowseat pictures, Century 21 3D, Rabbit and Ring of Fire to bring the best knowledge possible to the filmmakers.

The last day of the festival was much anticipated by everybody, especially the nominated filmmakers who flew all the way from Vancouver, Philadelphia, or Austin with the hopes of winning, in their respective category, 1st ever LA Skate Film Festival trophy designed by RVCA's artist, Kevin Ancell.

Members of the Academy of Skateboard Filmmakers, who nominated the films were present to announce the winning filmmakers and speak about the importance of the festival for the industry. Jim Thiebaud, Geoff Rowley, Grant Brittain, Bryce Kanights, Jamie Thomas, Ricki Bedenbaugh, and Greg Hunt were on hand to show once more, their support of the festival.

What nobody expected was the "Tribute to Craig Stecyk", which was presented by Steve Olson. As an inspiration to many filmmakers and skateboarders of today, Craig Stecyk very much so deserved this Tribute and was there to accept it.

Winners of the 1st Annual 2010 LA Skate Film Festival are: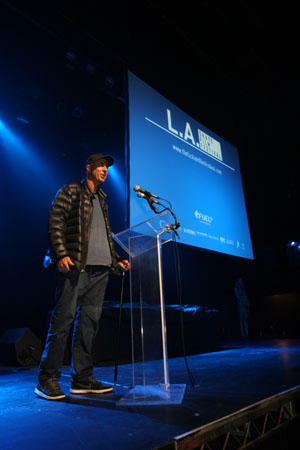 Best Emerging Filmmaker: Symmetry, Directed and Produced by Dayman Cash

Best International Film: Plank, Directed by Billy Pols, Produced by Maarten Kuit. Executive Producer: Jeroen Van Den Idsert

Best Skate Shop Video: The Dango is Dead, Directed and produced by Joe Perrin. Executive Producer: John Montesi

Best Independent Film: Machotaildrop, Directed by Corey Adams and Alex Craig, Produced Oliver Linsley and Jared Valentine, Executive Producers: Shon Tomlin and CJ Olivares

Best Documentary: Skateistan: To Live and Skate Kabul, directed by Orlando Von Einsiedel, Produced by Orlando Von Einsiedel and Louis Figgis. Executive Producers: Jon Prever, Thanh Ma, Rod Stanley

Best Commercial: Nestle Aero, Directed by Ty Evans, Produced by Nathan De La Rionda. Executive Producer: Dana Garman

Best US Film: Extremely Sorry, directed by Flip Productions, produced by Ewan Bowman. Executive Producers: Geoff Rowley and Jeremy Fox, Claymation: Edgar Alvarez, Original Music: Baron
Best Soundtrack: Extremely Sorry. Original Music: Baron

Best Editing: Wood, Directed by Colin Kennedy, Produced by Cullen Pythress. Executive Producer: Tim Gavin

Best Photography: Skateistan: To Live and Skate Kabul
If you didn't have the chance to come to the ceremony, you can get all the details on FUEL TV's Weekly Update and The Daily Habit very soon!

The Festival would like to thank all its sponsors for their support: FUEL TV, etnies, Scion Central, Function Drinks, RVCA, Woodward, Cam Caddie, The Sheraton Hotel, ASR, Barefoot Wine and Pyramid Beer.

---