Back to News
EVENT: "Washed Up" Premier @ The Last Bash KC
September 16, 2010
The Last Bash @KC Watersports
September 24 - 26
On the weekend of September 25th, KC Watersports will host the annual Last Bash along with the premier of the new Obsucra Team Video, "Washed Up". Team Rider Aaron Reed will be on hand to introduce the video and to pass out some shredding tips on the water.
In addition to riding, the event will serve as a fundraiser for the local chapter of Big Brothers and Big Sisters Foundation. There will be a raffle for some great items donated by our sponsors; all raffle proceeds go to the Foundation.
The cable opens Friday at 2 p.m. with open riding on the cable till dark.
Saturday kicks off early- 11 a.m. - with open riding until 5.
Throughout the day, there will be a rail jam competition on each structure. Prizes will be awarded for the best trick on each structure during the judging period.
At 5, the cable shuts down for the rail competition. The divisions are beginner, intermediate, and advanced wakeboard as well as open wakeskate.
The party moves to the Olathe Hooters for a special screening of "Washed Up"at 8.
The fun continues Sunday with open riding from noon till dark.
The special three-day weekend pass is only $50. Look for a special promotional offer available for our Facebook and twitter followers.
Comp entry is $10 per division. So rally your troops and head to KCW. Cheap camping minutes away at Miola Lake.
Come out, ride, and let's show America why Midwest Wakeboarding is King!!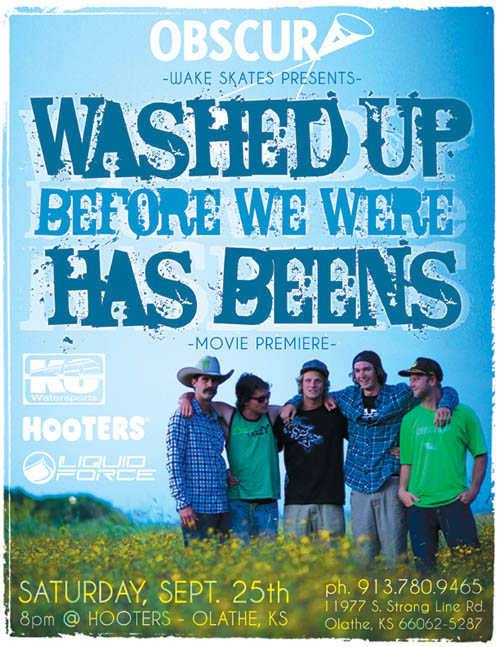 KC Watersports would like to thank our partners Scion, Liquid Force, Alliance Wake, Monster Energy Drink, Pro-Tec, Kicker Audio, Five Star Trucking, Hooters, and Out Cold Marketing.
---