Back to News
Rick Marmolijo – Group Manager (Footwear Design) at Sole Tech
October 19, 2010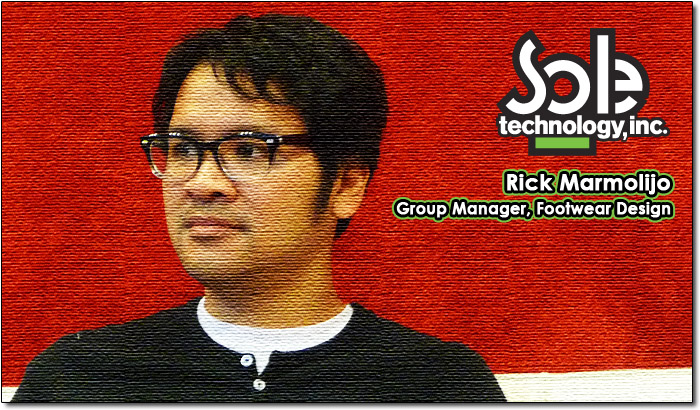 Many of us take for granted the woven sheathes of rubber and fabric strapped to our feet. Though they've trekked us around for the better part of our lives, have you ever sat back and actually thought of each intricate detail that goes into making one pair of shoes? Probably not, so why not do it now. Seriously, check them out. Everything is measured down to the millimeter, and footwear designers have to be on point when it comes to trends, research, material specs, logo artwork, various textures and rubbers, and so on. It takes effort from multiple departments to bring a line to life, and the more accurate the detail in the pre-production phase, the less time and money wasted on getting a finished product on your feet.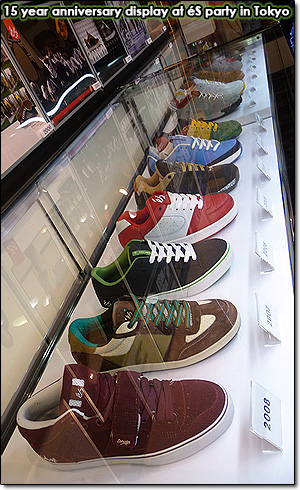 Rick Marmolijo is the group manager of footwear design at Sole Technology, and he's been saving soles since the beginning of the new millennium. Rick has crafted shoes for C1RCA and DVS in the past, and now that he's at Sole Tech, you know you're getting a great shoe with the name to back it. Here's Rick to tell you a bit about himself and his role in the grand scheme of things at Sole Technology.
Why footwear design? Are you a sneaker freak?
Footwear design is something that came from skateboarding. Being a skateboarder, I understand what to look for in the perfect performing skate shoe. Oh, and I definitely love shoes. I wouldn't say I'm a sneaker freak where I would spend hundreds of dollars on rare limited edition shoes, but I like finding random shoes that look interesting to me.
Career wise, was skateboarding your industry of choice? Why?
It was definitely my industry of choice since I've been doing it since I was 14 years old. I started off working retail at Becker Surfboards from around 1996-1998 and helped build the skate team there. I also met a lot of cool reps that came in and out of the shop. Bill Keller was actually our Sole Technology rep at the time and he used to hook me up with shoes, and now we work for the same company.
You've now been at Sole Tech since 2005, and you were recently promoted from senior footwear designer to group manager of footwear design. How has your focus changed, and what do you like most about your new role?
It's been great so far! Before my current role, I was the Senior Footwear Designer for éS and helped out with the other brands. It was definitely more laid back where I would design freely and crack a few jokes with my colleagues. Now I have a lot more responsibilities where I have to manage the designers' workload, timeline schedule and make sure the product managers are getting what they need. It's definitely a great experience for me and I'm learning more and more each day.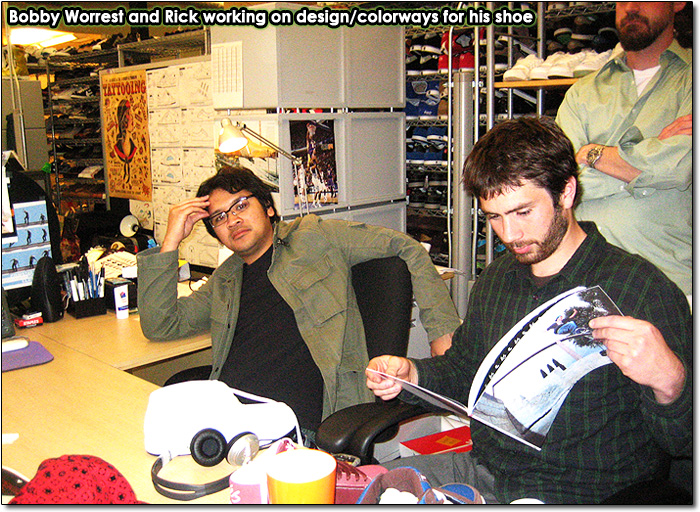 Take us through an average day in the life.
The great thing about Sole Tech is that every day is different. Some days a team rider will come in and work on pattern corrections or colors for his shoe. Other days it's a line build meeting with our sales and marketing team. The best time is when we actually get to wear and test the designs at our indoor TF!
What have been the most notable changes in footwear trends and design since you've been at Sole Tech?
The shapes and silhouettes are probably the most significant change in footwear design. Several years ago when we were only 1 of 5 skate shoe brands, almost all shoes were big and puffy. With the influence of fashion design today, there are now a variety of slim silhouettes that you will find in our product.
Given not everyone's foot is shaped the same, what is (or has been) done to acknowledge and resolve this issue?
This goes back to where I mentioned the silhouettes and shapes of our shoes. We have a range of different shapes that caters to the different types of fit. Our most popular model, the Accel for example, is probably our widest shoe with a lot of tongue and collar padding. The Edward is our slimmest model with minimal padding.
Are the youngsters responsible for the skinny shoe revolution? Who or what made this fad so popular?
I would say the trends have come back full circle. Before the early '90s of XXL shirts and size 40 cut off Blind jeans, people used to skate in Chuck Taylors and Vans SK8 Hi's which were are slim shoes. I think that fashion today has evolved into slim fitting shirts and pants. Naturally a slimmer shoe looks best with skinnier pants.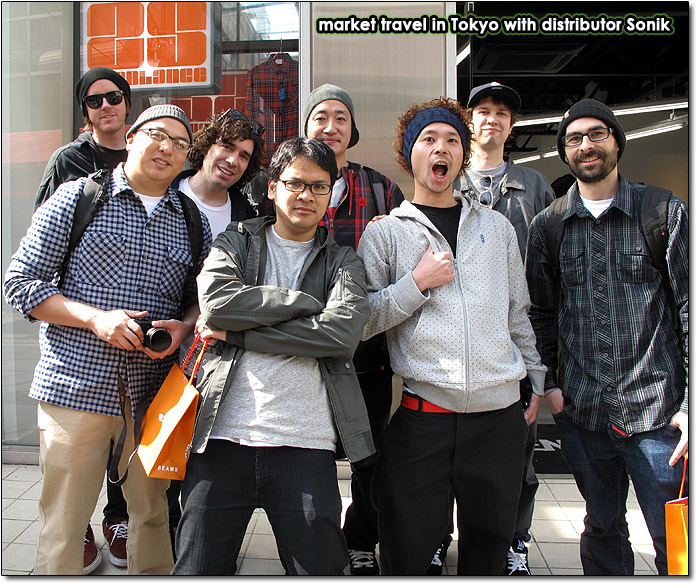 When it comes to research and staying on top of trends, where do you find information and inspiration?
Usually a couple times a year, the designers and product managers will travel to different parts of the world and research some of the trends at that particular area. Being that Sole Technology is a global brand, it is important that we cater to different customers of different regions. It also helps that Pierre André Senizergues, the CEO and founder of Sole Technology, is always looking to push the boundaries of footwear design.
How many sketches do you go through before a final design is approved?
It actually depends on how basic or technical the design calls for. We usually have 2 sketch reviews with the designers and product managers where we all critique each other's work. Once we all agree on a direction, we have a 2D meeting with sales and marketing so they know what's coming for that season.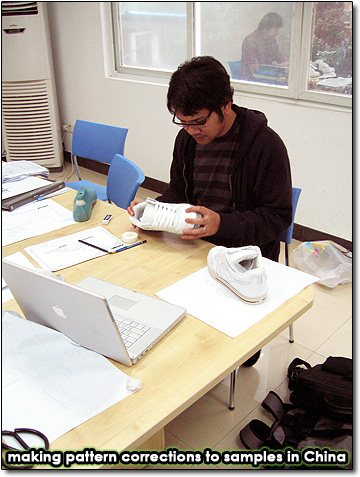 Briefly bullet the various steps in the design process, from concept to completion.
• Design Briefs from PMs
• Inspiration Trip
• Sketch Review
• 2D Design Meeting
• Tech Pack Build
• Pattern Corrections in China
• Photo Colors for Catalogs
Why are tech packs so important?
Tech packs provide information for the factories in China to create a shoe. It consists of the different shoe views, material specs, outsole/midsole specs with cross-sections, logo artwork, textures for the rubber, etc. Everything is measured in millimeters so it's important that things are measured correctly. The more accurate the tech packs are, the less development time you'll spend on fixing the shoe.
What's the most expensive aspect of footwear production?
I would say the die cast production molds for the outsoles are the most expensive part. All sizes, including half sizes, definitely adds up.
If you were to sit down and add up the total about of time dedicated to taking one shoe from concept to completion, how many man-hours would be invested?
A long time! If I lived in China and designed/developed shoes out there, I would probably cut my man hours in half since I would be working directly with the factories.
Behind the scenes, what departments do you work with to bring each season to life?
We work a lot with the marketing and apparel departments. With marketing, we work together to see if we can come out with a shoe or theme that tells a story for that season. Once the tone is set for themes and colors, apparel creates a color and material palette that is shared throughout the footwear. When all the lines come together, it becomes a nice tight collection that merchandises well with each other.
Is knowledge of skateboarding mandatory when it comes to being a footwear designer in this industry?
Yes and no. Sometimes when a designer comes from a different background, it can broaden your perspective on design. You can actually learn a great deal from him or her. When it comes to performance skate shoes, it does help if you have an understanding of the skate world. You know what kids are looking for and what they aren't looking for in a skate shoe.
What has been your biggest lesson learned throughout your time in the industry?
Positive energy is key to being creative.
What advice can you provide to those looking to become footwear designers in the action sports industry?
Build your portfolio and never give up.
FAVE 5:
1. You keep on stompin' in your Air Force 1's or Square Ones?
Square Ones of course!
2. Heelys or Soap Shoes?
Both! Maybe I can design a combo of both if either company hasn't thought of it yet?
3. Favorite phase of production: concept or finalized product?
Final product so I can skate in them.
4. Classic etnies: Rap's or Sal 23's?
Sal 23's for sure. I've had both and the all red suede Rap's got all over my griptape.
5. Pencil & Pen, or Mouse & Pad?
Both. You can be more loose with a pencil, and more tight with Illustrator.
---