Back to News
SNOW: Stand-Out! Canadian Alpine Ski Team
November 30, 2010

Canadian Alpine Ski Team Race Suits Honor Royal Canadian Mounted Police

Spyder Designs Custom Mountie-Inspired Suits for Lake Louise World Cup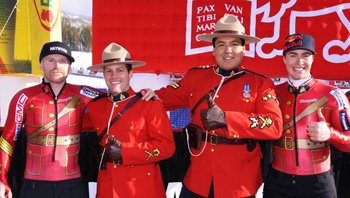 As some of the world's best skiers descended on the majestic Canadian Rocky Mountains last weekend for the Lake Louise World Cup, the Canadian Alpine Ski Team were stand-out supporters of their country in Mountie-styled custom race suits designed by iconic ski apparel brand, Spyder Active Sports.
The custom-graphic suits mimic the appearance of the Royal Canadian Mounted Polices scarlet tunic, complete with imitation cross-strap, belt and breeches. The suit design pays tribute to the RCMP, who present the podium finishers each year during the awards ceremony at the Lake Louise World Cup. Only eight suits were made and were worn exclusively for the home-turf race.
"We met with Spyder in May to talk about our clothing in the future and they showed us a picture of this suit. We thought it would be a great way to start the season. It doesn't really get more Canadian," said Manuel Osborne-Paradis (Vancouver, BC) who was presented on the podium last year by the RCMP after winning the super-G.

"We have been really successful in Lake Louise and we wanted to do something special. The Mounties are an icon of Canadian history and they are a strong symbol in our country. We thought it was a great idea to honor and thank them for their hard work. Plus, they look really cool!" added Osborne-Paradis.

---