Back to News
Surf: JP Signs Duran Barr
February 4, 2011
JP Signs Duran Barr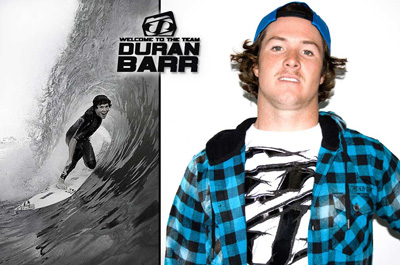 Jetpilot has signed Duran Barr to the Surf Team for clothing and wetsuits. Duran is the son of California 80's pro, David Barr, who had an internationally successful career as well as a very prominent and continually evolving shaping career. It is evident that Duran, the young Carlsbad resident, is following in his father's footsteps when it comes to innate wave riding ability. At 20 years of age, Duran is known for his bottom turn and use of the rail, although he can still throw it out and punt with todays best. Riding on his Dad's boards, Duran's surfing is solid in both So Cal Slop or Hawaiian Juice (he's leaving for Hawaii on Sunday...One way ticket style).
"We couldn't be more stoked to have Duran on the Program, he is a great addition to our already talented pool of Charging Surfers...more to come, much more." said Ryan Kates on behalf of Jetpilot
Duran Barr will now join fellow California pro Adam Knox, as well as young phenom Eithan Osborne, Slab Hunters Richie Vaculik & Alex Cater, 6 ft. 6 in. Air Specialist Dru Adler and competitive WQS'r Brett Burcher to make up the Jetpilot Surf Team for 2011.
---