Back to News
Fuel Clothing
February 16, 2011
Fuel Clothing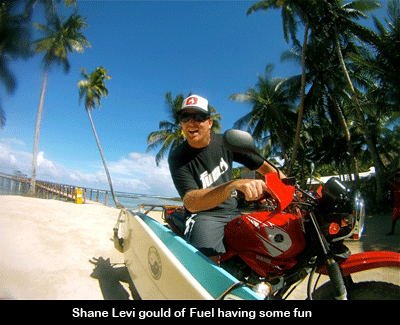 "The biggest little company in America" is a moniker for Fuel Clothing coined by its co-founder Shane Levi Gould. Fuel Clothing was created in 1992. Almost twenty years later the company continues to operate out of its longtime headquarters in Hilton Head, South Carolina. It's not often a company keeps going for this long in action sports without becoming "huge." And it's certainly not talked about. Read on to find out how Fuel Clothing came about, and stayed about for almost 20 years now.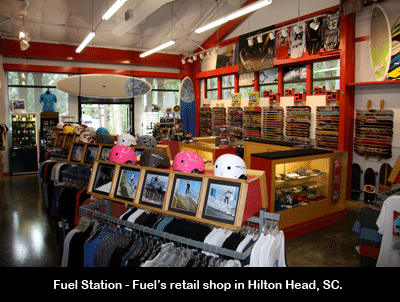 What came first, the retail shop or the clothing company?

The Fuel Clothing brand was first, circa 1992. The retail store, Fuel Station Ride Shop, did not come around until 1996 - late bloomer!
Who founded Fuel, and why?
Myself (Shane Levi Gould) a pro snowboarder and Buster Halterman a pro skater created Fuel back in 1992. At that time, both of us were traveling the world and looking to extend our careers beyond our tours of duty. While touring professionally, we tapped into some friends who also happened to be the best riders in the world. Starting our own company was no easy task to say the least. We had limited funds, distribution and knowledge of how business really worked, yet we were both determined to keep Fueling the fire. Shortly thereafter Buster left to work for Alien Workshop and I kept moving forward with Fuel's original vision, which is to provide clothing and passion for those who live for the action sports.
Where is the company headquartered?
Hilton Head, SC
Are there any advantages or disadvantages to being there?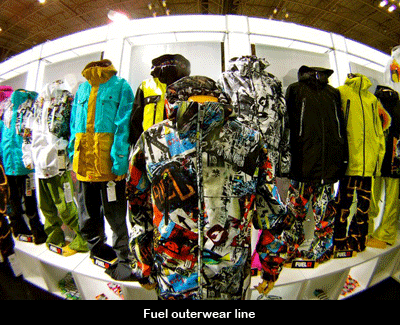 95% Disadvantages, but 5% peace of mind keeps me alive. It's a poor location for many reasons - cost of doing business and no action sports lifestyle here besides Fuel which makes it tough to pull talented people that are into action sports here. I will say it is very quiet which allows me to work very long hours with few distractions!
What was in the original Fuel product line back in 1992?
Tees, Hats, Beanies and Recycled Polar Fleece jacket and pants – far ahead of the eco friendly trend.
Recycled polar fleece in 1992? How did that idea come about?
At that time, both of us where looking for fabric and we even then thought it was best to use recycled products even though the cost was more. I do remember saying this is amazing, made from plastic bottles and nobody should ever not use this process. We still to this day use some of those same fabrics and processes.
Today the product line is chocked full of goods for Men and Women ranging from Ts, to jeans, jackets, outwear, boardshorts, and accessories. Being "The Biggest Little Company", is it a challenge to produce enough product?
For sure, being the little guy is always a challenge - for production, distribution and marketing. Bigger is always better for those ingredients, which is a shame since we do great things and they are looked over since we don't have the money to show the masses what we do.
Where and how do you advertise the company?
We do most of our advertising thru our athletes and events, not so much with the print media. Of course we all use the same social media's, but being a smaller company we have to be very careful on what we spend our ad dollars on. Getting to the events is where most of our money goes, I believe you must do what you sell and keep a presents at the events that make up our industry.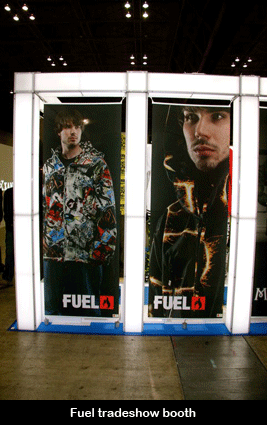 What is the growth strategy Fuel has embraced over the years?
Under promise and over deliver to shops, riders, manufactures and all of our customers. We live by this and it has been the key to our staying in the game.
Is Fuel distributed internationally? In what other countries? Where is it best represented and why?
We do ship to a few other countries, maybe 10 all together, Japan being our strongest outside of the US market. We ship direct to kids all over the globe and that alone makes me think we must be doing something right.

Are team riders important to growing the company? How so?

Action Sports like other sports industries which are run on image and athletes to push it. We have always known this and had our company driven from our athletes, one great vision we had was not to be just a one trick pony. We came out with the mindset that our costumer does multiple sports, so rooting from the skate, snow, surf and mx lifestyle this helped us Fuel the fire of multiple sports. While most company's started with one image and then have to recreate the image when they want to take on the next sport. With a ton of money that can be done, which I see all the time. Even companies that never knew a thing about MX and turned their heads at us when we had dirt bikes in our trade show booths back in the early 90's. Now just in the last 5 years started supporting the MX scene big time and buying the top riders.
How has the Fuel army come in to play to achieving growth?
It all depends on partnerships, relationships, networking and most of all distribution channels.
What are the most significant challenges in today's business environment?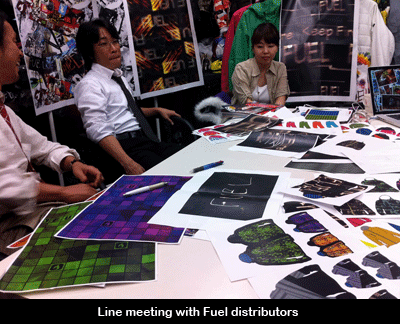 Top athletes now get paid really good money, so it makes it even harder to keep the level of athletes on the same page without a heavy bankroll, which is not in our favor, but I am a great supporter of our sports athletes making top dollar now. I know many of us rode for peanuts all thru the 90's, it is about time.
It's almost 20 years now since Fuel launched. Can you provide notable milestones in the company's development over the years?
Getting the trademark on the word Fuel has been our biggest achievement to date.
The second biggest thing would have to be our name being used for the largest action sports TV network. Most people outside of the industry don't know this, but the core insiders know the where the name came from.
There are many more things, being the first company to push MX in the surf and skate world for sure has been a help.
A Signature MX Glove only line before anyone else (Metzger Freestyle Glove)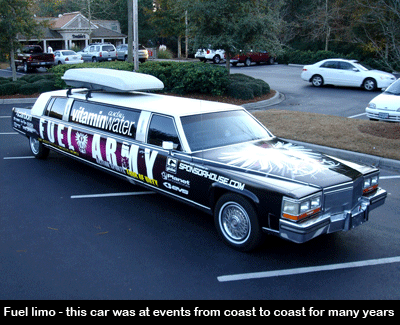 The Fuel limousine was seen at events from coast to coast for a long time. What happened to it?
I donated it to two of our fallen riders. Two of our athletes were paralyzed in action and I didn't have the money to do much for them, so I just donated my limo and we auctioned it off for the whole summer eventually giving it away at a MX race in Florida. This way we raised more money than the car was worth and it helped the riders out not only financially, but gave them hope to see others were helping them out in a time of need. I still stay in touch and work with both of the boys to this day. I wish I could help more down riders, but I chose those that were closest to us to give our best efforts to.
Is the skatepark on the Fuel website part of the Fuel store?
The skatepark used to be on the same street, but just down the road a bit. With our new building we are almost a mile away from it. I came up with the idea and spearheaded the building the skatepark for the community well over 10 years ago, so the kids would have a place to go and push themselves creativity and physically. I am proud of this park and what is has done for our local skaters.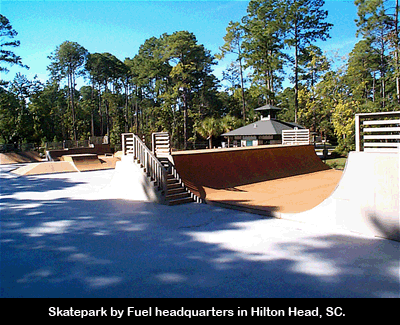 What can the world expect next from Fuel?
The next big thing will be a distribution partnership and advertising on Fuel TV. These are things that I have wanted to do since the launch of Fuel TV and I'm looking to find the correct distribution partner to make this a reality.
---