Back to News
EMP: RIOTS at La Jolla Group Set To Stun Company
February 17, 2011
RIOTS at La Jolla Group Set To Stun Company

La Jolla Group R.I.O.T.S.
R elationships
I deas
O pportunities
T eamwork
S pecial Events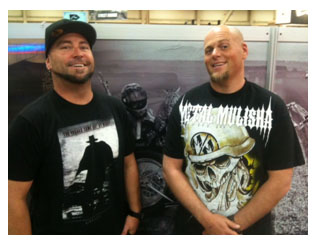 The La Jolla Group has refocused some friendly faces to drive a new internal department hyping propaganda and working to execute those 'outside-the-box' ideas. Rich Wilson will move forward as Director of Promotions for LJG with a deep bag of tricks from a background in photography, graphic design and a superstar alter ego with a microphone in his hand. Rich will be led by department Vice President Ryan Divel in an ongoing effort to support the current marketing goals and events of the La Jolla brands, while sourcing and creating new ideas to implement. Rich and Ryan are past nominees and winners of SIMA's Marketing Campaign of the Year.
"I basically got to write my own job description based off of my strengths", Divel said. "Both Rich and I are psyching on this opportunity to work so closely with each of the La Jolla brands. The momentum in this building is overpowering."
The 'RIOTS' dept will be based out of the current LJG mega-office, but eyes and ears will be national and widespread.
La Jolla CEO Toby Bost commented, "I'm looking for these guys to execute all the cool marketing and promotional concepts that we never get to do because we haven't had the time or resources. It's definitely a group-minded initiative but the RIOTS team will bring a lot of benefits to each individual brand as well. 2011 is all about quick wins. The ultimate vision delivers value to LJG, retailers, and consumers."
The RIOTS crew will start by building an in house La Jolla Group recording studio as a means to develop it's musician relationships and a soft launch is scheduled for early to mid March.
In the first year the RIOTS crew will start with the recording studio, and other projects will include a non branded artist centerpiece for promoting and expanding their work. "The entire crew has great ideas, maybe just not enough time during their day to day routine to research and execute, that's where we come in. Outside the box thinking" continued Divel.
The idea is to then work closely with each brand's set list of events and projects while eyeballing open spots in the calendar to fill in with new ideas. Divel's closing comment, "each brand has great dedicated marketeers, we're just like the supercharger on top of the engine!" sums it up.

---