Back to News
Floris Gierman, Senior Director of Retail Marketing, Volcom
March 15, 2011
"I'm obsessed by severe thunderstorms, isolated supercells, tornadoes, hail and lightning. It's one of the best adrenalin rushes I've ever experienced" says Floris about his experience taking photographs in the Midwest. Storm chaser or Holland native living in southern California and working in the action sports industry? The answer is both. Floris "Flo" Gierman began his career working in management at Burnside in Holland and eventually found his way in the states. The story is good, and so is Flo's photography.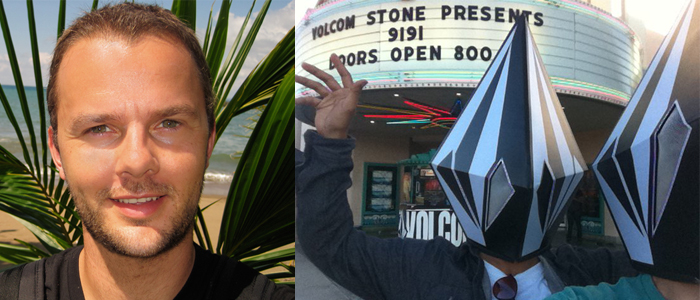 Google says you run marathons. And pretty quick. When will you run another one?
Marathons and half marathons are fun and occasionally painful, I've run a few of them and will run more in the next few years. I need to get some more miles in my legs and less alcohol.
Were you involved in skating or the industry back in The Netherlands?
For sure, I helped manage one of the largest skatepark and skate shops in Holland called Burnside.
I worked there full time, while getting my major in International Business and Marketing.
What originally brought you to the U.S.? How did you come about your first opportunity to work in action sports in the States?
I really wanted to work full time in the Skateboard Industry in Australia, after interning and traveling around there for 9 months. There were no jobs available in OZ, however an opportunity came up at Globe Shoes in the US. I flew to Zurich Switzerland for an interview and a few months later I started a 6-month university training program with Globe. Tim Garrett gave me this first opportunity and I'm very thankful he did. It was an awesome learning experience and after 9 months in the States, I went back to The Netherlands to finish up college. My girlfriend, who is now my wife, lived in LA so I ended up moving back to California.
For 2 months straight I went to an internet café, with an ASR Tradeshow Contact list, to try to get any job in Action Sports to get my foot in the door. Blitz Distribution gave me an opportunity for 6 months and eventually Per Welinder and Todd Millspaugh offered me a full time gig as Marketing Coordinator.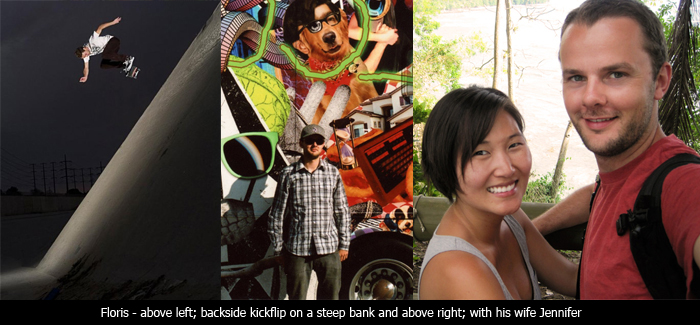 Are there any significant differences in work culture you notice between the U.S. and Europe? What do you think the U.S. can learn from Europe and the Dutch when it comes to work culture?
There are a lot of cultural differences between the US and the Netherlands. The Dutch and other Europeans work much less than Americans, but when they work they seem to put their time to better use.
Europeans are more casual about getting the project done as urgently as possible. I would generalize that in Europe, it isn't normal to work overtime and weekends.
I feel there are a lot more opportunities in the Action Sport industry here in the US, compared to in Europe. Most Americans will understand when you tell them you work in the Skateboard Industry, however most Europeans won't understand skateboarding has an industry with proper jobs.
There are quite a few people working in the southern California action sports industry who are also Netherland natives. What do you think about throwing an annual party that celebrates your culture? Or having soccer Sundays? I have an all orange costume ready.
There are definitely a bunch of Dutchies living here in So-cal and we meet up from time to time. It was awesome to watch the World Cup soccer together at 6AM at the bars around Long Beach and Huntington Beach. We've organized a few Dutch dinner parties which are always fun. Chad, you're invited to join us next time if you wear your orange costume.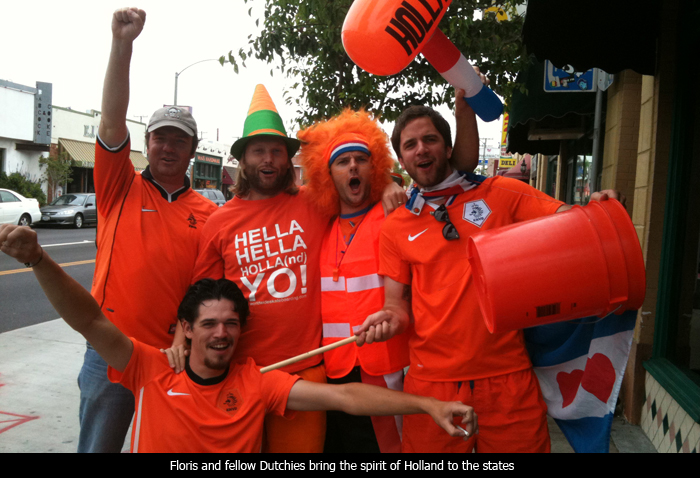 Where do you currently work and what do you do?
I work at Volcom as the Senior Director of Retail Marketing. My role is to build relationships with retailers, get customers into the stores to drive sell through, and to tie our main company initiatives all the way to the retailer. I deal with the Core Retailers, Volcom Stores, Specialty Stores and Department Stores. My focus is mostly on the North American market, however several projects roll out worldwide so the communication with our international offices is also an important part of my role.
A few examples of Retail Marketing promotions and programs are skate / surf / snow retail tours, product clinics to education store employees, design contests, store parties, and denim donation program for the homeless.
What is the driving force of your current role at Volcom? What do you enjoy most about the work you're doing?
It is amazing to be surrounded by creative people who share the same vision and passion for art, skateboarding, surfing, snowboarding and music. I have a lot of respect for Volcom's business and marketing approach, which is often completely different than any other company.
There are a lot of travel opportunities, one week I'll be in Hawaii for an event with 20 retailers on the beach, the following week I'll be in Whistler for a snowboard event, another week I'll be in Japan for skateboard retail tour.
Do you notice differences between working for a purely skateboarding company and a multi-sport company?
Yes! Working at a purely skateboard company is very roots and you deal with a lot of smaller core stores and a few major accounts. The distribution for a multi-sport company is a lot wider, so you deal with a wider account base. Each distribution channel requires a different approach, bringing a bunch of pro athletes and a loud band to a core store usually works out well, however for a large mall store you have to come up with a different approach.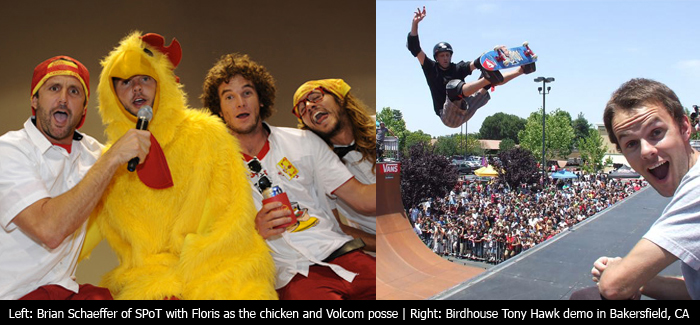 What are your most eye opening experience(s) in your work since coming to the states in 2005?
Flip Feast Skateboard Tours
In 2006 I set up the Flip Skateboard Tour in Canada with the entire team, Tom Penny, Ali Boulala, Geoff Rowley, Arto Saari, Mark Appleyard, Lance Mountain, etc. More than 2000 people showed up and it was the gnarliest and most intense demo I've ever experienced.
Henry Ortega and Tony Hawk
At Blitz Distribution I received an email about an 11-year-old skateboarder called Henry Ortega who had 2 brain tumors and there was nothing the doctors could do. I called Tony Hawk and Brian Sumner to join me for a surprise visit and we spent 1 hour at Henry's house, it was the best visit he ever had. A few weeks later he passed away and it made me realize that only a few things really matter in life.
Homeless Campaign in Skidrow
At Volcom we set up a denim-recycling program for the homeless called Give Jeans a Chance. 400 stores around the world placed a denim collection bin in their stores, all jeans were donated to local homeless shelters. More than 20,000 jeans have been collected so far. Last year at the end of the campaign we picked up 1000 pairs of jeans, drove to Skidrow in LA and handed them out to the shelters and the homeless directly on the streets. We duct taped some cameras to our trucks to document it all. It was definitely an eye opening experience and you can see some of the footage here: http://www.volcom.com/givejeansachance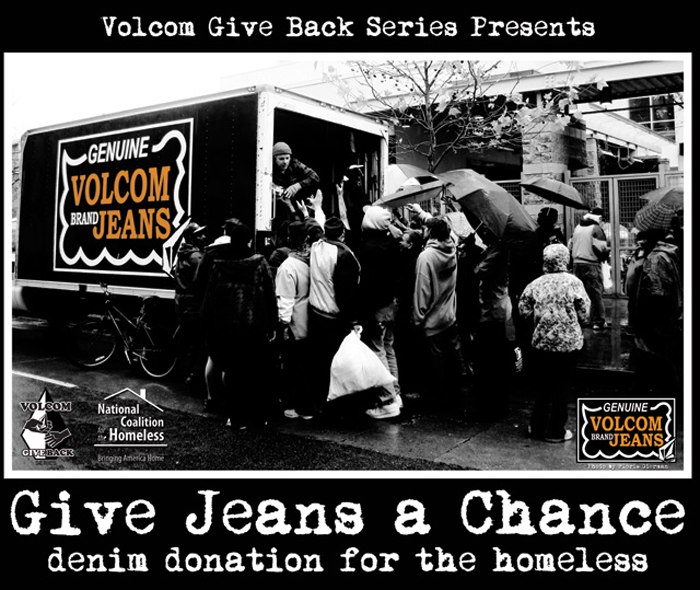 Volcom Trade Shows
For me another eye opening experience has been the Volcom Trade Shows like Surf Expo, SIA and ASR,
3 days non-stop working and partying, dressed up like Fast Food Employees, Hill Billy or Ravers. These tradeshows are so much fun, and the Volcom crew is such a close family that we're always bummed to go home when the beer is gone and the party is over.
You recently launched a personal photography website www.flotography.com. How long have you been working on building your photo collection?
Yes, I launched the website a few weeks ago. I've been shooting actively for the last 4-5 years. When I moved to the states about 5 years ago there were so many photo opportunities that I started shooting more and more. As soon as I began working at Blitz Distribution, we went on a skateboard tour with the entire Flip and The Firm team, 18 riders in 4 vans and an RV. The day before the tour I bought my first starter SLR and I tried to learn how the camera worked while shooting with guys like Tom Penny, Geoff Rowley and Lance Mountain.
The first skate tour photos I took were horrible. Geoff Rowley was actually pretty direct and told me most of my first tour photos weren't good enough for the Flip website. Haha. It opened my eyes and I learned to shoot better photos.
Over time, have you noticed improvements in your ability to make your photos convey what you want them to?
Yes – at the beginning you just capture the moment. After a while when you shoot a lot of photos, you see photo opportunities everywhere. Not just regular photo opportunities, but in the most random situations you think: wow, that's weird or fucked up, I want to document that.
Do you like to chase storms? Why?
Yes, I'm obsessed by severe thunderstorms, isolated supercells, tornadoes, hail and lightning. Its one of the best adrenalin rushes I've ever experienced. Mother nature can get so extremely violent. Storm chasing brings you amazing photography opportunities, and learning a lot about predicting weather patterns also comes in handy when you organize a lot of outdoor events.

Will you share your top three photographic moments with us?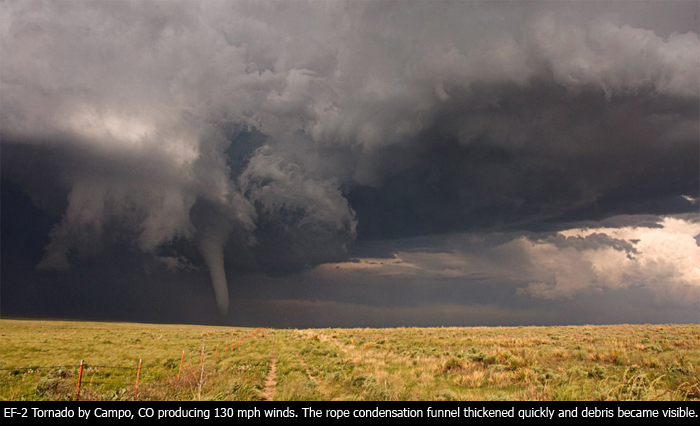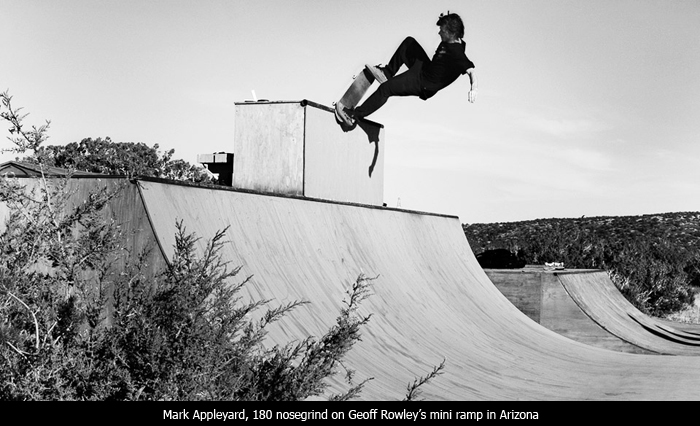 What is your advice for anyone looking for a job in the Action Sport Industry?
Get creative and ask yourself the honest question; why would a company hire me over any of the other 100 applicants? If you cant find a clear answer, get creative. Be super determined and never give up. Don't be scared to try some different application techniques - the more creative you can get, the better.
---