Back to News
B$Z: Burton Snowboards Grows its Presence in Korea with LG Fashion Partnership
March 24, 2011
Burton Snowboards Grows its Presence in Korea with LG Fashion Partnership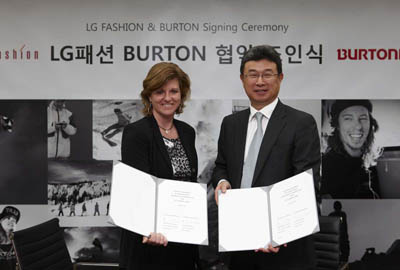 Burton Snowboards is pleased to announce that LG Fashion, Korea's leading fashion company, will officially become Burton's new distributor in Korea. In addition, the two companies have signed a licensing agreement that allows LG Fashion to design and distribute lifestyle streetwear in Korea under the Burton brand name.
To celebrate the new partnership, LG Fashion invited Burton Snowboards' Co-Owner Donna Carpenter to a ceremony in Seoul this week where executives from the two companies officially signed the agreement.
"It is a true honor for me to be in Korea to personally sign our new partnership agreement with LG Fashion," said Donna. "With dozens of winter resorts and a snowy climate, Korea is a very important market for us, and we've always wanted to enhance Burton's presence here. Now that we have such a reputable and established partner as LG Fashion, we can take Burton to a whole new level in the Korean marketplace."
Once the partnership goes into effect, LG Fashion will distribute all Burton, RED, anon, Gravis and Analog products in Korea and will also service all Burton authorized dealers in the region. In addition, LG Fashion will collaborate with Burton on creating a new, Burton-branded apparel and accessories line exclusively for the Korean market. LG Fashion will also work with Burton to establish new retail partners and flagship stores in Korea.
The partnership between Burton Snowboards and LG Fashion officially takes effect on April 1, 2011.
For more information on Burton Snowboards, visit www.burton.com
For more information on LG Fashion, visit www.lgfashion.co.kr/osfront/engl10indx.jsp
---