Back to News
Sanük, with company founder Jeff Kelley
June 1, 2011
Sanük Company Q&A, with company founder Jeff Kelley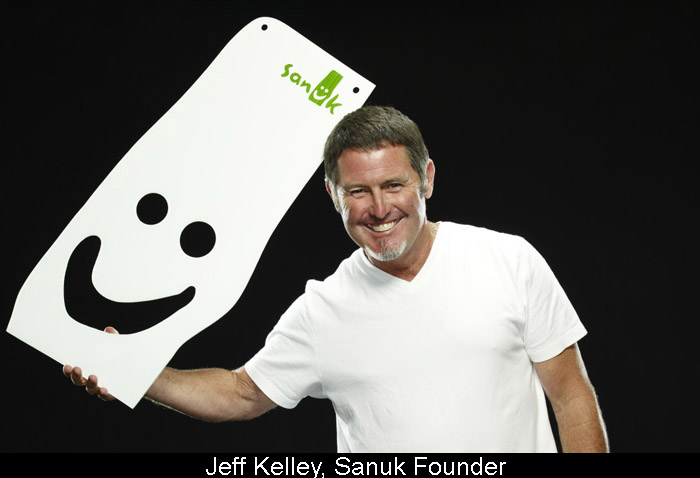 Talk about happy feet, Sanük has taken the simple flip flop shoe style and steered it off the beaten path. From indoor-outdoor carpeting to yoga mats, Sanük sandals have some pretty unique (and comfortable) design directions. Founder Jeff Kelley started the company back in the 90s with a wild idea and a great attitude. And the name, meaning happy in Thai, perfectly captures the company vibe, even including a little happy face built in to the logo. To find out more about this upbeat shoe brand we asked Jeff a few questions about the company's history and what direction we can expect Sanük to be walking in the near future.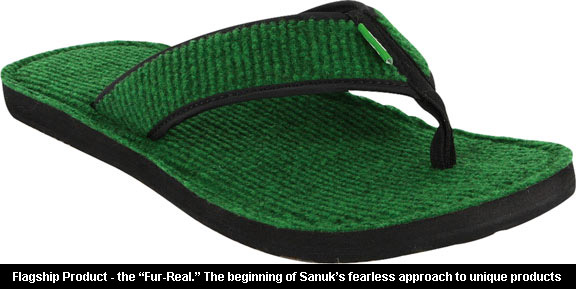 Tell us a little bit about how Sanük came about. How did you come up with the idea to start making sandals out of inner tubes and carpeting?
In the 80's I founded a company called Trac-Top making surfboard traction pads. Through Trac-Top I made relationships with most of the surf shops. I helped Reef Sandals get going by getting my traction reps to sell their sandals. After I sold Trac-Top I was offered an equity position at Reef to run sales. After 6 years at Reef I decided to take off and travel for a while. When it was time to go to work again I decided to take my childhood passion for quirky footwear and use my relationships in the Surf industry and give it a go. My first sandal was the Fur-Real made of indoor-outdoor carpet and promoted as trailer trash using a cardboard trailer for P.O.P.
How did you choose the name?
In today's world most normal names are taken so you need to make something up or find something uncommon. I knew I wanted something with a positive meaning and a friend of mine suggested Sanuk; the Thai word for fun. I liked the name and developed the logo with the happy face Icon to go with it.
Where is Sanük currently headquartered? How long has Sanük been in that spot and why did you choose that location?
The world headquarters is located in Cardiff By The Sea now but was originally in Solana Beach. I chose this spot because it is close to my home and I have a white water view of Cardiff Reef from my office window. Our U.S. distribution facility where most of us work on a daily basis is in Irvine.
How many employees does Sanük currently have?
The numbers go up and down with shipping demands but we are currently running about 75 people in our Irvine facility.
It seems like Sanük really has taken the Thai meaning of the name to heart and maintained a fun brand identity. Can you tell us a little bit about how Sanük keeps that kind of attitude and atmosphere throughout its products and in its offices?
It's all about the people. Everyone in our creative and marketing departments at Sanuk are very passionate and have a great sense of humor. We have people from all walks of life and most are into some sort of active outdoor activity like surfing, rock climbing, skating, etc. The mix of interests and culture and our inclusive open attitude encourages cross over from different departments. This open format works very good for us and allows everyone to feel like they are contributing to our success.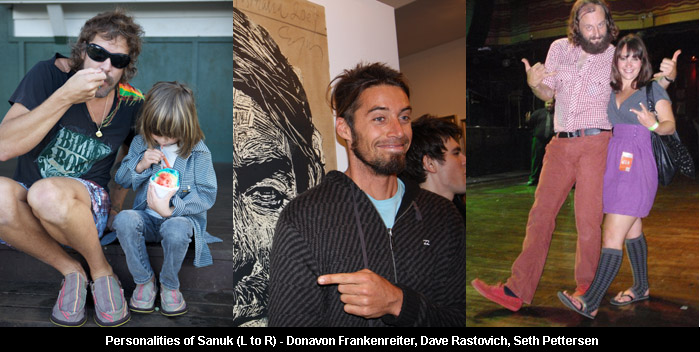 What's changed with Sanük since founding in 1997?
I think growing a company is a lot like raising a kid. In the beginning you are totally in control of its life. As the kid gets older you try and guide it down a path to success. The outside world will cause the kid to start forming his own opinions just as consumer's opinions of your brand can change its path. The goal is to see your kid become self sufficient and not dependent on you but take the DNA you drilled into him and become successful without you. I am still involved in all design and marketing but I now have a staff that gets the DNA and the collective effort our team is what drives the brand now.
Sanük always seems to be breaking new ground and finding innovative ways to make the simplest type of shoes, sandals. How does Sanük set itself apart? Where do you and your staff find inspiration to keep innovating new unique styles?
Unlike most of our competitors we do not start our design meetings by looking at their catalogs. We look for inspiration by building things we want to wear. Because our design team actually surfs, skates, and climbs we can deliver product from a core perspective. Our inclusive vs exclusive DNA has given us the luxury to do about anything and get away with it.
You have a diverse team of sponsored athletes. How does Sanük select its team and how do these athletes contribute to growing the brand awareness?
Our team like our customers tends to be the jeans and t-shirt crowd. Sanük's team of Surfers and Rock Climbers are guys that are not driven by competition as much as exploring exotic locations in search of uncrowded perfection. Donavon Frankenreiter and Dave Rastovich spearhead our surf team. Our climbing team is the best in the world and consists of Chris Sharma, Daniel Woods and Ethan Pringle. These people get incredible respect for what they do and their association with Sanük is priceless.
What are the best selling or most popular shoes in the Sanük line?
Our patented Sidewalk Surfers made like sandals to allow the foot to bend and flex the way nature intended.
There is a new Sanük store opening soon? How's that coming along? When do the doors open and what can we expect from that location?
We are opening a store I Downtown Disney this May. We did a pop up store there late last year and it went great. The beauty of it is that most the customers there had never heard of Sanük. It's a great way for us to expand awareness and teach people the benefits of walking natural.
What are a few of the biggest challenges or lessons Sanük has faced during its 14 year lifespan?
1. Knockoffs. As a small brand not choosing to go to mass distribution it sucks when big guys steal your ideas and take them mainstream. Consumers not in the core loop often think we are copying the knockoffs.
When it comes to profits there is very little dignity.
2. Globalizing the brand. When you start out you take all the business you can get globally and distributors tend to market your brand with whatever tools they have. We are currently pulling all that in house so we can control our branding and have one consistent voice around the world.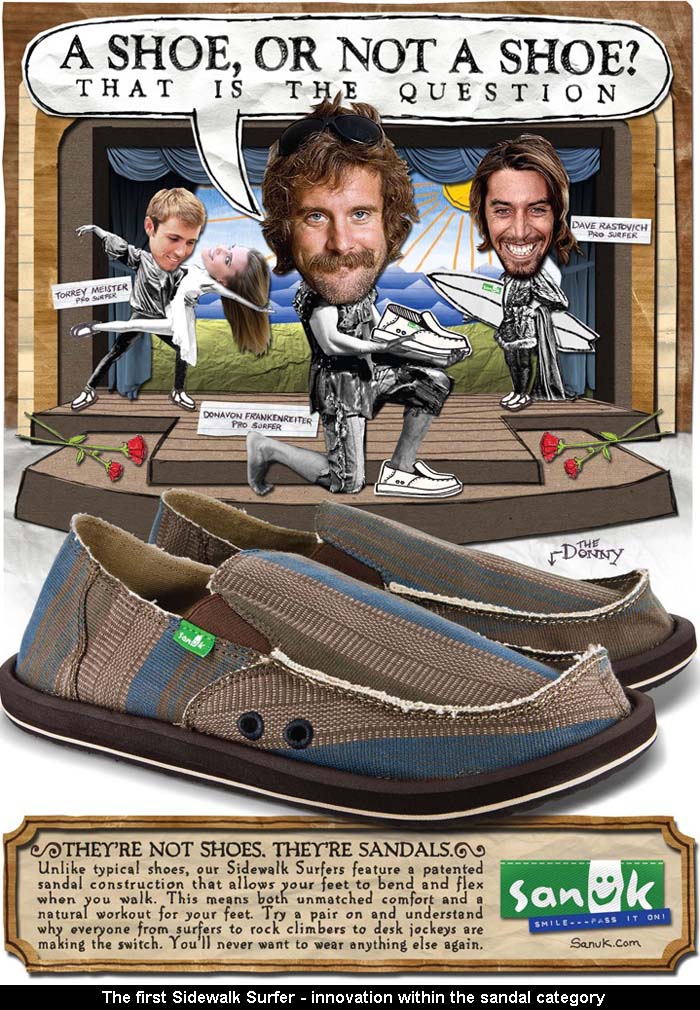 What are a few of the high points the brand has achieved over the years you'd like to mention?
Fur-Real -Green indoor-outdoor flip flop (Patented)
Wire Sandals – spaghetti looking foot bed on a sandal. (Patented)
Sidewalk Surfers - A shoe made using sandal construction (Patented)
Vulc-Lite – The first light weight flexible vulcanized shoe
Yoga Mats and Beer Cozy sandals made from real yoga mat material
We need to thank the retailers that have supported all the crazy stuff we've thrown at them. That support allowed Sanük to continue to push new products and create new categories. Being recognized by both the footwear industry and the Action Sports industry for footwear product of the year with the Sidewalk Surfer and Yoga mats was huge.
---