Back to News
Looking Back On 25 Years Airwalk
June 15, 2011
Looking Back On 25 Years Airwalk
Footwear icon relishes its storied past as part of strategic focus for the future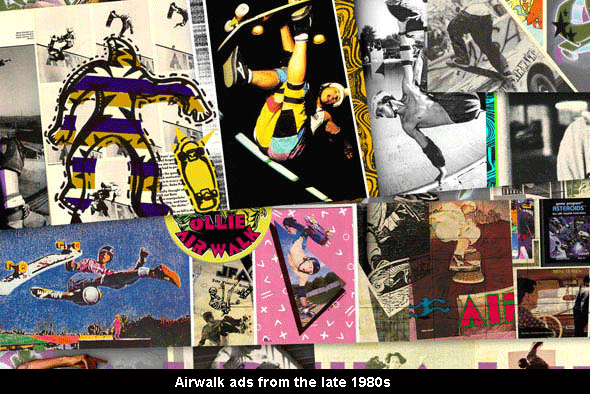 In the year 2000, Malcolm Gladwell, author of the acclaimed sociology book, The Tipping Point, cited Airwalk as the sixth most influential brand in the world during its heydays in the mid 90s. For Airwalk, sitting a mere five spots behind the first-listed Coca-Cola was a staggering feat considering Coke is widely regarded as the only word universally understood in every language on earth. In just ten years after its 1986 launch in Southern California, Airwalk's bold and creative footwear silhouettes not only won the hearts of skate, surf, BMX, snowboard and music enthusiasts, but quickly found its way to the feet of general market consumers in every continent on earth. It sponsored the most talented athletes including Tony Hawk, Eric Koston, Andrew Reynolds, Mike Vallely, Dave Mirra, Matt Hoffman, Jamie Lynn, Tina Basich, Rob Machado, and Tom Curren as well supported some of the most influential bands including NOFX, Bad Religion, and The Beastie Boys.
Today though, Airwalk is a much different brand. It's all but vanished from the walls of the skate, surf and snowboard shops it once dominated, its loyal following in the core community has moved on and only a few of its world class athletes remain, leaving industry analysts scratching their heads as to how one of the world's most ubiquitous brands seemingly faded from the hearts and minds of fans who once held it so dear.
But the question of "how" depends entirely on who you ask. Ask the businessmen at Collective Licensing International that acquired Airwalk in 2004 and they'll insist the brand never left. In fact, they'll tell you Airwalk is bigger and more relevant today than it's ever been. Ask a core skate retailer or cultural taste-maker and you're likely to get a much different story. But regardless of where you stand, one thing's for certain—during the late 80s and early 90s it was hard to get cooler than Airwalk. It's product and riders broke new ground and its youth-empowering attitude influenced an entire generation who paved the way for the market to surge into the multi billion dollar global behemoth it is today.
2011 marks Airwalk's 25th anniversary and the brand's new directors have gone great lengths to make sure the the company's rich history is exposed and its continued commitment to action sports and music reminded. Top on their its of initiatives is the re-release of some of the brand's most nostalgic styles including the Enigma, Prototype and Jim. The brand also announced its plans to launch 40 retail doors throughout China in 2011. Malakye.com sat down with Airwalk's President & CEO Bruce Pettet and VP Brand Manager Eric Dreyer to get their thoughts on the brand, its place in history and its plans for the future.
There have been several historic boardsports brands with a story similar to Airwalk. Some have been able to come back from downturns and thrive, while others have not. What makes a successful comeback and where does Airwalk fit into that picture? What are some of those strategies from a marketing and product standpoint?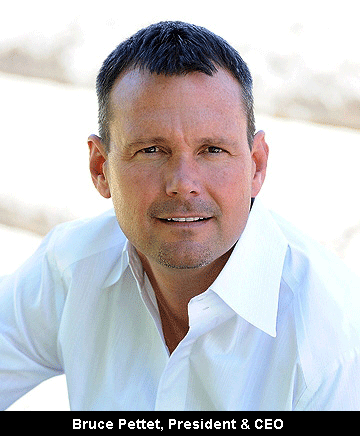 Bruce Pettet
If you look at from 2004 up to today, the brand has grown every year. The reason is because we've continued to remain authentic in our communication of the brand. We've continued to have a great team, we've continued to sponsor the right athletes that we feel fit our brand, we've continued to advertise in publications where we feel our consumer is and we've worked hard on the design and product process to make sure it's relevant and accessible. That's the cool thing about skate. You can do some really great product at some really great price points that make a lot of sense. It's a holistic approach to doing all those things and doing them consistently over time. We've never made the decision to say, "oh, let's stop spending money over here" or "let's stop doing this for boards sports". We've stayed focus.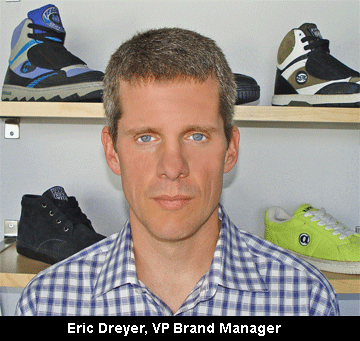 Eric Dreyer
This isn't a reentry. We've never left. The celebration this year and the introduction of these iconic sneakers is another layer of the brand marketing and the brand design we've been doing ever since we've been in the marketplace. It's changed. What the consumer touches and how the brand talks to the community and consumers, that changes all the time, but we don't look at the brand as ever having left the market. There's so much pent up demand for these iconic styles.
Where will consumers be able to access these historic re-releases?
Bruce Pettet
We've focused on doing this at airwalk.com. We can reach a lot of consumers through that. We've intentionally made it limited in terms of what we've done. It hasn't been, "oh, let's blow out 50,000 pairs of the Prototype". This is expensive and it's an expensive marketing initiative. These iconic styles are important to the brand and we wanted to celebrate them. You won't see these styles out at mainstream. These will be iconic releases and we can do this for a long time. We think the brand remains relevant and has a history that created a big portion of the industry.
As the company moves forward, do you intend to lean into your heritage and heritage styles the same way Nike, Adidas and Converse have done? Do you expect to have the same kind of reaction with consumers?
Eric Dreyer
To us what's clear is the demand. What people are jonesing for are the silhouettes, materials and styles that they knew and loved. We get the opportunity to build these shoes for the people who knew about them, but also reintroduce these iconic styles to people who weren't of the age when they first came out. So you get this kind of double impact. The older consumer who's been around boardsports for a while and the new kids as well. That's where the passion and demand is. That's the foundation of what we're doing with this product.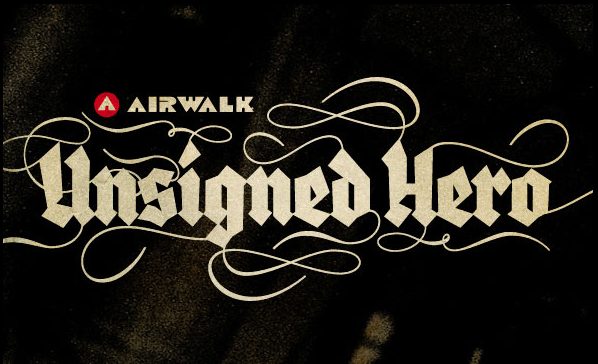 Airwalk has a long history of supporting up and coming music acts. Can you speak on the company's history with music and some of Airwalk's current initiatives within the music space?
Eric Dreyer
Boardsports and music have always naturally been associated. Airwalk, back in the day, was involved with a lot of marketing initiatives in music whether that was seeding product or aligning itself with bands. Over the last 7 years the focus has been on up-and-coming musicians and artists throughout different genres of music with a focus on rock, alternative and punk. Over the last few years we've developed a program called Unsigned Hero. It's essentially a way of giving bands, who are great bands that just don't have a label deal yet, enough exposure to get out there and get more well known and hopefully go on to have their music shared on a much larger level. We've augmented that now. In the last two years we've become the title sponsor of the Alternative Press tour. Starting last fall and again this fall Airwalk will be the title sponsor. If you know the tour, it's five or six bands who are up-and-coming that still haven't broken major audiences yet. There are buses that tour around to 45 stops and at every stop you've got 3,000 kids going crazy to see these bands. We're helping those bands make it.
Bruce
Airwalk from the very beginning was focused on music. That was a key component. Airwalk was one of the early innovators in supporting this tie between boardsports and music. We've never let that go and we've really focused on bringing the two together and doing it in a meaningful way. Unsigned Hero is a great example of that. We literally had thousands of bands apply and the level of talent was pretty amazing. It's really about the brand's continued support of music initiatives over time. If you look at it historically from a trade perspective, we were one of the first brands to bring bands to trade shows.

As a brand that's weathered the industry over the last 25 years and witnessed all its various ups and downs in terms of style and trend, what would you say is hitting now? What makes a footwear brand successful in today's market.
Eric
The kid today wants to have something authentic. That's the key. There's a lot of brands out there and there's a lot of information out there. The young consumer now knows about everything. They've got plenty of brands to choose from. What youth consumers want is authentic brands. They want brands that over time shown some degree of consistency in terms of what they're about, what they represent and who they're tyring to talk to.
So authenticity in that sense is having a history?
I think that's how you start to establish authenticity. You've got to do it for a while. You've got to have been around and have some consistency in what you do from a product point of view and from a marketing point of view and then you begin to develop an authenticity. It doesn't get anointed. You've got to develop it over time. That's what we've been able to leverage with our brand and that's what's in demand with a lot of consumers today.
There's always been a dichotomy between keeping your distribution core and opening it up to mainstream retail. Does core still matter?
Bruce
Reaching the core consumer matters and there's a lot of different ways to reach them. That's the initiative with the release with our iconic styles is to reach that core consumer and for us to reach them through Airwalk.com. The reality is we've made a decision for our distribution to go much broader and its a challenge for those guys to get behind that. But the core consumer is what matters. We know we had core consumers going into Payless to buy our Jeff Staple collaboration product. We know that for a fact. We know we have core consumers coming to buy our re-release products at airwalk.com. The core consumer matters and how you get to them.....there's a lot of ways. I can tell you in terms of our support of the boardsports industry and skateboarding, that's never gone away. I think people see that and get that. But to your point, there's been a lot of changes in brands in terms of the way they get distributed.
Two years ago Airwalk launched a project with Jeff Staple for Payless Shoes. Can you describe what all went into that project and what the response has been?
Eric
Jeff's concept as well as our concept was to put a fresh spin on the collaboration approach. At that point, it felt that collaborations had already been done. All the obvious collaborations had already been created and there was a little bit of a lessening of momentum in the excitement around collaborations. So our point of view with Jeff was, "can we do something really cool but offer it to a broader spectrum of consumer—offer it to mainstream kids who may not have access to high priced, super limited collaborations." It was great product and a cool design and everyone likes great product and cool design. So that was the unique approach to the collaboration with Jeff and that's what made if completely different from what was going on in the market at the time.

What kinds of things do you have planned in celebration of your 25th anniversary?
Eric
Throughout the year we have a continuous stream of limited edition reissue shoes coming out. Every month you'll be able to find a new, limited edition, iconic Airwalk sneaker throughout the year of 2011 at airwalk.com. That's the base platform of what we're doing. We also reached out and reconnected with Mike Vallely. Mike is now a part of the brand again and is working closely with us to help spread the Airwalk message. It also helps Mike because he's very active in skate and in music. We're helping each other in a very organic way. He's been with the brand on and off since the beginning. That's a real natural and rich story for us, for him and the community. We're also going to have a major event in September which will be the major culmination of our 25th anniversary. We're going to have a big party and bring as many people who have been involved and are passionate about the brand as we can. In addition to that there's a huge cache of assets that lives on our web site. There's a lot of cool visual content that's happening on our web site and through social media outlets that people can view as a visual history.
---