Back to News
Academy Snowboards - Foundation Scholarship
July 12, 2011
Academy Snowboards - Foundation Scholarship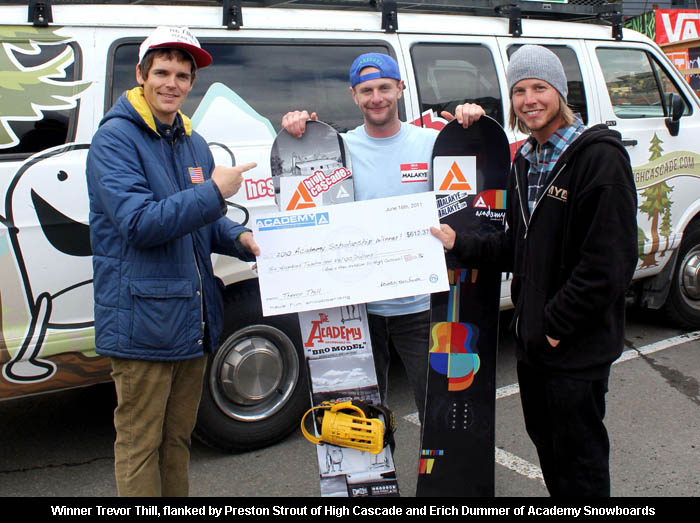 Academy Snowboards is setting an example with its Foundation Scholarship. This program was established in 2004 to award money for school to people who are dedicated snowboarders and want to advance their education. This year's winner is Trevor Thill who hails from the Midwest, will be transferring to St. Cloud University in Minnesota, and gets down on a kinked rail whenever he can. Erich Dummer, Media Director at Academy provides insight on the company's Foundation Scholarship and Trevor Thill shares his thoughts on winning and his future.
When was the Academy scholarship created, and why?
Academy's Foundation Scholarship was created in 2004 as a way to give back to the snowboard community, especially the kids that were staying in school and sacrificing what could be an am or pro snowboard career by putting in the time it takes to get a college degree. We really wanted to reward dedicated snowboarders that were taking the harder path to be successful in life by going to school, when moving to a ski town and riding everyday would have been the easier route.
What are the criteria for selecting the winner?
We look for kids that have a real history with snowboarding and a passion for snowboarding that will be a part of them for the rest of their lives. Either coaching at their local hill, working for their local snowboard shop, or having regional sponsorships, kids that win usually have a heavy involvement with their shred community and a commitment to staying involved in the industry.
How does the scholarship benefit Academy, and the snowboard industry?
The scholarship brings awareness to the kids that are ripping snowboarders and have their heads on right, knowing that investing everything into being a pro snowboarder probably isn't the best long-term life strategy. We only distribute the scholarship application through our retailers, so it gets kids into their local shops to interact with core retailers and get involved with the snowboard community. And, hopefully gets them talking about Academy snowboards.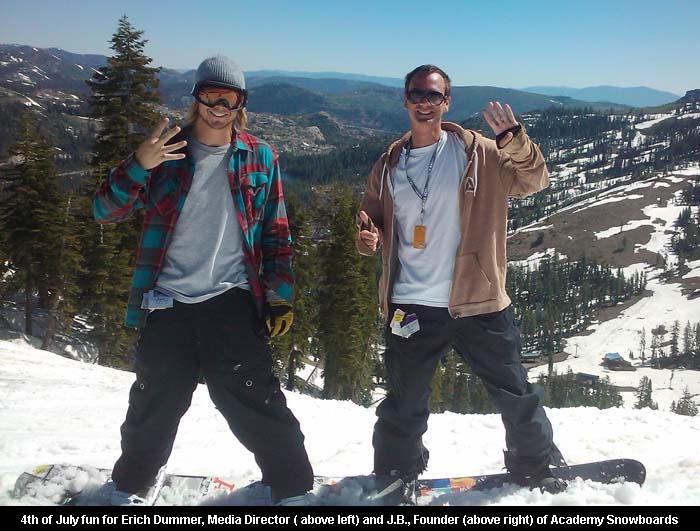 How does it benefit the recipient?
The winner gets a check to use for tuition, 2 new Academy snowboards, a session at High Cascade Snowboard Camp, and a profile on our website. We also try to get the winner more involved with our company by introducing them to our team and teaching them the ins and outs of our business. Most of the winners hope to work in the snowboard industry someday and we're stoked to give them pointers and steer them in the right direction.
What are the future plans for the Academy scholarship?
To keep growing. We give 1% of Academy Snowboards' regional sales back to the scholarship so the more snowboards we sell the more we put into the program. We also hope to expand the number of scholarships we offer and grow the program internationally.
WINNER, TREVOR THILL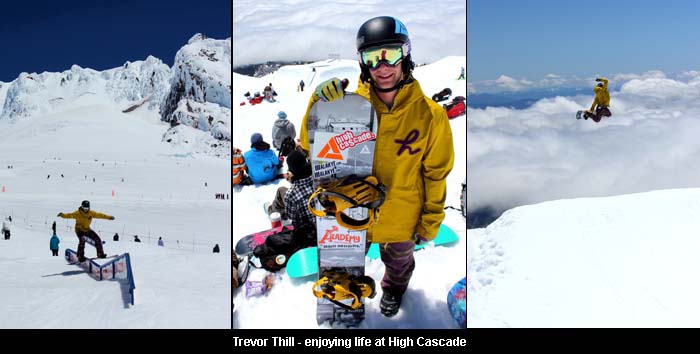 Where are you going to school, and what are you studying?
As of now I am going to Century Community College. I just got my Associates degree there in the spring. For this coming fall semester, I am transferring to St. Cloud State University where I plan to double major in Finance and International Business with a concentration in Economics I think.

What does winning the Academy scholarship mean to you?
It means a lot more than just getting a check and a trip to HCSC. It means that hard work really does pay off. It showed me that if I continue to try hard at things I can actually accomplish something. Winning this scholarship gave me a lot of confidence in other things that I'm doing academically and life in general. It's really cool that people in the snowboard industry still care about doing well in school. Winning some cash and getting a free trip for doing something that I love was defiantly awesome too!
It also meant a lot to me because this past season I was so swamped with work and school that for the most part, I really only got to get out riding once a week while working and because I didn't get out with my friends much, there were times when I started to forget why I loved riding so much to begin with. By the end of the season, for the first time since I started riding 8 years ago, I wasn't super stoked on snowboarding. When I got out to HCSC, I really remembered why I loved riding so much to begin with. I just forgot all my worries and had fun snowboarding with a bunch of rad guys that love snowboarding also.
Do you hope to work in the snowboard industry?
I know that I will be working in the snowboard industry for sure, I just don't know to what extent. I've been instructing and D-team coaching (D-team: basically a snowboard league where kids compete against other kids from different local resorts) for the past couple of years and it's been great. I love seeing the passion that these kids have for snowboarding and how much they learn over a season. They're like Spongebob-absorbent when it comes to learning and they all have huge amounts of potential. Anyway, I like D-team coaching a lot; it's an easy way to keep myself really involved in the sport. I'm sure that I'll be doing that for a long time. Beyond that, I'm not sure right now. I don't know exactly what type of work I'll be looking for after college but I'm sure I'll look around in the snowboard industry a little bit.
What type of job are you most interested in right now?
I'm not too sure, but I assumed that I would kind of figure that out over the next two years. Way before I ever even heard the word, I think I've always wanted to be an entrepreneur. When I was pretty young, I wanted to open up a mechanic shop with my buddy, which of course would have a sign that said 'no girls allowed'… I mean, they did have cooties! That idea is pretty funny because whenever I attempt to work on cars, I almost always do more damage than good for the car. My uncle, the mechanic, who always ends up fixing the problems that I made, actually banned me from working on my own car. Hah. Anyway, then I was going to be a cook and open up my own restaurant. After that, I was going to for sure open up a boardshop of my own and then a board company. Most recently, I realized how much that I like business, new things, and changing my mind. I've worked at a lot of places, tend to get board at most of them and want to conquer something else new. I think that it would be very beneficially for me to work for a company for a couple of years and learn before I jump into any entrepreneurial position.
When do you graduate?
I don't know for sure. I haven't really talked with any counselors at St. Cloud State University about it or looked into it all that much yet. But since I plan on double majoring, I'm pretty sure that graduation will be pushed back until 2014.

What are your plans after graduating?
I hate to be so indecisive, but at this point I honestly have no idea. I know that I want to get an MBA degree, although I don't know in what concentration yet. I don't know when, but I think 2 years in the field is recommended before you do go back to school for an MBA. So I plan to work at a company for a while to learn the ropes there and then we'll see where the business world takes me from there. Whatever career path I end up taking, I know that I'll always be snowboarding along the way.
---