Back to News
B$Z: Aussie Aerial Assassin Chippa Wilson Joins Arnette Surf Squad
August 2, 2011

Aussie Aerial Assassin Chippa Wilson Joins Arnette Surf Squad
Arnette is very proud to announce that Australian surfing powerhouse Christopher "Chippa" Wilson is the newest member of its surf team family.
"I'm super stoked to join a rad company like Arnette because it's run by a cool group of people, the shades are great, and some of my favorite surfers are on the team," says Chippa.
Watch Chippa's "Welcome to the Team" video at: http://bit.ly/arnette-chippa-wilson
Hailing from Cabarita Beach on the East Coast of Australia, Chippa is a prominent force in the modern surfing revolution. With an effortless style and deep bag of innovative tricks on lock, the 23-year-old attacks the lip with reckless abandon, always looking to bend the law of gravity with his powerful aerial assaults.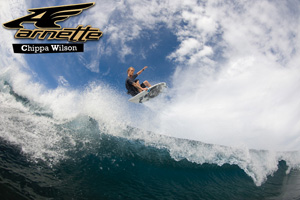 A hugely talented goofy-footer with a carefree attitude, penchant for tattoos, and unrelenting desire to punish waves of all shapes and sizes, Chippa is a dedicated waterman with passion and progression coursing through his veins. Last year his never-before-landed, skateboarding-inspired "Big Spin" made him a web sensation, and the solo film project he released with Analog, NOW, earned him a nomination as "Breakthrough Performer of the Year" at the 2010 Surfer Poll Awards.
It is crystal clear that Chippa has a bright future ahead of him, and he is definitely someone you can count on to always push himself and the sport to the next level. He is a valuable addition to Arnette's global surf squad which is anchored by Fred Patacchia, Ford Archbold, Timmy Reyes and Mason Ho.
"We're really excited to welcome Chippa into the family as the newest member of our global team," says Arnette Team & Events Specialist Brent Bearden. "Chippa is super talented and he's leading the charge on today's progressive surfing movement. He's all about having fun and doing things his own way – which is very Arnette – and his positive attitude and humble personality make him a great guy to be around. We're stoked to have him on the program for many years to come!"
To celebrate Chippa joining Arnette, on Friday night, August 5th, a special "Welcome to the Team" party will take place at the Tiki Bar in Costa Mesa, CA. Open to the 21+ crowd with support from Shorescrew, this free event will kick off at 9:00pm with drink specials in effect all night and live performances by The Pricks and Snakebit Drifters.
In addition to Arnette, Chippa also surfs for Analog Clothing, Monster Energy, Kustom Footwear, Nixon, FCS, Gorilla Grip, and Shaping Co. Surfboards.
For more information, please visit:
www.arnette.com | www.facebook.com/arnette | www.twitter.com/arnetteeyewear
---