Back to News
B$Z: Arnette Congratulates Ryan Decenzo On Taking The Dew Cup for Skate Street in 2011
October 19, 2011
Arnette Congratulates Ryan Decenzo On Taking The Dew Cup for Skate Street in 2011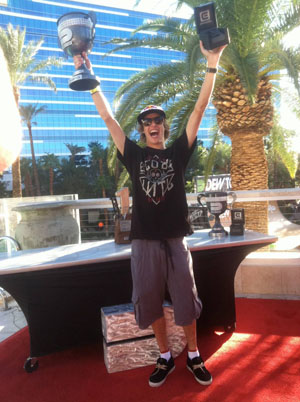 This past weekend, Arnette's very own Ryan Decenzo won the Las Vegas Dew Tour Skate Street, securing his position Dew Tour Cup overall winner for Skate Street.
Winning the overall Dew Cup was one of Ryan's main goals for 2011.
The first Skate Street stop of the Dew Tour, in Portland, saw Ryan coming in with a strong second behind P-Rod, followed up by a first place finish in the next stop of the Dew Tour in Salt Lake City.
Coming into the Dew Tour Championships, Ryan knew he needed to place first in order to win the overall Dew Cup. Ryan showed up in Vegas ready to take care of business, securing not just first place, but the overall Dew Cup for Skate Street as well.
Arnette could not be any happier for Ryan and this is a great way to end the year.
---