Back to News
Enter Reclaim Design Comp.
December 7, 2011
Call for Entries – Reclaim Project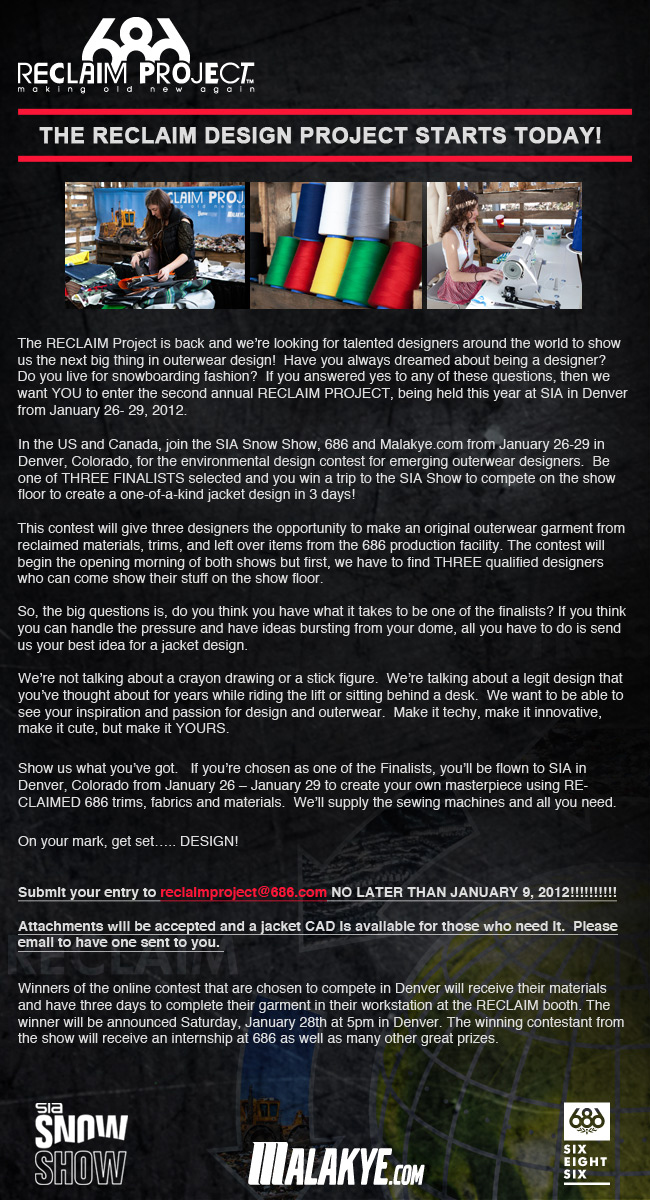 THE RECLAIM DESIGN PROJECT STARTS TODAY!
The RECLAIM Project is back and we're looking for talented designers around the world to show us the next big thing in outerwear design! Have you always dreamed about being a designer? Do you live for snowboarding fashion? If you answered yes to any of these questions, then we want YOU to enter the second annual RECLAIM PROJECT, being held this year at SIA in Denver from January 26- 29, 2012.
In the US and Canada, join the SIA Snow Show, 686 and Malakye.com from January 26-29 in Denver, Colorado, for the environmental design contest for emerging outerwear designers. Be one of THREE FINALISTS selected and you win a trip to the SIA Show to compete on the show floor to create a one-of-a-kind jacket design in 3 days!

This contest will give three designers the opportunity to make an original outerwear garment from reclaimed materials, trims, and left over items from the 686 production facility. The contest will begin the opening morning of both shows but first, we have to find THREE qualified designers who can come show their stuff on the show floor.

So, the big questions is, do you think you have what it takes to be one of the finalists? If you think you can handle the pressure and have ideas bursting from your dome, all you have to do is send us your best idea for a jacket design.
We're not talking about a crayon drawing or a stick figure. We're talking about a legit design that you've thought about for years while riding the lift or sitting behind a desk. We want to be able to see your inspiration and passion for design and outerwear. Make it techy, make it innovative, make it cute, but make it YOURS.

Show us what you've got. If you're chosen as one of the Finalists, you'll be flown to SIA in Denver, Colorado from January 26 – January 29 to create your own masterpiece using RECLAIMED 686 trims, fabrics and materials. We'll supply the sewing machines and all you need.
On your mark, get set….. DESIGN!
Submit your entry to reclaimproject@686.com

NO LATER THAN JANUARY 9, 2012!!!!!!!!!!!!
Attachments will be accepted and a jacket CAD is available for those who need it. Please email to have one sent to you.

Winners of the online contest that are chosen to compete in Denver will receive their materials and have three days to complete their garment in their workstation at the RECLAIM booth. The winner will be announced Saturday, January 28 at 5 p.m in Denver. The winning contestants from both shows will receive an internship at 686 as well as many other great prizes.

---