Back to News
ShmoozaPalooza At Agenda - Information Page
December 10, 2010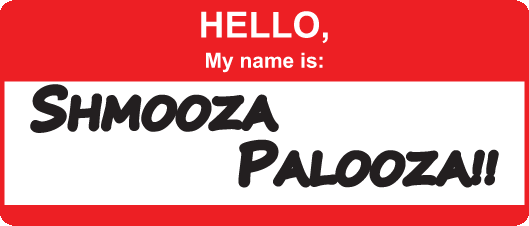 | | |
| --- | --- |
| Presented By | Created & Produced By |
| | |
Networking Event at 2012 Agenda Show in Long Beach, California
ShmoozaPalooza Job Fair - At AGENDA trade show, Friday, January 6, 2012
This is your official invitation to participate in the ShmoozaPalooza which will take place at the Agenda Show on Friday, January 6, 2012, in Long Beach, California.
The Shmooz is a one-of-a-kind gathering and opportunity for employers and prospective employees to connect in-person. It's FREE to everyone!! Free for companies and free for job seekers - that's right!
Read on to find out what companies will be attending and specific event details. If you're left with questions, enter them in the comment box below and they will be answered.
**HIRING? WANT TO GET YOUR COMPANY INVOLVED? Send an email to shmooz@malakye.com
Below is a list of participating companies, and information on the opportunities they have available. Please closely review to see if there are opportunities that match your interest and background.
Manufacturers / Brands

Company (Click link for website)

Location(s)

Looking for professionals in:

VANS
CA & AZ
See All Current Openings
Irvine, CA
See All Current Openings
Foothill Ranch, CA
See All Current Openings
La Jolla Group (O'Neill, Metal Mulisha, The Berrics, Rusty, FMF, In Gods Hands)

Irvine, CA
See All Current Openings
Quiksilver

Huntington Beach, CA
See All Current Openings, Creative Director, QS Marketing, Production Artist, Production Designer, Sr. Graphic Artist, Merchandiser - Roxy Girl, Assistant Merchandiser, Production Coordinator- Apparel, Art Director, Sales Ops Coordinator- Majors, Global Sample Coordinator - Apparel, Global Sample Coordinator, Footwear, Supervisor, Footwear Purchasing, Web UI Developer, Interaction Architect and QA Coordinator, Web Designer - Quiksilver, Web Advertising & Affiliate Manager, eComm Integration Developer

Volcom
Costa Mesa, CA
See All Current Openings
Pacific Sunwear

Anaheim, MD, WA, & VA
See All Current Openings
Aussie Dogs
All
Sales Reps
Action Sports Hub
Huntington Beach, CA
Writers, Journalist, Sales Professionals
Cam Caddie
Glendale, CA/All

Sales, Graphic Designers, Editors, Open to All

Odina
Redondo Beach, CA, Hawaii, West Coast, Mid-US
Sales Reps (West Coast, Hawaii, Mid US), Creative Assistant, Design Intern, Marketing Intern
Eventbrite
San Francisco, CA
Account Manager and Account Executive for Endurance Race Vertical
Kellwood
City of Industry, CA
Associate Sweater Designer, Missy Designer, Cad Artist, Sr. Web Designer, Technical Designer – Sweaters, Production Manager – Denim, Product Development – Denim, Patternmaker – 1st thru production, Patternmaker – Denim, Cut & Sew Knits Designer, 1st patternmaker – Sportswear, Technical Designer – Denim, Technical Designer – Juniors, 1st patternmaker – dresses, Production Manager, Shipping Lead, Inventory Coordinator, Scotch & Soda West Coast Account Executive, Account Executive (NYC Based), Online Marketing Manager, Associate Web Designer, E Commerce Operations Coordinator, Interns
Roaring Lion Engery Drink
Sun , CA
Brand Voice / Social Media Specialist, Collegiate Ops Manager, Media Specialist (Graphics/Photo/Video), Consumer Educator (Brand Rep)

Road Runner Sports
San Diego, CA.

Director of Retail Stores (San Diego, CA)
Roving Retail Store Manager (Northern California)
Retail Store Manager (Campbell, CA)
Retail Store Assistant Manager (Torrance, CA)

ION | The Network of Champ.ions
Los Angeles, CA
Vice President, Business Development, Business Development Coordinator, Business Development Coordinator, Webmaster, Senior Editor, Marketing Manager, Administration Interns
Teeki
Tustin, CA
Designers, Araphic Artists, Product Developers and Sales Reps.
Blitz Distribution
Huntington Beach, CA

Design and Merchandise Manager, Customer Service / Sales Assistant, Sales and Operations Manager, Illustrator/Artist

Seea
San Clemente, CA & Others
Sales Reps (West Coast, East Coast, Hawaii, Texas, Florida), Marketing & Social Media Intern, Development Intern

BB Dakota
Costa Mesa, CA
Customer Service, Sales and General Admin.
Osiris Shoes
Carlsbad, CA
Footwear developer, Footwear designer/ colorist, Clothing designer, Marketing coordinator, Interns in design and marketing


Lucky 13
Santa Ana, CA
Sales Representative, Production Manager, Designer, E-Commerce assistant, Accessories designer
Creative Recreation
West Hollywood, CA
Graphic Designer


LIRA Clothing
All Areas
Sales Reps.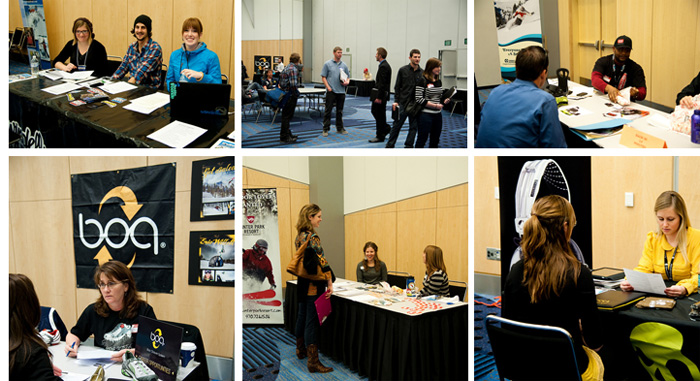 WHO?
YOU! The amazing people and companies that make up the action sports and lifestyle-driven industries.
WHAT: The Shmooz:
10am - 3pm - Job Fair - come out and connect with great employers. Great employers, come out and connect with great employees.
WHY
It's an IN-PERSON event! It brings a resume to life! It's the the best way to connect with employment opportunities in the action sports and lifestyle-driven industries!
WHEN
Friday January 6, 2012 - 10am - 3pm
(The trade show IS NOT OPEN to the public, only the Shmooz is open to the public.)

WHERE
Long Beach Convention Center (Go To Site)
300 East Ocean Boulevard, Long Beach, CA 90802 (View on Google Maps)

Location within convention center - Upstairs - directly above the trade show floor

Parking - information on parking rates / location for the convention center.
HOW
Remember, it's FREE! Simply click the button below to submit your resume and confirm your attendance as a candidate. (Employers - get in touch with us by emailing shmooz@malakye.com or get in touch with your account manager.)





GETTING THERE AND STAYING THERE
Flights:
*** THINGS YOU SHOULD KNOW ***
HOW TO PREPARE
Treat attending this event like you'd be going to a job interview. Bring whatever it is you need to present yourself as a candidate for job opportunities in your profession. Absolutely bring a resume, roughly 20 copies or so. If you're a Designer, bring a portfolio and some sort of sample presentation that can be left behind.
WHAT TO WEAR?
Whatever you're comfortable in! If you're curious about what people wear in this industry, check out the Industrial Profiles on Malakye; it's pretty true to how it really is.
HOW WILL THE ROOM BE SET UP?
Once you're in, you're in! Companies will be set up along the perimeter of the room, and in the center of the room there will be round tables and chairs that will serve two purposes:
For you to sit down and relax at while thinking of your next move/who to talk to.
For companies to use when they want to talk more in depth with particular people. That said, if you see a conversation going on that looks like a meeting, be respectful and give them some space.
IS THE ACTUAL TRADE SHOW OPEN TO THE PUBLIC?
No, the tradeshow floor is not open to the public. The Shmooz is reserved for candidates and employers only. But if all goes well for you at the ShmoozaPalooza, you will be in the trade next time!
If this information leaves you with unanswered questions, drop us an email.
---