Back to News
B$Z: Arnette Welcomes Nathan Fletcher to its Surf Team
December 9, 2011

Arnette Welcomes Nathan Fletcher to its Surf Team
Arnette is proud and honored to announce that Nathan Fletcher is joining their family as the latest member of its surf team. Hailing from one of the most notable families in the surf world, Fletcher's long resume in progressive surfing includes driving the modern aerial movement, mammoth paddle-ins, epic tubes and most recently, receiving the Heavy Water award in the 2011 SURFER Poll.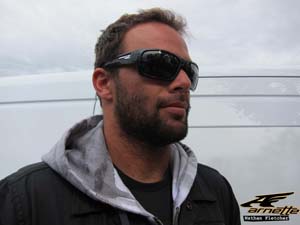 "I'm stoked to be a part of Arnette now. The whole brand really suits my style and the guys working at Arnette get what I'm about," commented Fletcher.
Fletcher's prowess in surf is legendary and he's well known for pushing the boundaries of what's possible in the water, above the lip and through surfboard design. With exploits well documented through YouTube videos, magazine cover shots and the recent SURFER Poll award win, Fletcher continues to influence what is happening in the water. As diverse as he is progressive, Fletcher also holds his own on a skateboard, in the mountains and on a dirt bike.
"Everyone at Arnette is excited to have Nathan as a part of the team. He's always pushing the limits and his personality fits perfectly with what Arnette is all about," commented Brent Bearden, Arnette Team & Events Specialist.

In addition to Arnette, Fletcher also rides for Analog, Nixon, Vans and Stretch Surfboards. He joins Arnette's growing team of wave shredders, including
Mason Ho, Chippa Wilson, and Ford Archbold.
More information on Nathan Fletcher and the rest of the Arnette surf team can be found online through Arnette's multiple Web presences.
www.arnette.com | www.facebook.com/arnette | www.twitter.com/arnetteeyewear
---