Back to News
EDU: Academy Snowboards Announces 2011 Scholarship Winner!
December 22, 2011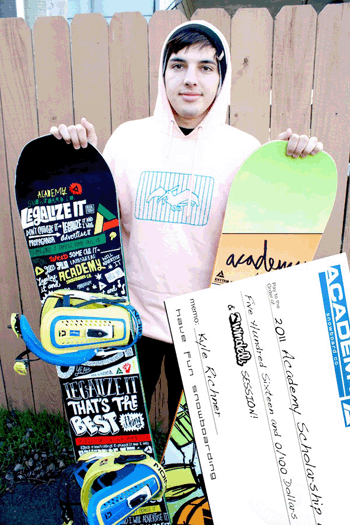 Academy Snowboards Announces 2011 Scholarship Winner!
Academy Snowboard Co. is stoked to announce Oregon's Kyle Richner as this year's winner of the Foundation Scholarship! For winning the scholarship, Kyle received (2) Academy Snowboards, a tuition check for $516 (1% of the region's sales), and a free session to Windells this summer!
"We chose Kyle because of his love for snowboarding, drive to get kids stoked on and off hill, and entrepreneurial spirit," stated Erich Dummer, Media Director ofAcademy Snowboards. "We know it's not a lot of money right now, but we're always stoked to give back to the snowboard community and keep the shred dream alive for fellow riders that are sacrificing powder days while going to school."
Kyle is a sophomore at Lane Community College and will be transferring to the University of Oregon next fall to pursue a major in business entrepreneurship. He's already dabbling in small business by starting his own skateboard company, creating art for the decks, and recruiting a skate team to spread the good word. "Winning the scholarship means everything to me; whether it's hitting a rail, flying through the air, or just goofing off with my friends, snowboarding is one of my greatest passions and Academy'sscholarship will allow me to do even more of it!" Kyle added.
Academy Snowboards' Foundation Scholarship is sponsored by Windells, Transworld Snowboarding Magazine, and Malakye.com. Applications for the 2012 Foundation Scholarship are due April 15th, 2012. Scholarship applications are only available through Authorized Academy Snowboards Dealers.

For more information on the scholarship, visit:
---