Back to News
B$Z: Arnette Welcomes Josh Kerr to Global Surf Team
January 12, 2012
Arnette Welcomes Josh Kerr to Global Surf Team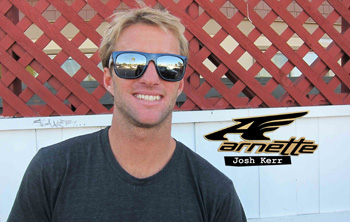 Arnette is excited to announce that the KerrAzy man himself, Josh Kerr, is bringing his signature style and personality to the Arnette global surf team. A Gold Coast native, Kerr is known as much for his top ASP Tour finishes as he is for signature aerials like the Kerrupt Flip. Anyone that saw the SURFER Poll award wining 'Kerrazy Kronicles' already knows that Kerr's style in and out of the water make him a perfect match with the Arnette family
"I'm stoked to be joining forces with Arnette because they have such a strong name and heritage in the industry. I'm really looking forward to having a great partnership with them," commented Kerr.
Kerr is the latest addition to Arnette's growing surf team, which also includes fellow Aussie, Chippa Wilson, as well as Nathan Fletcher, Mason Ho, Ford Archbold and Freddy Patacchia, Jr.
"Josh competes against the top surfers in the world, but he still knows how to go out and have fun in the water. His personality and style are a great fit for what we have going on at Arnette and we're all excited to work with him in 2012," commented Brent Bearden, Arnette Team & Events Manager.
In addition to Arnette, Kerr is supported by Rusty, Fish 101, Pro-Lite International, Nixon and Peak.


Arnette Welcomes Josh Kerr To Global Surf Team from Arnette on Vimeo.
More information on Josh Kerr and the rest of the Arnette surf team can be found online through Arnette's multiple Web presences.
www.arnette.com | www.facebook.com/arnette | www.twitter.com/arnetteeyewear
---