Back to News
SHOP: New York-Based Duo Collaborate With Airhole To Bring Snow Style To The Street
January 18, 2012
STREET DESIGNERS 'DEE AND RICKY' ADD AIRHOLE FACEMASKS TO THEIR SWAG
New York-Based Duo Collaborate With Airhole To Bring Snow Style To The Street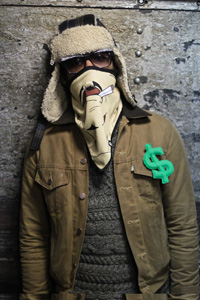 Airhole Facemasks are hitting the street and a collaboration with New York designers Dee and Ricky fuses the twin brothers' whimsical street culture aesthetic with the decidedly practical face-warming properties of the Airhole Facemask.
"Let's face it, New York is cold and Airholes are way cooler to rock around than scarves," says Max Jenke, CEO of Endeavor Design, parent company of Airhole. "We did the collabo with Dee and Ricky because these designers are on the forefront of streetwear. Airholes belong on the street and in the mountains, and we are loving Dee and Ricky's influence on our line."
"Welcome to the wild, wild East," says designer Dee Jackson. Dee and Ricky's Airhole Facemask depicts a sneering mouth clutching their iconic "LEGO" cigarette.
Airholes are ideal for the urban setting and a huge range of designs and styles for men and women can be can be viewed and purchased online at www.airholefacemasks.com. From the Dee and Ricky mask in the Random line, to luxurious cashmere pullovers, mountain folk and urbanites can find the perfect mask to reveal their style without having to bare their face to the cold.
The Airhole collection features over 100 mask types and styles including a range of tie-ups, standards, pullovers and balaclavas. The product finder allows for easy navigation through each type and style and buyers can order online at www.airholefacemasks.com for instant facemask gratification. There is also a comprehensive worldwide dealer list for quality shops selling Airhole.
Airhole's latest film directed by Alex Viau brings the street sensibility of Airhole Facemasks to life. Watch it now:


Airhole Street from Endeavor Snowboard Design on Vimeo.
Airhole – Street
Director: Alex Viau
Director of Photography: Benjamin Loeb Cinematographers: Alex Viau & Benjamin Loeb Producer: Dustin Wadsworth
Actors: Christian Coombe, Alex Viau
Music: Skream – Commercial SellOut

---