Back to News
B$Z: 100% Launches New Website And 2012 Product Line
February 1, 2012
100% Launches New Website And 2012 Product Line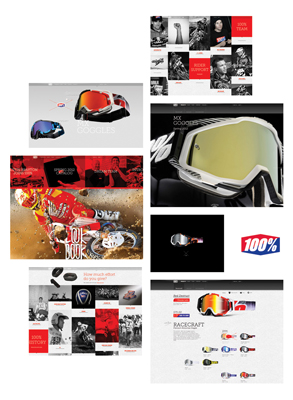 Adjust your vision. The all-new 100% website is complete and features a progressive design that complements an equally impressive new line of MX goggles and accessories.
The Racecraft MX goggle lines up at the gate as the premier model alongside its competitively priced counterpart, the Accuri. Purpose built sand and enduro goggles, as well as a comprehensive range of replacement lenses, tear off's, and Speedlab Vision Systems complete the collection. Products are showcased with countless, high quality detailed images in addition to 360 degree views.
In addition to the innovative product presentation, the enhanced user experience includes: rider & team profiles, news feed, the history of the iconic brand, an interactive catalog, dealer locator, and webstore. Seamless connectivity to our Facebook and Twitter feeds are just a click away and give you the inside line to all the latest from 100%.
Visit www.ride100percent.com today.
---